Charles James Barlow
From The Dreadnought Project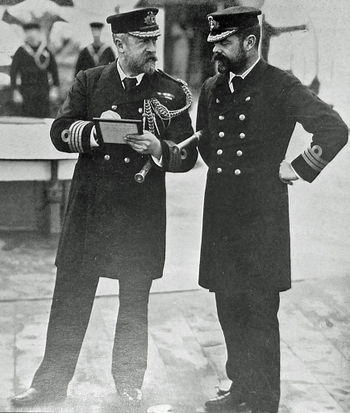 Admiral Charles James Barlow, D.S.O., Royal Navy (11 August, 1848 – 25 August, 1921) was an officer of the Royal Navy.
Life & Career
Barlow was promoted to the rank of Lieutenant with seniority of 3 September, 1872.[1]
Barlow was promoted to the rank of Commander on 30 June, 1884.[2]
For operations in Burma Barlow was appointed a Companion of the Distinguished Service Order (D.S.O.) on 13 January, 1887.[3]
He commissioned the new first class protected cruiser Endymion in May 1894, and commanded her until the following April.
He commissioned the new battleship Magnificent at Chatham on 12 December, 1895.[4][5]
He was appointed captain of H.M.S. Jupiter in September 1898, remaining there until October of 1899.
Vice-Admiral Henry L. Fleet recalled in 1922: "'Billy Barlow', an old friend and a very popular man in the Service. Billy would have preferred a seagoing ship to life in a 'Stone Frigate'.[6]
Flag Rank
Barlow was promoted to the rank of Rear-Admiral dated 1 September, 1902, vice Beaumont.[7]
Barlow succeeded Rear-Admiral Edmund S. Poë as Second-in-Command of the Home Fleet on 9 May, 1904, hoisting his Flag in the Royal Oak at Devonport.[8]
He was relieved by Vice-Admiral Sir Arthur W. Moore on 9 May, 1905.[9] On 1 April, 1906, he was appointed Admiral Superintendent of Devonport Dockyard in succession to Vice-Admiral William H. Henderson.[10] He was promoted to the rank of Vice-Admiral on 23 November, vice Langley.[11]
He was promoted to the rank of Admiral on 10 February, 1911, vice Beresford.[12] In accordance with the provisions of the Order in Council of 8 December, 1903, he was placed on the Retired List, at his own request, on 19 July.[13]
Great War
On 7 November, 1914, Barlow was granted a temporary Commission as Commander in the Royal Naval Reserve.[14]
He was appointed in command of the armed yacht Valiant in November, 1914, initially as a Commander R.N.R. and on the 16th as a temporary Captain, R.N.R.. On 20 February, 1915, he was given charge of the vessels in Auxiliary Patrol Area XVII. This appointment lasted only until early April. On 39 August, 1915, Barlow was made the Admiralty Representative in connection with the supply of munitions in Manchester and Leeds, Areas No. 2 and 3. This appointment ceased on 19 March, 1917.[15]
Bibliography
"Admiral Barlow" (Obituaries). The Times. Friday, 26 August, 1921. Issue 42829, col F, p. 14.
Fleet, Vice-Admiral H. L., C.B.E. (1922). My Life, and a Few Yarns. London: George Allen & Unwin Ltd..
Papers
Service Records
Naval Appointments
Preceded by
?
Captain of H.M.S. Orlando
10 Sep, 1889[16][17] – 21 Nov, 1892[18]
Succeeded by
Charles R. Arbuthnot
Preceded by
?
Captain of H.M.S. Retribution
11 Jul, 1893[19] – 30 Aug, 1893[20]
Succeeded by
Charles E. Gissing
Preceded by
New Command
Captain of H.M.S. Endymion
26 May, 1894[21] – 25 Apr, 1895[22]
Succeeded by
Arthur Barrow
Preceded by
Adolphus F. St. Clair
Captain of H.M.S. Empress of India
25 Apr, 1895[23] – 11 Dec, 1895[24]
Succeeded by
Angus MacLeod
Preceded by
New Command
Captain of H.M.S. Magnificent
12 Dec, 1895[25][26] – 28 Jan, 1897[27]
Succeeded by
Gerald C. Langley
Preceded by
William H. Pigott
Captain of H.M.S. Alexandra
28 Jan, 1897[28] – 25 Sep, 1898
Succeeded by
Count Frederick C. Metaxa
Preceded by
Angus MacLeod
Captain of H.M.S. Jupiter
Sep, 1898 – Oct, 1899
Succeeded by
John Durnford
Preceded by
Burges Watson
Captain Superintendent, Pembroke Dockyard
2 Oct, 1899[29][30] – 1 Oct, 1902[31]
Succeeded by
Gerald W. Russell
Preceded by
Francis C. B. Bridgeman
Second-in-Command, Channel Fleet
9 May, 1904[32] – 9 May, 1905[33]
Succeeded by
Sir Arthur W. Moore
Preceded by
William H. Henderson
Admiral Superintendent, Devonport Dockyard
1 Apr, 1906[34] – 31 Mar, 1908[35]
Succeeded by
Charles H. Cross
Preceded by
?
Senior Officer in Charge, Auxiliary Patrol Area XVII
20 Feb, 1915[36] – 2 Apr, 1915[37]
Succeeded by
The Hon. Robert F. Boyle
Footnotes