Edward Henry Carson, Baron Carson
From The Dreadnought Project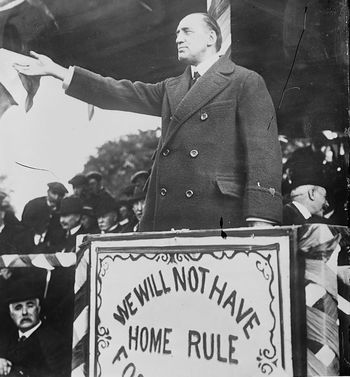 THE RIGHT HONOURABLE Edward Henry Carson, Baron Carson of Duncairn, L.L.D., K.C., P.C. (9 February, 1854 – 22 October, 1935) was a barrister, King's Counsel, politician and committed Unionist. He served as First Lord of the Admiralty for six months in 1917 at the height of the submarine crisis. A brilliant barrister, he fought long and hard for Ulster to remain part of the United Kingdom and prior to the Great War was prepared to use force to prevent the Liberal government of the day from imposing Home Rule upon the whole of Ireland. After the war he was appointed a Lord of Appeal in Ordinary and sat in the House of Lords, the highest court in the land.
Early Life & Career
Carson was born on 9 February, 1854, the second son of Edward Henry Carson, a civil engineer, and Isabella, née Lambert. He was educated at Portarlington School, then read Classics at Trinity College, Dublin, attaining a Pass. After studying at King's Inns he was called to the Irish Bar in 1877. Two years later he married Sarah Annette Foster, daughter of Mr. Henry Pesse Kirwan of Co. Galway.
By 1880 his performance was such that he was regarded by solicitors as "a desirable junior."[1] He was kept busy by the upturn in work following William E. Gladstone's Irish Land Act of 1881, and in 1886, aged thirty-two, he was chosen by Irish Solicitor-General John Gibson to be his Crown Counsel. Carson remained in the position upon Gibson being succeeded by Peter O'Brien the following year. He had previously been unsuccessful in applying for an Irish County Court Judgeship. In 1887 he came to the attention of the Chief Secretary for Ireland, Arthur J. Balfour. That year there was a Land League demonstration at Mitchelstown, Co. Cork, and three demonstrators had been shot by the Royal Irish Constabulary. Immediately afterwards, Carson was instructed to prosecute William O'Brien, M.P. and others under the Crimes Act. Balfour later recalled:
I made Carson and Carson made me. I've told you how no one had courage. Everybody right up to the top was trembling. Some of the R.Ms. were splendid, but on the whole it was an impossible state of affairs. Carson had nerve however. I sent him all over the place, prosecuting, getting convictions. We worked together.[2]
In 1892 Balfour secured for Carson the position of Irish Attorney-General, and upon Balfour's recommendation he was selected as parliamentary candidate for Trinity College, and was first elected to the House of Commons in 1893.
Carson was called to the English Bar by the Middle Temple on 26 April, 1893.[3] On 3 May, 1894 he was appointed Queen's Counsel ("of Her Majesty's Counsel learned in the Law")[4] and was sworn in by the Lord Chancellor (the chief Law officer in England and Wales) on 7 May.[5]
He was sworn of His Majesty's Privy Council on 11 December, 1905.[6]
First World War
Carson was married to Ruby Frewen, daughter of Colonel Stephen Frewen, on 17 September, 1914, in a service at Charlton Musgrove parish church, Somerset. Present were the parents, brother and sister of the bride, and Andrew Bonar Law, Mrs. Hall-Walker, and Mrs. Chesterman, Carson's daughter.[7]
On 27 May, 1915, Carson was appointed His Majesty's Attorney-General.[8]
First Lord of the Admiralty
Carson was sworn First Lord of the Admiralty on 11 December, 1916.[9]
Post-War
On 1 June, 1921, Carson was appointed a Lord of Appeal in Ordinary, and granted the title of Baron Carson of Duncairn, in the County of Antrim.[10]
In 1922, rebuked in the House of Lords by the Lord Chancellor, the Earl of Birkenhead, for attacking the government of the day, Carson replied: "I am now willing to resign if I have done anything that is wrong; if your Lordships say I have done anything that is wrong. What do you think I care for my office, or salary, as compared with my honour?"[11]
Carson died on 22 October, 1935, at Cleve Court, Minster, aged eighty-one.[12] Lady Carson died on 7 August, 1966.[13]
See Also
Bibliography
"Lord Carson" (Obituaries). The Times. Wednesday, 23 October, 1935. Issue 47202, col A, p. 19.
Hyde, Harford Montgomery (1953). Carson: The Life of Sir Edward Carson, Lord Carson of Duncairn. London: Heinemann.
Papers
Papers in the possession of the Public Record Office of Northern Ireland. MIC/665.
Footnotes