John Rushworth Jellicoe, First Earl Jellicoe
From The Dreadnought Project
Admiral of the Fleet THE RIGHT HONOURABLE John Rushworth Jellicoe, First Earl Jellicoe, G.C.B., O.M., G.C.V.O. (5 December, 1859 – 20 November, 1935) was an officer of the Royal Navy. He served as Commander-in-Chief of the Grand Fleet from 1914 to 1916, fighting the inconclusive Battle of Jutland on 31 May, 1916. He served as First Sea Lord, the professional head of the Navy, from 1916 to 1917. In that position he oversaw the introduction of convoy and the evolution of a proper Naval Staff at the Admiralty.
In the Battle of Jutland Jellicoe's methodical overall command seemed quite distinct from the impulsiveness of Battle Cruiser Fleet commander, Vice-Admiral David Beatty. Discomfort within and without the service with the battle's tactically indecisive outcome caused the two men to be viewed as polar figures signifying alternative styles of leadership between which must be found that of the ideal commander. Disagreements over where that ideal commander would be placed in the Beatty-Jellicoe spectrum continues to dominate public thinking of the Dreadnought Era.
The heat of controversy has many measures. One journalist characterised Jellicoe as "cautious, plodding."[1] Beatty has attracted similarly negative appraisals and both enjoy equally impassioned defenders.
Background and Early Life
John Rushworth Jellicoe was born at 1 Cranbury Place,[2] Southampton, England on 5 December, 1859 as the second son and child of a family of four boys and two girls[3] and from an early age was known as "Jack."
At the age of twelve and a half he came second in the entrance examination and passed into the training ship Britannia as a naval cadet on 15 July, 1872.[4][5] His term-mate Charles Anson also reached flag rank on active service.[6]
In 1874, Jellicoe joined the screw frigate H.M.S. Newcastle, which took him to such foreign destinations as China, Port Stanley, Rio de Janeiro, South Africa and St. Helena over three years. He proved himself in this and other challenges, by 1878 qualifying in seamanship with a flair for mathematics. He was appointed to the Royal Naval College in Greenwich.
Service as a Lieutenant
Over two years, Jellicoe studied at the Naval College and focused on gunnery and torpedoes at H.M.S. Excellent before leaving to serve aboard Alexandra in the Mediterranean. Before 1880 was out, he had been promoted to Lieutenant. The decade saw him meet required stints at sea while spending more energy on the study of gunnery before returning to Excellent where his talents received the influential appreciation and influence of men such as fellow Lieutenant Percy M. Scott and then Captain John A. Fisher.[7] Jellicoe's work distinguished him as a dynamic man who could quickly acclimate to a new environment and appear comfortable and ready to take independent action.
Commander
Jellicoe was promoted to the rank of Commander on 30 June, 1891. He remained on the staff of the Director of Naval Ordnance at the Admiralty until 9 February, 1892, when he was appointed Commander (Executive Officer) of the battleship Sans Pareil, Captain Arthur K. Wilson, on the Mediterranean Station. In February, 1893, he was ordered back to Britain. From 2 to 31 March he was appointed to the ironclad Achilles, and 1 April he was appointed Commander in the Sans Pareil's sister-ship, H.M.S. Victoria, flagship of the Commander-in-Chief in the Mediterranean, Vice-Admiral Sir George Tryon. He was bed-ridden with Malta Fever on 22 June when the fleet prepared to anchor off the Lebanese port of Tripoli. There were two columns of warships, one led by Tryon, the other by his Second-in-Command, Rear-Admiral Albert H. Markham. Tryon ordered the columns to turn inwards so as to reverse the fleet's direction, the ships in each column following the one ahead. The distance between the two columns was two small for this to be feasible, which Markham knew but when he started to protest Tryon berated him by signalling "What are you waiting for?" Hoping that Tryon knew something that he didn't, Markham obeyed, and his flagship, H.M.S. Camperdown, proceeded to ram Victoria. The Victoria sank rapidly, taking 358 men with her, including Tryon. Jellicoe barely escaped with his life.
During the aftermath of the disaster Jellicoe's health recovered, and he was selected by the new Commander-in-Chief, Admiral Sir Michael Culme-Seymour, Bart, to be Commander of his new flagship, Ramillies, to which he was appointed on 13 August. He would remain in her until 15 December, 1896.
Captain
Jellicoe was promoted to the rank of Captain on 1 January, 1897. From 9 January to 30 December he served on the Ordnance Committee. Whilst on holiday in Scotland he met for the first time a young lady named Florence Gwendoline Cayzer, daughter of a shipping magnate. He was asked by the new Commander-in-Chief on the China Station, Vice-Admiral Sir Edward H. Seymour, to go with him as his Flag Captain, to which he agreed, and on 31 December 1897 he took command of the battleship Centurion.[8] In the third year of the ship's commission, the Boxer Rebellion broke out in China. The legations in Beijing were beseiged, and Seymour led an international contingent of sailors and marines mustered from the ships at anchor off Taku. Jellicoe acted as his Chief of Staff. Having advanced by rail towards Beijing, passage beyond Langfang was impossible, and the international force was compelled to make a retreat back to the coast whilst under attack from rebels and the Imperial Chinese army. During one encounter Jellicoe was seriously wounded after being shot through the lung, and his life was despaired of. After the retirement to the coast, however, he made a rapid recovery, and was mentioned in Seymour's despatch, for which he was nominated a Companion of the Bath (C.B.). Seymour's term of service as Commander-in-Chief came to an end, and Centurion returned to Britain to pay off on 19 September, 1901.
On 8 November he was appointed to the Admiralty for service in the Department of the Controller, and on 26 March, 1902, he was appointed Naval Assistant to the Controller of the Navy. His work in the Controller's office had took him to Scotland a number of times, and he had renewed his acquaintanceship with Gwendoline Cayzer. He proposed to her in February, 1902, and on 1 July they were married at Holy Trinity, Sloane Street, London. He remained at the Admiralty until 12 August, 1903, when he was appointed in command of the new armoured cruiser Drake in the Cruiser Squadron.
He was recalled to the Admiralty on 14 November, 1904, preparatory to becoming Director of Naval Ordnance and Torpedoes, and on 3 January, 1905, was formally appointed to the Committee on Designs which formulated the designs of the first all-big-gun battleship and armoured cruisers, the Dreadnought and Invincibles, respectively. After playing a key part in the committee's work he was superseded on 1 February, and 24 February became Director of Naval Ordnance (D.N.O.) in succession to Rear-Admiral Henry D. Barry.
Flag Officer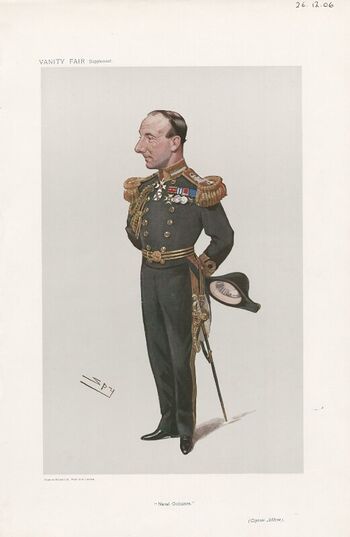 Jellicoe, promoted to the rank of Rear-Admiral on 8 February, 1907, was superseded as Director of Naval Ordnance and Torpedoes on 25 August, 1907, and that day hoisted his flag in the battleship Albemarle as Rear-Admiral (Second-in-Command) of the Atlantic Fleet. He was relieved in that position on 25 August, 1908. On 1 October he was appointed temporarily to the Admiralty "on committee," and on 16 October was appointed a Lord Commissioner of the Admiralty as Third Sea Lord and Controller of the Navy.
After two years as Controller, on 20 October, 1910, he was appointed Vice-Admiral Commanding the Atlantic Fleet, whilst still a Rear-Admiral. On 18 September, 1911, he was confirmed in the rank of Vice-Admiral. Winston Churchill became First Lord of the Admiralty in October, and Jellicoe was seriously considered for command of the Home Fleet, the largest in the Navy, in spite of his lack of seniority and experience. It was decided that Vice-Admiral Sir George A. Callaghan would become the new Commander-in-Chief of the fleet, and that Jellicoe would serve under him. Therefore on 19 December he was appointed Vice-Admiral Commanding the Second Division. In May, 1912, the Second Division became the Second Battle Squadron.
Dissatisfied with his First Sea Lord, Admiral Sir Francis C. B. Bridgeman, Churchill replaced him and invited Jellicoe to rejoin the Board of Admiralty, and on 9 December, 1912, he became Second Sea Lord in succession to the new First Sea Lord, Prince Louis of Battenberg. In 1913 he went to sea for the annual manœuvres as Commander-in-Chief of the Red Fleet, opposing Sir George Callaghan, commanding the Blue Fleet. Jellicoe's fleet represented the German navy, and was so successful at raiding the East Coast of Britain that the manœuvres were curtailed.
In mid-1914 it was officially announced that Jellicoe would succeed Callaghan as Commander-in-Chief of the Home Fleets at the end of the year. He was succeeded as Second Sea Lord on 31 July, 1914, as war with Germany became imminent, and on 1 August he was given the surprise appointment of Second-in-Command to Callaghan. He was sent to join the fleet at its war station at Scapa Flow, and on 4 August, the day war was declared against Germany, was ordered to assume command from Callaghan. Despite his deep misgivings at so abrupt a course, he did so, and took direct command of the First Fleet of the Home Fleets, more widely known as the Grand Fleet.
Great War
See Also
Bibliography
Papers
Service Records
Naval Appointments
Preceded by
Henry J. May
Naval Member of the Ordnance Committee
9 Jan, 1897[9] – 30 Dec, 1897[10]
Succeeded by
Henry M. T. Tudor
Preceded by
Spencer H. M. Login
Captain of H.M.S. Centurion
31 Dec, 1897[11][12] – 19 Sep, 1901[13]
Succeeded by
Frederick F. Fegen
Preceded by
?
Naval Assistant to the Third Sea Lord and Controller of the Navy
26 Mar, 1902[14] – 12 Aug, 1903
Succeeded by
Arthur C. Leveson
Preceded by
Francis C. B. Bridgeman
Captain of H.M.S. Drake
12 Aug, 1903[15] – 14 Nov, 1904[16]
Succeeded by
Frederick C. D. Sturdee
Preceded by
Henry D. Barry
Director of Naval Ordnance and Torpedoes
24 Feb, 1905[17] – 25 Aug, 1907[18]
Succeeded by
Reginald H. S. Bacon
Preceded by
George Le C. Egerton
Second-in-Command, Atlantic Fleet
25 Aug, 1907[19] – 25 Aug, 1908[20]
Succeeded by
William B. Fisher
Preceded by
Sir Henry B. Jackson
Third Sea Lord and Controller of the Navy
16 Oct, 1908[Citation needed] – Dec, 1910[21]
Succeeded by
Charles J. Briggs
Preceded by
H.S.H. Prince Louis of Battenberg
as Commander-in-Chief, Atlantic Fleet
Vice-Admiral Commanding, Atlantic Fleet
20 Dec, 1910[22] – 19 Dec, 1911[23]
Succeeded by
Cecil Burney
Preceded by
?
Vice-Admiral Commanding, Second Battle Squadron
19 Dec, 1911[24] – 9 Dec, 1912[25]
Succeeded by
Sir George J. S. Warrender, Bart.
Preceded by
H.S.H. Prince Louis of Battenberg
Second Sea Lord
9 Dec, 1912[26] – 1 Aug, 1914[27]
Succeeded by
Sir Frederick T. Hamilton
Preceded by
Sir George A. Callaghan as Commander-in-Chief, Home Fleets
Commander-in-Chief, Grand Fleet
4 Aug, 1914[28] – 28 Nov, 1916[29]
Succeeded by
Sir David R. Beatty
Preceded by
Sir Henry B. Jackson
First Sea Lord
4 Dec, 1916[30] – 26 Dec, 1917[31]
Succeeded by
Sir Rosslyn E. Wemyss
as First Sea Lord and Chief of Naval Staff
Footnotes