Charles Newsham Trotman
From The Dreadnought Project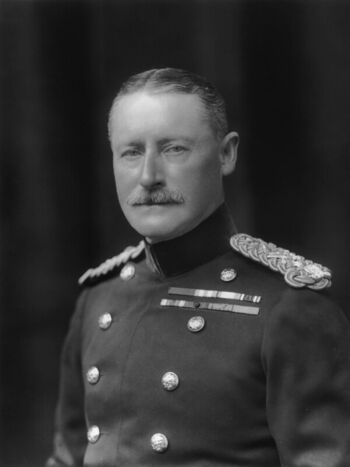 General SIR Charles Newsham Trotman, K.C.B., R.M.L.I. (28 April, 1864 – 11 March, 1929) was an officer of the Royal Marine Light Infantry.
Trotman was placed on the Retired List on account of non-service on 1 January, 1924.
Who was Who
TROTMAN, General Sir Charles Newsham KCB, 1921; CB 1915
Born 28 April 1864; 3rd s of late Rev. Canon Edward Fiennes Trotman and Mrs Trotman, of Marshfield, Chippenham; unmarried; died 11 March 1929
late Royal Marines; Hon. Colonel Commandant of Plymouth Division, RM, 1923
EDUCATION Uplands (preparatory), Taunton; Wimborne School; then privately
CAREER Lieutenant Royal Marine Light Infantry, 1882; Captain 1892; Major, 1900; Lieut-Col 1908; Colonel, 1913; Brig.-General, 1914; Maj.-General, 1921; Lieut-Gen. 1922; General, 1923; Assistant Musketry Instructor, Adjutant, and Staff-Officer of Chatham Division RMLI, RM Depot, Deal, and Portsmouth Division, RMLI, respectively; when in RM Battalion, 1884–85, was present at battles of Hasheen and Tofrek (Macneil's Zeriba), and the burning of Tamaai (Egyptian medal with clasps for Suakin and Tofrek, and Khedive's bronze star); has been in North America, West Indies, China, and Mediterranean; commanded Brigade of Royal Marines in RN Division, 1914–15; served in Gallipoli and Salonika Defences (slightly wounded, despatches, CB); commanded an Infantry Brigade, France, 1916 (despatches); commanded Portsmouth Division RMLI 1917–19, Retired List, 1924
RECREATIONS Shooting, fishing
CLUB United Service
Bibliography
"General Sir C. N. Trotman" (Obituaries). The Times. Wednesday, 13 March, 1929. Issue 45150, col A, pg. 21.
See Also
Footnotes