H.M.S. Acheron (1911)
From The Dreadnought Project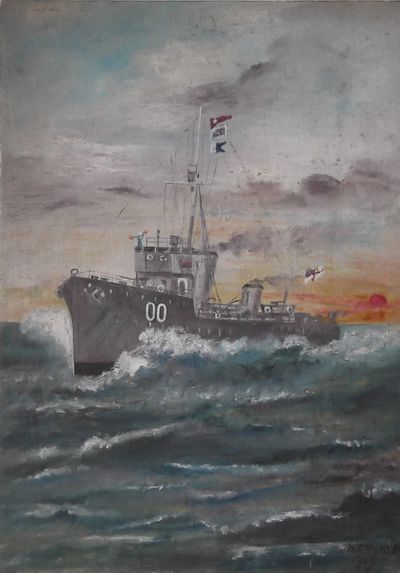 H.M.S. Acheron was one of twenty-nine destroyers of the Acheron class.
Radio
She was one of 18 Acheron class destroyers fitted with W/T in 1912, becoming one of 123 destroyers so far fitted with Destroyer Sets.[7]
Service
In July, 1914, Acheron was serving in First Destroyer Flotilla, part of First Fleet.[8]
Immediately before the start of war, plans to remove shipping strips under cocoanut matting on this ship and Ariel were deferred.[9]
Acheron fought with the First Destroyer Flotilla at the Battle of Heligoland Bight on 28 August, 1914 under the command of Commander Brien Michael Money.
Acheron would also fight at the Battle of Dogger Bank on 24 January 1915 with her flotilla, also under Money's command.
On 10 March, 1915, while operating out of Rosyth, she attacked and sank U 12 off of Fife Ness along with Ariel and Attack by repeated rams and gunfire.[10]
She fought at the Battle of Jutland as part of the First Destroyer Flotilla,[11] which was tasked with screening the Fifth Battle Squadron.
In November, 1916, Acheron transferred to the Second Destroyer Flotilla, which was then eighteen destroyers under orders of the Commander-in-Charge or Devonport. Around September 1917, she left with three other Acheron's to join the Fifth Destroyer Flotilla, which was supporting the Mediterranean Fleet.
An image at the Imperial War Museum dated 1918, but perhaps being earlier by its pennant numbers,[12] suggests that Acheron at that time sported a splinter/spray shield on her forward 4-in gun (only), had life-saving rings on her after searchlight platform, a chart-table on her bridge's port side, and no visible installation of a gunnery director.
As part of the post-war fleet re-organization in February/March 1919, Acheron had no place anymore. She became inactive, and would eventually be sold in May, 1921.
Captains
Dates of appointment are provided when known.
See Also
Footnotes
Bibliography