"W" Class Destroyer (1917)
From The Dreadnought Project
Twenty-one destroyers of the "W" Class were completed in 1917-1918. They were essentially the same design as the "V" class, but incorporated the triple torpedo tube mounts that had not been ready in time for the "V"s.
Late in the war, an additional order was placed for a large number of Modified "W" class destroyers, most of which were cancelled.
Overview of 21 vessels
Citations for this data available on individual ship pages
Name
Builder
Laid Down
Launched
Completed
Fate
Wakeful
John Brown & Company
6 Oct, 1917
Torpedoed 29 May, 1940
Watchman
John Brown & Company
2 Nov, 1917
23 Jul, 1945
Walpole
William Doxford & Sons
12 Feb, 1918
8 Feb, 1945
Whitley
William Doxford & Sons
13 Apr, 1918
Bombed 19 May, 1940
Walker
William Denny & Brothers
29 Nov, 1917
15 Mar, 1946
Westcott
William Denny & Brothers
14 Feb, 1918
8 Jan, 1946
Walrus
Fairfield Shipbuilding and Engineering Company
27 Dec, 1917
Stranded 12 Feb, 1938
Wolfhound
Fairfield Shipbuilding and Engineering Company
14 Mar, 1918
18 Feb, 1948
Warwick
Hawthorn Leslie & Company
28 Dec, 1917
Torpedoed 20 Feb, 1944
Wessex
Hawthorn Leslie & Company
12 Mar, 1918
Sunk 24 May, 1940
Voyager
Alexander Stephen & Sons
8 May, 1918
Grounded 23 Sep, 1942
Whirlwind
Swan Hunter
15 Dec, 1917
Torpedoed 5 Jul, 1940
Wrestler
Swan Hunter
25 Feb, 1918
20 Jul, 1944
Winchelsea
J. Samuel White
15 Dec, 1917
20 Mar, 1945
Winchester
J. Samuel White
1 Feb, 1918
5 Mar, 1946
Westminster
Scotts Shipbuilding and Engineering Company
1918
4 Mar, 1947
Windsor
Scotts Shipbuilding and Engineering Company
21 Jun, 1918
4 Mar, 1947
Wryneck
Palmer Shipbuilding and Iron Company
13 May, 1918
Sunk 27 Apr, 1941
Waterhen
Palmer Shipbuilding and Iron Company
26 Mar, 1918
Foundered 30 Jun, 1941
Wolsey
John I. Thornycroft & Company
16 Mar, 1918
4 Mar, 1947
Woolston
John I. Thornycroft & Company
27 Apr, 1918
18 Feb, 1947
Armament
4-in Guns
Other Guns
Torpedoes
This new mounting inaugurated the triple tube format for the Royal Navy, offering destroyers three times the ready torpedo numbers of destroyers designed just six years previously..[3]
In mid-1920, it was ordered that "S", "V" and "W" class destroyers should be allocated the 21-in Mark IV* torpedo.[4]
Fire Control
Mid 1916 Outfit
Experiments from February with two Grand Fleet destroyers employing dumaresqs and Vickers Range Clocks and voicepipes showed definite advantages over ships using unaided spotting and voicepipes, even when the crews had no special training in the new equipment. Tests were also conducted to find a rangefinder suitable to the lively and cramped platform that destroyers provided. This led to an order on 3 April, 1916 that each T.B.D. of "M" class and later should be equipped with:[5][6]
one Dumaresq
range and deflection receivers at each gun
Two ratings, trained before coming aboard, were added to the crew to work the equipment. The clocks and rangefinders were issued in the following three months, and the dumaresqs a few months later. The data instruments did not become available in numbers until 1917. By mid-1917, the whole system was broadly in place in the destroyers of the Grand Fleet and in the Harwich Force.[7] It seems likely that this class would have followed on the same pattern.[Inference]
In 1918, it was ordered that the Scott class flotilla leaders and destroyers of "V" and "W" classes should have range and deflection receivers for their 3-in H.A. guns and fire gongs worked off the firing key used for the ships' L.A. weaponry.[8]
Directors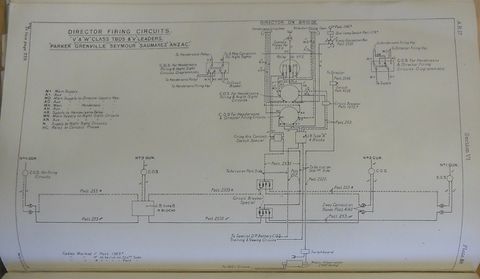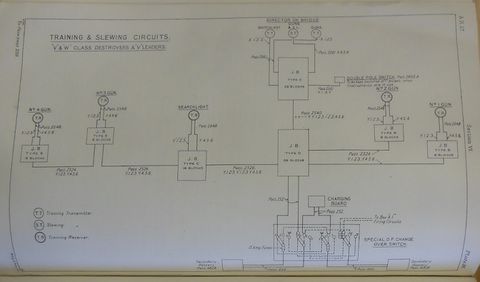 In 1917, it was approved that the "V" class and later destroyers should all receive installations of the British Destroyer Director Firing System,[11] but none of these installations were completed prior to 1918.[12]
The Director Firing Handbook, 1917 reports that they were to receive Small Type Training Receivers of pattern number 20 on #1, #2 guns, and pattern number 21 on #3 and #4.[13]
On 26 April, 1918, Wolsey had her director tilt tested at Southampton.[14]
In 1918, it was ordered that those destroyers with director installations were to additionally receive:[15]
a voice pipe from T.S. to director
a fire gong at director worked from existing push in T.S.
a fire gong push on fore bridge to be added, wired in parallel to that in the T.S.
the repeat receivers on the fore bridge were to be positioned so as to be visible to the director sightsetter.
Rangefinders
By 1921, all four-gun destroyers mounted a 1m F.T. 27 RF on a M.H. 37 mounting or a 9ft F.Q. 2 on an M.Q. 12 mount on their fore bridge.[16]
Torpedo Control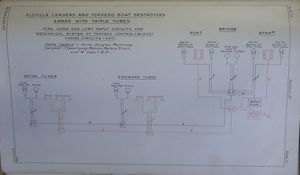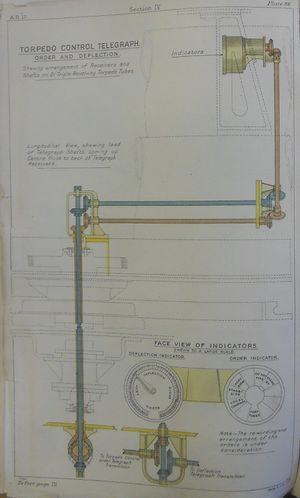 The destroyers had sighting positions on both sides of a bridge that had been enlarged from earlier destroyers with firing pushes and keys for sounding buzzers at the tubes. The Chadburn's Torpedo Telegraph transmitters for both order and deflection transmitters were situated centrally on a panel on the bridge, between the two sights. Battery-worked electrical firing and firing gongs augmented this arrangement.[19]
Alterations
By November 1918, Warwick and Whirlwind were operating out of Dover and were equipped to carry 74 "M" type sinker mines. The torpedo tubes and guns removed when the mines were shipped could be placed back aboard with enough notice.[20]
See Also
Footnotes
Bibliography