Modified "W" Class Destroyer (1918)
From The Dreadnought Project
A total of sixteen destroyers of the Modified "W" Class were completed soon after the war, though many more were cancelled. The ships were a variation of the "W" class destroyers completed in some time earlier. The design of the stern was different, and there were changes in the boiler room arrangement to improve watertightness which made the second funnel larger than the first, but the big change was that the 4-in guns long common on Royal Navy destroyers were now landed in favor of 4.7-in weapons.
Overview of 15 vessels
Citations for this data available on individual ship pages
Name
Builder
Laid Down
Launched
Completed
Fate
Vansittart
William Beardmore & Company
17 Apr, 1919
25 Feb, 1946
Volunteer
William Denny & Brothers
17 Apr, 1919
4 Mar, 1947
Venomous
John Brown & Company
21 Dec, 1918
4 Mar, 1947
Verity
John Brown & Company
19 Mar, 1919
4 Mar, 1947
Wanderer
Fairfield Shipbuilding and Engineering Company
1 May, 1919
31 Jan, 1946
Whitehall
Swan Hunter
11 Sep, 1919
Oct, 1945
Wren
Yarrow & Company
11 Nov, 1919
Sunk 27 Jul, 1940
Veteran
John Brown & Company
26 Apr, 1919
Torpedoed 26 Sep, 1942
Wivern
J. Samuel White
16 Apr, 1919
Sold 18 Feb, 1947
Wolverine
J. Samuel White
17 Jul, 1919
Jan, 1946
Worcester
J. Samuel White
24 Oct, 1919
Broken up Sep, 1946
Witherington
J. Samuel White
16 Apr, 1919
20 Mar, 1947
Wild Swan
J. Samuel White
17 May, 1919
Sunk 17 Jun, 1942
Wishart
John I. Thornycroft & Company
18 Jul, 1919
20 Mar, 1945
Witch
John I. Thornycroft & Company
11 Nov, 1919
Jul, 1946
Armament
4-in Guns
Other Guns
In 1918, it was ordered that the Scott class flotilla leaders and destroyers of "V" and "W" classes should have range and deflection receivers for their 3-in H.A. guns and fire gongs worked off the firing key used for the ships' L.A. weaponry.[1]
Torpedoes
Fire Control
Directors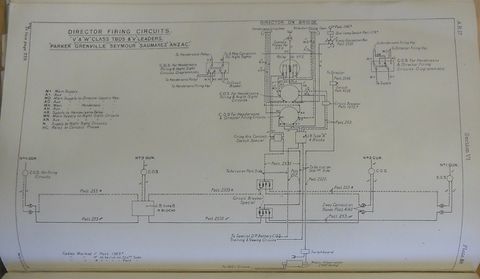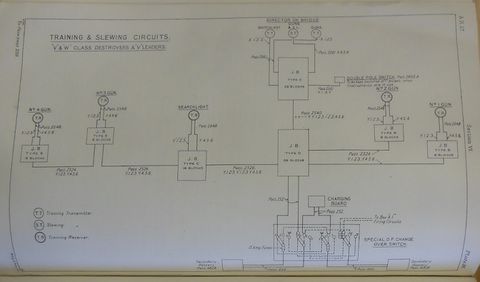 In 1917, it was approved that the "V" class and later destroyers should all receive installations of the British Destroyer Director Firing System.[4] These ships were likely delivered with directors in place.[Citation needed]
In 1918, it was ordered that those destroyers with director installations were to additionally receive:[5]
a voice pipe from T.S. to director
a fire gong at director worked from existing push in T.S.
a fire gong push on fore bridge to be added, wired in parallel to that in the T.S.
the repeat receivers on the fore bridge were to be positioned so as to be visible to the director sightsetter.
Rangefinders
By 1921, all four-gun destroyers mounted a 1m F.T. 27 RF on a M.H. 37 mounting or a 9ft F.Q. 2 on an M.Q. 12 mount on their fore bridge.[6]
Torpedo Control
See Also
Footnotes
Bibliography
March, Edgar J. (1966). British Destroyers: A History of Development, 1892-1953. London: Seeley Service & Co. Limited. (on Bookfinder.com).
Gray, Randal (editor) (1985). Conway's All the World's Fighting Ships 1906–1921. London: Conway Maritime Press. (on Amazon.com and Amazon.co.uk).