Arthur David Ricardo
From The Dreadnought Project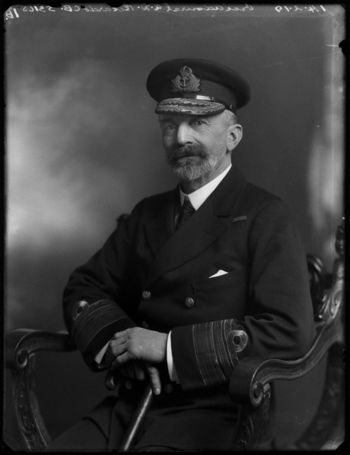 Admiral Arthur David Ricardo, C.B., R.N., Retired (14 September, 1861 – 11 February, 1931) was an officer of the Royal Navy during the First World War.
Life & Career
Arthur David Ricardo was born on 14 September, 1861, the second son of Mr. H. D. Ricardo.
Ricardo was promoted to the rank of Lieutenant on 7 September, 1883.[1]
On 4 July, 1888, he was loaned to command the first-class torpedo boat T.B. 45 for manoeuvres.[2]
Ricardo was promoted to the rank of Commander on 22 June, 1897.[3]
Ricardo was promoted to the rank of Captain on 31 December, 1903.[4]
Appointed to a series of battleship commands: Barfleur on 3 January 1905 – a temporary position lasting but a month,[5] – then Empress of India in 1906,[6] thence directly to command Russell on 10 August, 1907.[7]
Appointed to command the battleship Vanguard on 23 September, 1911.[8]
He was appointed command of Royal Naval Barracks, Devonport on 5 June, 1913.[Inference] (Commodore, Second Class.)
Ricardo was promoted to the rank of Rear-Admiral on 7 March, 1914, vice Rolleston.[9]
Great War
On 9 August, 1915 he was appointed Admiral Superintendent of Chatham Dockyard.[10]
Post-War
Ricardo was appointed an Additional Member of the Third Class, or Companion, in the Civil Division of the Most Honourable Order of the Bath (C.B.) on 1 January, 1919.[11] He was promoted to the rank of Vice-Admiral on 17 January vice Moore.[12] He was relieved at Chatham by Rear-Admiral William E. Goodenough on 1 May.[13] On 26 January, 1920, he was placed on the Retired List at his own request.[14] He was advanced to the rank of Admiral on the Retired List on 3 March, 1924.[15]
Bibliography
"Admiral Ricardo" (Obituaries). The Times. Saturday, 14 February, 1931. Issue 45747, col E, p. 14.
Service Records
Naval Appointments
Preceded by
Edward M. Hewett
Captain of H.M. T.B. 45
4 Jul, 1888[16][17] – 15 Aug, 1888[18]
Succeeded by
Edward A. Salwey
Preceded by
Herbert A. Warren
Captain of H.M.S. Barfleur
3 Jan, 1905[19] – 19 Feb, 1905[20]
Succeeded by
Charles H. Adair
Preceded by
Charles H. Umfreville
Captain of H.M.S. Niobe
20 Feb, 1905[21] – 27 Feb, 1905[22]
Succeeded by
Herbert C. C. Da Costa
Preceded by
Herbert A. Warren
Captain of H.M.S. Empress of India
28 Feb, 1905[23][24] – 3 Jan, 1907[25]
Succeeded by
E. Hyde Parker
Preceded by
Frederick A. Warden
Captain of H.M.S. Russell
10 Aug, 1907[26][27] – 29 Jul, 1909[28]
Succeeded by
William F. De Salis
Preceded by
?
Deputy Superintendent and King's Harbour Master, Chatham Dockyard
30 Jul, 1909[29] – 31 Jul, 1911[30]
Succeeded by
Mortimer L'E. Silver
Preceded by
John B. Eustace
Captain of H.M.S. Vanguard
23 Sep, 1911[31][32] – 6 Jun, 1913[33]
Succeeded by
Cecil S. Hickley
Preceded by
John de M. Hutchison
as Commodore-in-Command, Royal Naval Barracks, Devonport
Rear-Admiral in Command, Royal Naval Barracks, Devonport
6 Jun, 1913[34] – 20 Apr, 1914[35]
Succeeded by
Thomas D. L. Sheppard
as Commodore-in-Command, Royal Naval Barracks, Devonport
Preceded by
Harry Jones
Admiral Superintendent, Chatham Dockyard
9 Aug, 1915[36] – 1 May, 1919[37]
Succeeded by
Sir William E. Goodenough
Footnotes