Charles Henry Coke
From The Dreadnought Project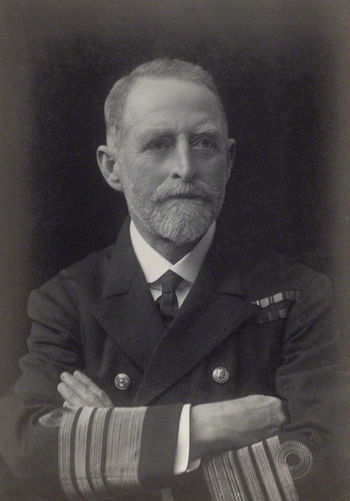 Admiral SIR Charles Henry Coke, K.C.V.O., R.N. (2 November, 1854 – 23 February, 1945) was an officer of the Royal Navy.
Early Life & Career
Coke was promoted to the rank of Lieutenant from the Victoria and Albert with seniority of 5 September, 1877.[1]
Coke was appointed to command the training brig Pilot on 30 August, 1889.[2]
Coke was promoted to the rank of Commander on 30 June, 1892.[3]
Coke was promoted to the rank of Captain on 1 January, 1899.[4]
He was appointed command of the battleship Cornwallis on 14 January, 1905.[5]
Coke was appointed a Naval Aide-de-Camp to the King dated 1 March, 1907, vice Reynolds.[6]
Flag Rank
Coke was promoted to the rank of Rear-Admiral on 18 May, 1908, vice King-Hall.[7] From 29 September to 22 January, 1909, he took the War Course. He was adjudged to be "Slow."[8] In May, 1909, he sought and received permission from the Admiralty to visit Chefoo (now Yantai), China, and returned home on 24 August.[9]
He was appointed Rear-Admiral, Queenstown, on 18 April, 1911.[10] On 12 July, on the occasion of King George V's visit to Dublin, Coke was appointed a Knight Commander of the Royal Victorian Order (K.C.V.O.) and knighted.[11] He was promoted to the rank of Vice-Admiral on 17 May, 1913, vice Callaghan.[12]
He was superseded on 21 April, 1914, and reappointed on 19 May.[13]
Great War
Coke gave up command on the Coast of Ireland on 22 July, 1915. On 12 February, 1917, he was granted a temporary commission as Captain, Royal Naval Reserve, and was appointed to H.M.C.S. Niobe for service under the Canadian Naval Board, as Commodore, Second Class, in command of the Newfoundland Patrol Service.[14] On 3 April he was promoted to the rank of Admiral, vice Poore[15] and was placed on the Retired List at his own request on 10 April.[16] He was superseded as Commodore of Patrols, Royal Canadian Navy, on 20 July, 1917.[17] In a letter to the Commander-in-Chief on North America and West Indies Station, Sir Montague E. Browning, the First Sea Lord, Sir John R. Jellicoe, noted, "I am sorry he was not up to the job, but he is of course aging rapidly."[18]
He died at Hughenden, Exmouth, on 23 February, 1945, aged ninety-one. He was interred at Littleham, Exmouth, on 27 February.[19] Cause of death was broncho pneumonia.[20]
Bibliography
"Admiral Sir Charles Coke" (Obituaries). The Times. Monday, 26 February, 1945. Issue 50077, col E, p. 6.
Service Records
Naval Appointments
Preceded by
Andrew W. Rogers
Captain of H.M.S. Pilot
30 Aug, 1889[21]
Succeeded by
Herbert W. Savory
Preceded by
Robert S. Lowry
Captain of H.M.S. Ganges
16 Jul, 1896[22]
Succeeded by
Walter V. Anson
Preceded by
George A. Primrose
Captain of H.M.S. Talbot
10 Jul, 1900
Succeeded by
Frederick G. Stopford
Preceded by
Arthur A. C. Galloway
Captain of H.M.S. Terpsichore
7 Feb, 1901[23] – 25 Apr, 1904[24]
Succeeded by
Bernard Currey
Preceded by
William B. Fisher
Captain of H.M.S. Cornwallis
14 Jan, 1905[25][26] – 14 Jan, 1907[27]
Succeeded by
W. Lowther Grant
Preceded by
Arthur A. C. Galloway
In Command of Sheerness Gunnery School
14 Jan, 1907[28]
Succeeded by
the Chatham Gunnery School
Preceded by
Sir Alfred W. Paget
Senior Officer on the Coast of Ireland
18 Apr, 1911[29] – 21 Apr, 1914[30]
Succeeded by
Robert H. S. Stokes
Preceded by
Robert H. S. Stokes
Senior Officer on the Coast of Ireland
19 May, 1914[31] – 20 Jul, 1915[32]
Succeeded by
Sir Lewis Bayly
Footnotes