Edward Buxton Kiddle
From The Dreadnought Project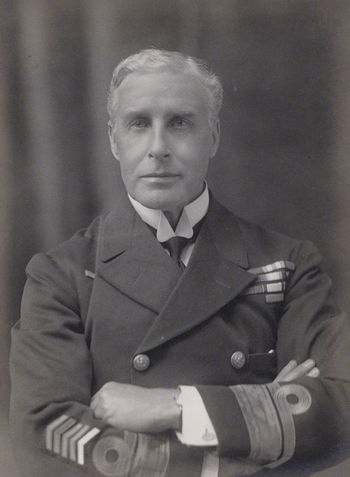 Admiral SIR Edward Buxton Kiddle, K.B.E., C.B., Royal Navy, Retired (2 November, 1866 – 29 April, 1933) was an officer of the Royal Navy.
Early Life
Edward Buxton Kiddle was born on 2 November, 1866, at 2 Peel Terrace, Gosport,[1] the son of Mary Ann Wigg and James Kiddle,[2] a navigating officer of the Royal Navy. At the age of five he was sent to a Dame school in Gosport,[3] and at seven was sent to a tutor. He then went to Burney's Royal Academy at Gosport as a day boy, before being sent to a Mr. Wheat's school at Devonport when his father was appointed in charge of Keyham Dockyard. His chief recollection there was: "the daily caning I received for not knowing my Euclid, a subject I found it impossible to understand or memorise."[4] His father asked him what he wanted to do, and Kiddle told him he wanted to join the Navy. His father advised him not to as he personally "disliked the life," but didn't oppose him, and in 1877 Kiddle went to the Royal Naval School, New Cross, with the intention of being one of the pupils there who twice a year won a nomination for Naval Cadet in the Royal Navy.[5] He was bullied whilst at New Cross, but "gradually I got hardened to the school and became a fairly good athlete winning the 600 yards, 400 yards and long jump under 12 and playing all the school games, Rugby, [Eton] fives and cricket."[6] He competed with six other New Cross boys for the nomination and came top. In the ensuing examination for naval cadetships,[7] Kiddle placed seventeenth out of thirty-seven successful candidates.[8] Upon finding out he had passed the examination he was made by the monitors (junior prefects) at the school to ask for a half-day's holiday. He was awarded the Freeman prize; a silver watch and chain valued at £10: and the Yarborough Scholarship; value of 35 guineas (just under £37).[9]
Early Career
Kiddle was appointed to the training ship Britannia at Dartmouth on 15 July, 1879.[10]
On 29 August, 1881, he was appointed to the battleship Achilles in the Channel Squadron. He was rated Midshipman on 22 November.
He was appointed to the corvette Sapphire on 18 January, 1883.
On 31 March, 1886, he was appointed to Excellent for the course of study for the rank of Lieutenant.
He was officially lent to the flatiron gunboat Spey as Navigating Officer on 7 July, 1887, for the Jubilee Fleet Review, but was also appointed to the battleship Inflexible. He reported to the latter and was reported as missing from the former. After three days he was found and reported aboard Spey, where he found that in addition to his navigating duties he was to act as Paymaster, take charge of the Gunner, Boatswain, and all stores. In his own words: "I may state I was ignorant of all but the first and I had no experience in that."[11]
After the review, Spey took part in the Annual Manoeuvres of 1887, after which Kiddle decided to apply for the Surveying Service in order to increase his meagre income of five shillings a day. On 14 August he was temporarily appointed to the battleship Agincourt, second flagship in the Channel Squadron. On 1 November he was appointed to the barque-rigged sloop Egeria on the Australian Station. In early December he took passage for Australia in the armed troopship Thalia.[12][13]
There was a general mess, about 40 officers, the ship was filthy, the Captain was mad, there was no poop or forecastle. The junior officers [sic] quarters were in what was called the Pandemonium.[14]
Lieutenant
Kiddle was promoted to the rank of Lieutenant on 1 January, 1889.
From 1893, he would serve three years as Lieutenant (N) in Swallow and then spend two years in Hawke before being appointed to the battleship H.M.S. Repulse in 1899. In 1900 and 1901 he would serve as navigating officer in Barfleur and Albion.
His personal memoirs provide more colour of events during his time in Swallow.
"Our Captain, Commander S [Commander Lewis D. Sampson], unfortunately went off his head and after he ordered a salute for the Queen of Sheba, we had to put him on the sick list. He was invalided home and jumped overboard on the way before reaching the Cape and was drowned."[15]
Sampson was replaced by Commander George L. M. Leckie:
Commander L, arrived from England and joined us at Zanzibar. He was an enormously fat man and joined with only the two top buttons of his white tunic buttoned (all that would button). He messed with the wardroom, being too lazy to bother about his own mess. He worried about nothing and left the officers to run the ship as they liked. Frequently he would not leave his bed to take the ship into harbour, but left me to my own devices.[16]
Commander
Kiddle was promoted to the rank of Commander on 31 December, 1901.[17]
He served as navigating officer in Albion until July, 1904. Throughout 1905 he provided the same services in the battleship Canopus.
From January 1906 to March 1907 he served as navigating officer in the Barfleur. In March 1907 he was appointed to St. George as navigator.
Captain
Kiddle was promoted to the rank of Captain on 30 June, 1907.[18]
On 10 June, 1909, he was appointed Captain of Goliath, and from 17 June as Flag Captain to Rear-Admiral T. H. Martyn Jerram, Second-in-Command on the Mediterranean Station.[Citation needed]
He was appointed Captain of the second class protected cruiser Astræa of the China Station on 4 February, 1910.[Citation needed]
Great War
At the Battle of Jutland, he was Captain of Revenge.[19]
He was appointed Captain of Marlborough on 11 February, 1917.[20]
He was appointed a Naval Aide-de-Camp to King George V on 31 January, 1918, vice Heneage.[21] On the occasion of the King's birthday he was appointed an Additional Member of the Third Class, or Companion, in the Military Division of the Most Honourable Order of the Bath (C.B.) on 3 June,[22] and he was promoted to the rank of Rear-Admiral on 28 October, vice Hutton.[23]
Post-War
On 12 November, 1918, the day after the Armistice with Germany, Kiddle was appointed to President for special service, as British Naval Representative on the Inter Allied Council in the Adriatic, on which he was superseded on 15 March, 1920.[24]
He was summoned home by Admiralty telegram with the news that he had been selected for a sea appointment. After a fortnight's leave,[25] he was appointed Rear-Admiral (Second-in-Command) of the Second Battle Squadron of the Atlantic Fleet on 1 April, 1920. He struck his flag on 8 April, 1921, and in his service record on 22 April he was noted as having "Ability 'above the average'." His immediate superior, Vice-Admiral Sir William C. M. Nicholson, wrote:
An able, loyal & reliable R/A. Has a good diplomatic manner. Except for blood poisoning trouble in one foot wh. culminated in a toe being amputated he has been physically been very fit. In my opinion he is fully worthy of further employment but his métier is rather the command of a foreign station than a battle fleet.[26]
The Commander-in-Chief, Atlantic Fleet, Admiral Madden, agreed, writing:
I fully concur with the V/A's remarks. R/A Kiddle served in 1st B/S under my command during the war & I hold a high opinion of his ability & consider him fit for further sea service & quite fit for emplyment in the Battle Fleet, of wh. work he has large experience. His tact & success in dealing with foreigners renders him particularly suitable for employment as CinC on a foreign station.[27]
On 28 September, 1921, he was appointed Admiral Superintendent of Chatham Royal Dockyard,[28] his first spell of shore service in the Navy. He had applied for Malta Dockyard, in his own words, "to get a home and to make more probable a chance of employment." Apparently the Director of Dockyards intervened and put him forward for the recently-vacated Chatham instead, with the intention of Kiddle eventually succeeding him as Director of Dockyards. Kiddle didn't want the position, but "I was a very poor man and could not refuse the appointment."[29]
The house was a delightful one and had we £500 a year more and Zima had had good health, we might have enjoyed the appointment, but, as it happened, the salary was reduced by £200 a year during my time and Zima was ill most of the time, while I had occasional spells of sciatica, influenza, etc, and these handicaps spoilt our years at Chatham.[30]
He was superseded at Chatham on 1 December, 1923. The Commander-in-Chief at the Nore, Admiral Sir Hugh Evan-Thomas, wrote:
Has done excellently as A.S. of Chatham Yard. He has shown V.G. judgment [sic] - & has a way of getting on with those about him. I hope it may be found possible to employ him in some further comd. Ability above average.[31]
Kiddle found his time as Admiral Superintendent "disappointing and we lost money over the appointment." He attempted to discover whether he would be further employed, as there was a possibility he might be sent as Commander-in-Chief of the Africa Station. In the meantime he and his family moved to East Grimstead, Sussex, and then to Alverstoke.[32] He was promoted to the rank of Vice-Admiral on 19 July, 1924, vice Hunt,[33] and at this time was informed by the Admiralty that they had no work for him.[34] He was placed on the Retired List at his own request on 1 August, 1924.[35] On 3 July, 1926, he was appointed a Knight Commander of the Military Division of the Most Excellent Order of the British Empire (K.B.E.), dated 5 June.[36] He was advanced to Admiral on the Retired List on 22 February, 1928.[37]
He passed away at "Salcombe", his Alverstoke home, on 29 April, 1933, aged sixty-six. His funeral service took place at St. Mary's, Alverstoke, on 3 May.[38] Lady Kiddle passed away on 7 November, 1956, at a nursing home in Alverstoke.
Bibliography
"Admiral Sir E. B. Kiddle" (Obituaries). The Times. Tuesday, 2 May, 1933. Issue 46433, col D, p. 9.
Papers
Service Records
The National Archives. ADM 196/89. Volume 4. f. 2.
The National Archives. ADM 196/42. Book 4. ff. 381-382. Book 19. f. 195.
Naval Appointments
Preceded by
Cecil H. France-Hayhurst
Captain of H.M.S. Goliath
10 Jun, 1909[39] – 24 Jul, 1909
Succeeded by
Frederick L. Field
Preceded by
Frank E. C. Ryan
Captain of H.M.S. Astræa
4 Feb, 1910[40] – 3 Feb, 1912[41]
Succeeded by
Eustace La T. Leatham
Preceded by
John M. D. E. Warren
Captain of H.M.S. Victorious
2 Jul, 1912[42]
Succeeded by
Rowland Nugent
Preceded by
Francis W. Kennedy
Captain of H.M.S. Glory
31 Jul, 1912[43] – 5 Dec, 1912[44]
Succeeded by
Guy L. Sclater
Preceded by
George C. Cayley
Captain of H.M.S. Minotaur
10 Jan, 1913[45][46] – 29 Dec, 1915[47]
Succeeded by
Arthur C. S. H. D'Aeth
Preceded by
New Command
Captain of H.M.S. Revenge
29 Dec, 1915[48] – 11 Feb, 1917[49]
Succeeded by
George P. Ross
Preceded by
George P. Ross
Captain of H.M.S. Marlborough
11 Feb, 1917[50] – 26 Oct, 1918[51]
Succeeded by
Charles D. Johnson
Preceded by
Lewis Clinton-Baker
Rear-Admiral, Second-in-Command, Second Battle Squadron
1 Apr, 1920[52] – 8 Apr, 1921[53]
Succeeded by
Sir Rudolf W. Bentinck
as Rear-Admiral in the
First Battle Squadron
Preceded by
Lewis Clinton-Baker
Admiral Superintendent, Chatham Dockyard
28 Sep, 1921[54] – 1 Dec, 1923[55]
Succeeded by
Percy M. R. Royds
Footnotes