Godfrey Marshall Paine
From The Dreadnought Project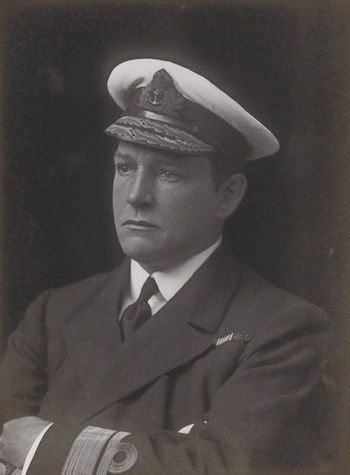 Rear-Admiral SIR Godfrey Marshall Paine, K.C.B., M.V.O., Royal Navy (21 November, 1871 – 23 March, 1932) was an aviation pioneer in the Royal Navy, becoming the first commander of the Central Flying School, and the first and only Fifth Sea Lord during the First World War.
Early Life & Career
Paine was promoted to the rank of Lieutenant on 28 August, 1893.[1]
On the occasion of the visit of the Prince and Princess of Wales to India, on 15 May, 1906, Paine was appointed a Member of the Fourth Class of the Royal Victorian Order (M.V.O.), dated 11 March.[2]
Captain
Paine was promoted to the rank of Captain on 30 June, 1907.[3] On 23 July, he was appointed to Victory for service on the Committee of Supply of Paint to the Fleet.[4]
In perhaps the most interesting notation the editor has ever read in a service record, on 9 February, 1909, Paine was given Admiralty permission "to proceed to Germany for cure of constitutional syphilis."[5] To judge from his later service, this course of treatment was successful in suppressing the disease.
On 3 June he was appointed to the third class protected cruiser Diamond, for command of the Third Destroyer Flotilla at the Nore.[6] On 31 August, 1911, he was appointed in command of Actæon, the torpedo school at Sheerness.[7] On 9 May, 1912, he obtained his Royal Aero Club pilot's certificate after qualifying on a Short biplane at the Royal Aero Club's grounds at Eastchurch.[8][9]
He was appointed Commandant of the Central Flying School on 15 May,[10] and took command on 17 May.[11]
Paine was appointed an Ordinary Member of the Third Class, or Companion, in the Civil Division of the Most Honourable Order of the Bath (C.B.) on 1 January, 1914.[12]
Great War
On 10 December, 1915, he was appointed Commodore, First Class for command of the Royal Naval Air Service's Central Depôt and Training Establishment at Cranwell.[13]
He was appointed Director of Air Services on 18 January, 1917, and on 31 January also became Fifth Sea Lord on the Board of Admiralty.[14]
He was appointed Master General of Personnel on the Air Council on 3 January, 1918,[15] and later granted the temporary rank of Major-General in the Royal Air Force from that date.[16] He relinquished his seat on the Board of Admiralty on 10 January.[17] He transferred to the Royal Air Force with the rank of Major-General on 23 August.[18]
Post-War
Paine was promoted to the rank of Rear-Admiral on the Retired List on 2 January, 1919, and considered to have retired from the Royal Navy with the rank of Captain on 22 August, 1918, upon transfer to the Royal Air Force.[19] Paine retired from the Royal Air Force on 12 May, 1920 and died on 23 March, 1932.
Bibliography
"Rear-Admiral Sir Godfrey Paine" (Obituaries). The Times. Thursday, 24 March, 1932. Issue 46090, col A, p. 17.
Service Record
Naval Appointments
Preceded by
Edwyn S. Alexander-Sinclair
Captain of H.M.S. Albatross
17 Jan, 1904[20] – Feb, 1905[Inference]
Succeeded by
Arthur K. Waistell
Preceded by
?
Captain (D), Third Destroyer Flotilla
2 Jun, 1909[21]
Succeeded by
Robert K. Arbuthnot, Bart.
Preceded by
John R. Le H. Ward
Captain of H.M.S. Diamond
3 Jun, 1909[22][23] – 6 Jun, 1911[24]
Succeeded by
Edward G. Lowther-Crofton
Preceded by
Arthur B. F. Dawson
Captain of H.M.S. Actæon
31 Aug, 1911[25] – 15 May, 1912[26]
Succeeded by
Maurice D. Evans
Preceded by
New Command
Commandant, Central Flying School
17 May, 1912[27] – 10 Dec, 1915[28]
Succeeded by
?
Preceded by
?
In Command, Cranwell Central Depot and Training Establishment
10 Dec, 1915 – 31 Jan, 1917
Succeeded by
?
Preceded by
Charles Lionel Vaughan-Lee
as Director of Air Services
Fifth Sea Lord and Chief of Naval Air Service
11 Jan, 1917[29] – 10 Jan, 1918[30]
Succeeded by
Position Abolished
Footnotes