Herbert Arthur Stevenson Fyler
From The Dreadnought Project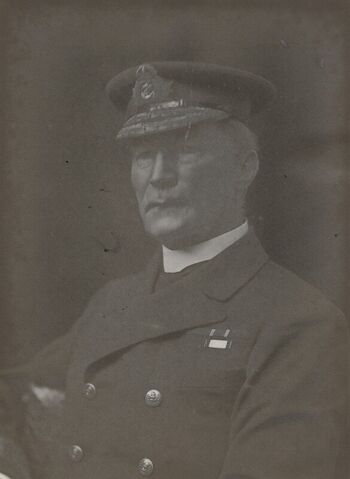 Admiral Herbert Arthur Stevenson Fyler, C.B., D.S.O., Royal Navy, Retired (7 January, 1864 – 19 July, 1934) was an officer of the Royal Navy. His surname is sometimes misspelled as the more familiar "Tyler".[1][2] A service record indicates, in the form of a correction, that his name should be Arthur Herbert Stevenson Fyler.[3]
Life & Career
Herbert Arthur Stevenson Fyler was born on 7 January, 1864, the third son of Captain John William Townshend Fyler, of Hethfelton, Wareham, Dorset. He studied at Stubbington House School, Fareham, and entered the Britannia in January, 1877. He served as Midshipman in the armoured cruiser Shannon. Promoted to Lieutenant in May, 1885, he specialised in Torpedo Duties.
Fyler was loaned to command the first-class torpedo boat T.B. 59 on 4 July, 1888 for manoeuvres.[4]
In January, 1892, Captain William Henry Hall of Severn offered a negative recommendation: the Lieutenant was "deficient in tact, judgment & zeal – incurred censure of C. in C. for conduct not creditable & showing litigious spirit." Comments regarding Fyler's tact tact would prove recurrent.[5]
On 24 October, 1888, he was appointed to the Agincourt.[6]
In January, 1896 he was appointed First and Torpedo Lieutenant of the cruiser Theseus, which was commissioned in the Special Service Squadron under Admiral Dale at the time of the Kruger Telegram. He was one of the officers landed for service in the Benin Punitive Expedition under Rear-Admiral Rawson. He was mentioned in despatches and received the Africa Medal with Benin Clasp. On 31 December, 1898, he was promoted to the rank of Commander,[7] and was appointed to the Sheerness Gunnery School in June, 1899.
In July, 1900 the Commander-in-Chief, Nore commended Fyler's excellent work in leading a party of bluejackets on the occasion of Queenborough Pier being destroyed by fire.[8]
Fyler was appointed to the second class battleship Nile as executive officer in September 1902. In December 1902, a prisoner awaiting Court Martial escaped, and this reflected "great neglect of care & precaution on the part of the executive officer for such a thing to be possible." In February, 1903 Fyler was appointed to the battleship Royal Oak.
Captain
Fyler remained in Royal Oak until being promoted to the rank of Captain on 31 December, 1904.[9]
In November 1905, Fyler was appointed in command of the armoured cruiser Donegal.
In August 1906, he assumed command of the first class protected cruiser St. George.
In November, 1908 a Court of Enquiry probed a squabble between Fyler and his executive officer in Encounter, Commander Harold Ernest Browne. The Court concluded that Fyler had been injudicious in dealing with his second in command, and Fyler was to be superseded shortly. Apparently the issue was one of Browne taking the ship to sea in Fyler's absence – an act which the Admitalty felt was justified by the weather conditions, though it was felt that Browne should have returned after the weather improved. Fyler returned home in the union S.S. Makura [?] and sent a formal letter dated 9 April, 1909 to the Admiralty outlining his own view of his interactions with Browne.[10]
He was appointed in command of the battleship Majestic in February of 1910, and remained there until August. In November, he assumed command of the first class protected cruiser Andromeda.
Fyler was appointed captain of the armoured cruiser Euryalus in May 1912.
On 1 January, 1914, he was appointed in command of the battleship Agamemnon.[11]
Fyler was appointed an Additional Member of the Third Class, or Companion, in the Military Division of the Most Honourable Order of the Bath (C.B.) on 1 January, 1916.[12]
On 14 March 1916, Fyler was gazetted for a mention in despatches for his services at Gallipoli, especially on 1 March 1915 when the battleship Lord Nelson carried out a sustained attack to silence forts in the Narrows, and on 18 March and 25 April when Agamemnon operated inside the Dardanelles.
Fyler was promoted to the rank of Rear-Admiral on 3 June, 1916, vice Hibbert, and, in accordance with the provisions of the Order in Council of 8 December, 1903, was placed on the Retired List the following day, at his own request.[13] Eleven days later, Vice-Admiral de Robeck noted that Fyler had great fighting ability but "[n]ot much tact for a comd."[14]
Fyler underwent a successful operation around 22 June 1916.[15]
On 29 May, 1917, Fyler was appointed to President for special service Convoy duty, hoisting his flag in H.M.S. Sachem on 5 June. He reverted to President upon Sachem paying off on 31 December, 1917. On 1 January, 1918, Fyler was appointed a Companion of the Distinguished Service Order.[16] In February, 1918, Fyler was appointed to the commissioned escort vessel H.M.S. Naneric, the ship being under the command of Lieutenant R.N.R. John James Tulloch.[17][18]
Fyler was reverted to the Retired List on 17 December, 1918.[19] He was promoted to the rank of Vice-Admiral on the Retired List on 25 March, 1920,[20] and advanced to the rank of Admiral on 8 May, 1925.[21]
Bibliography
"Admiral H. A. S. Fyler" (Obituaries). The Times. Friday, 20 July, 1934. Issue 46811, col D, p. 16.
Service Records
Naval Appointments
Preceded by
?
Captain of H.M. T.B. 59
7 Jul, 1887[22][23] – 27 Jan, 1888[24]
Succeeded by
Cecil E. E. Carey
Preceded by
New Command
Captain of H.M.S. Devonshire
24 Aug, 1905[25] – 24 Oct, 1905[26]
Succeeded by
Arthur T. Stuart
Preceded by
Arthur T. Stuart
Captain of H.M.S. Donegal
31 Oct, 1905[27] – 1 Feb, 1906[28]
Succeeded by
William J. Grogan
Preceded by
Robert H. Anstruther
Captain of H.M.S. Sirius
6 Apr, 1906[29][30] – 9 Aug, 1906[31]
Succeeded by
Edward G. Lowther-Crofton
Preceded by
Charles H. H. Moore
Captain of H.M.S. St. George
9 Aug, 1906[32][33] – 14 Nov, 1907[34]
Succeeded by
Charles H. Morgan
Preceded by
Rowland Nugent
Captain of H.M.S. Majestic
8 Feb, 1910[35] – 1 Aug, 1910[36]
Succeeded by
Bertram M. Chambers
Preceded by
Herbert J. Savill
Captain of H.M.S. Andromeda
26 Nov, 1910[37][38] – 10 May, 1912[39]
Succeeded by
William G. A. Kennedy
Preceded by
William G. A. Kennedy
Captain of H.M.S. Euryalus
10 May, 1912[40][41] – 29 Jun, 1912[42]
Succeeded by
Arthur L. Cay
Preceded by
Harry L. d'E. Skipwith
Captain of H.M.S. Europa
29 Jun, 1912[43] – 3 Aug, 1912[44]
Succeeded by
Wyndham L. Bamber
Preceded by
Arthur L. Cay
Captain of H.M.S. Euryalus
3 Aug, 1912[45] – 20 Mar, 1913[46]
Succeeded by
Hector L. Watts-Jones
Preceded by
George W. Smith
Captain of H.M.S. Russell
20 Mar, 1913[47] – 5 Dec, 1913[48]
Succeeded by
William Bowden-Smith
Preceded by
Arthur Hayes-Sadler
Captain of H.M.S. Agamemnon
1 Jan, 1914[49][50] – 29 Jan, 1917[51]
Succeeded by
Philip W. Dumas
Preceded by
Henry V. W. Elliott
Captain of H.M.S. Encounter
1914[52][53] – 5 Mar, 1909[54]
Succeeded by
Philip H. Colomb
Footnotes