Lionel Arthur Doveton Sturdee
From The Dreadnought Project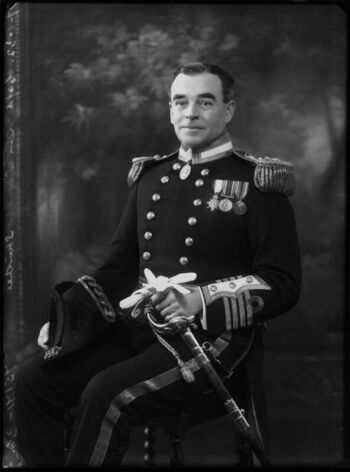 Rear-Admiral SIR Lionel Arthur Doveton Sturdee, Second Baronet, C.B.E. (3 September, 1884 – 1970) served in the Royal Navy.
Life & Career
Sturdee was born in Southsea, the son of Captain Frederick Charles Doveton Sturdee. He ranked fifty-ninth among 62 successful candidates in examinations for entry to the Britannia intake term of September 1899, with 2104 marks.[1] He gained three month's time on passing out of Britannia.
Sturdee's early naval career placed him in Royal Sovereign from January 1901 until he migrated to the battleship London in 1902 and then to Good Hope in mid-April of 1903. On 6 May 1905, he was sent to Forth for submarines. Much of his career would revolve around submarines, but I've not found a specific instance in which he commanded a submarine.[2]
Sturdee was promoted to the rank of Lieutenant on 15 July, 1906. On 10 August 1907, he left Forth for a month in Mercury, again for submarines.[3]
In September 1909, he was qualified as Lieutenant (T). He served as torpedo officer in Cornwallis in the Mediterranean from August 1910 to September, 1912 and was blamed, to a "minor degree", for damage to her submerged tube bar toward the end of his appointment. On 1 November, he was appointed to Forth as first and torpedo officer, and for duty with submarines.
He was still there when he was promoted to the rank of Lieutenant-Commander on 15 July, 1914. With this new rank, he was appointed in command of the ship as war broke out in August, 1914.[4]
Sturdee was appointed in command of H.M.S. Hazard, and for futy with submarines of the Third and Fourth Submarine Flotillas from 31 October 1914 through 30 August, 1917, when he was appointed to Colossus as torpedo officer.[5]
Sturdee was promoted to the rank of Commander on 31 December, 1918.[6]
Sturdee was sent to America on "special service" from 30 March to 10 July, 1919.[7]
In March 1924, he became Commander of the torpedo training school H.M.S. Defiance, in succession to Cdr. Lovett-Cameron, who had held the post since June 1922.[8]
Sturdee became the Second Baronet Sturdee following the death of his father in 1925. He would be the last, as the title would die with him forty-five years later.[9]
Sturdee was promoted to the rank of Captain on 31 December, 1926.[10]
Sturdee was promoted to the rank of Rear-Admiral in January, 1938.[11]
World War II
See Also
Naval Appointments
Preceded by
Wilfred Tomkinson
Captain of H.M.S. Forth
3 Aug, 1914[12] – 30 Oct, 1914[13]
Succeeded by
Nicholas E. Archdale
Preceded by
Nicholas E. Archdale
Captain of H.M.S. Hazard
31 Oct, 1914[14][15] – 30 Aug, 1917[16]
Succeeded by
Frederick J. Thompson
Preceded by
Albert J. Robertson
Captain of H.M.S. Assistance
14 May, 1928[17] – 23 Feb, 1930
Succeeded by
Horatio Westmacott
Preceded by
Robert S. MacFarlan
Captain of H.M.S. Defiance
9 Aug, 1930[18][19] – 14 Dec, 1932[20]
Succeeded by
Roderick B. T. Miles
Preceded by
Henry T. Rust
Captain of H.M.S. Dauntless
Mar, 1936[21] – 15 Sep, 1936[22][23]
Succeeded by
Frank D. Morris
Preceded by
Oswald W. Cornwallis
Captain of H.M.S. Resolution
15 Sep, 1936[24][25] – 10 Jan, 1938[26]
Succeeded by
James W. S. Dorling
Footnotes