Mark Edward Frederic Kerr
From The Dreadnought Project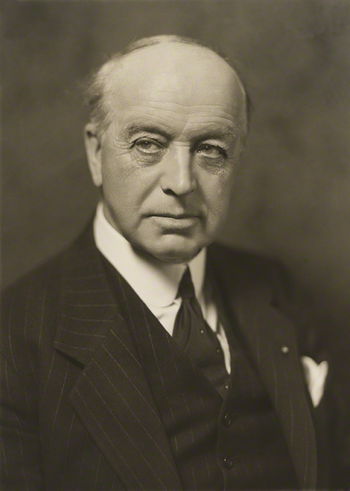 Admiral Mark Edward Frederic Kerr, C.B., M.V.O., R.N., Retired (26 September, 1864 – 20 January, 1944) was an officer of the Royal Navy during the First World War. In addition to his years of service at sea, he held the distinction of becoming the first British Flag Officer to become a qualified aeroplane pilot.
Life & Career
At the examination for Naval Cadetships, Kerr placed twentieth out of the successful batch of forty-six.[1]
He was promoted to the rank of Lieutenant on 20 August, 1886.[2]
Kerr was appointed Flag Lieutenant to Sir Anthony H. Hoskins, Commander-in-Chief, Mediterranean, in the battleship Victoria, on 11 March, 1889.[3]
Kerr was appointed Flag Lieutenant to Rear-Admiral Edward H. Seymour on 18 July, 1894.[4]
He was promoted to the rank of Commander on 30 June, 1898.[5]
As a Commander, Kerr obtained his first seagoing command experience in a series of torpedo boat destroyer appointments, the first being Bittern, dated 19 April, 1899. This was followed by appointments in command of Mermaid and Cheerful. He was again appointed from Cheerful for a half-year in command of Mermaid, commencing on 4 January, 1901.[6]
On 1 January, 1903 he was promoted to the rank of Captain.[7] On the occasion of the King's visit to Austria Kerr was appointed a Member of the Fourth Class of the Royal Victorian Order (M.V.O.) on 9 October.[8]
He served as captain of Implacable from May 1907 through September of the following year.
He was appointed a Naval Aide-de-Camp to the King dated 9 July, 1912, vice Evan-Thomas.[9]
Flag Rank
Kerr was promoted to the rank of Rear-Admiral on 16 May, 1913, vice Williams.[10] On the occasion of the King's birthday he was appointed an Ordinary Member of the Third Class, or Companion, in the Civil Division of the Most Honourable Order of the Bath (C.B.) on 3 June.[11]
Writing to the Greek Minister of Marine, Churchill described Kerr as "one of the most gifted and brilliant officers in our service, of whom we fully expect in the future that he will rise at an early age to the most important commands."[12]
On 14 July, 1914, Kerr was granted an Aviator's Certificate (No. 842.) for a Hydro-Aeroplane for flying in a Sopwith bi-plane at the Royal Hellenic Naval Air Station, Eleusis.[13]
Great War
In August 1915, Kerr was granted three months of home leave for his health, intending that he would rejoin the mission at Greece thereafter. Kerr resigned his appointment as head of the naval mission to Greece from 28 March, 1916.
On his command being reduced, Kerr wrote to the First Sea Lord, Sir John R. Jellicoe, agreeing with the draw-down but lamenting, "I have had no active employment or had a chance of seeing an enemy, which is trying after a life spent in working oneself up for it."[14]
Kerr committed a glaring indiscretion in mid-1916 when he wrote a letter to Princess [sic] Andrew of Greece in which he mentioned that a German submarine had been sunk in the Adriatic. This information was found to have reached Germany. The Admiralty informed Kerr by telegram that it required a definite assurance that he would be more careful in future. Undoubtedly chastened, Kerr delivered this and took up an appointment as Rear-Admiral Commanding, Adriatic.[15]
On 24[?] May 1917, kerr was slightly wounded in his left eye by three small flecks of metal after a bomb dropped from an enemy aeroplane burst aboard the monitor Earl of Peterborough during bombardment operations against Austrian shore positions.
On 3 January, 1918, Kerr was appointed Deputy Chief of the Air Staff on the Air Council.[16] He was given the temporary rank of Major-General in the Royal Air Force from that date.[17] On 1 April he was appointed an Area Commander.[18] On 26 April he was promoted to the rank of Vice-Admiral, vice Napier.[19] He was placed on the Retired List "at his own request" on 1 October, 1918.[20]
After being granted permission to proceed to France in 9 March, and then Europe on 13 April 1921, Kerr was promoted to the rank of Admiral on the Retired List on 6 April, 1922.[21]
Bibliography
"Admiral Mark Kerr" (Obituaries). The Times. Friday, 21 January, 1944. Issue 49759, col D, p. 7.
Kerr, Admiral Sir Mark (1927). Land, Sea and Air: Reminiscences of Mark Kerr. London: Longmans, Green and Co. Ltd..
Kerr, Admiral Sir Mark (1927). The Navy in My Time. London: Rich & Cowan, Limited.
Kerr, Admiral Sir Mark (1934). Prince Louis of Battenberg: Admiral of the Fleet. London: Longmans, Green and Co. Ltd..
Service Records
Naval Appointments
Preceded by
?
Captain of H.M.S. Bittern
19 Apr, 1899[22][23] – 25 Nov, 1899[24]
Succeeded by
Ernest S. Carey
Preceded by
John M. de Robeck
Captain of H.M.S. Mermaid
28 Nov, 1899[25] – 13 Jun, 1901[26]
Succeeded by
Frederic W. Dean
Preceded by
?
Captain of H.M.S. Cheerful
3 Mar, 1900[27] – 4 Jan, 1901
Succeeded by
Barry E. Domvile
Preceded by
?
Royal Navy Naval Attaché at Rome
24 Jun, 1903[28] – 1 Jan, 1905
Succeeded by
Roger J. B. Keyes
Preceded by
Frederick C. D. Sturdee
Captain of H.M.S. Drake
1 Feb, 1905[29][30] – 15 Feb, 1907[31]
Succeeded by
Arthur Hayes-Sadler
Preceded by
George E. Patey
Captain of H.M.S. Implacable
16 Jun, 1907[32] – 29 May, 1908[33]
Succeeded by
William B. Fawckner
Preceded by
New Command
Captain of H.M.S. Invincible
8 Sep, 1908[34][35] – 28 Mar, 1911[36]
Succeeded by
Richard P. F. Purefoy
Preceded by
New Command
Captain of H.M.S. Hercules
Feb, 1911[37] – Mar, 1911[38]
Succeeded by
Frederick D. Gilpin-Brown
Preceded by
Richard P. F. Purefoy
Assistant to Admiral Commanding Coastguard and Reserves
28 Mar, 1911[39] – 16 Nov, 1912[40]
Succeeded by
The Hon. Robert F. Boyle
Preceded by
John Nicholas
Captain of H.M.S. King George V
16 Nov, 1912[41] – Jan, 1913[42]
Succeeded by
George H. Baird
Preceded by
George H. Baird
Captain of H.M.S. Hercules
7 Mar, 1913[43] – 21 Jun, 1913[44]
Succeeded by
Henry H. Bruce
Preceded by
Sir Cecil F. Thursby
Rear-Admiral Commanding, Adriatic Squadron
May, 1916[45] – 27 Aug, 1917[46]
Succeeded by
Algernon W. Heneage
Preceded by
?
Rear-Admiral Commanding, Adriatic
20 May, 1916[47] – 27 Aug, 1917[48]
Succeeded by
Algernon Walker-Heneage-Vivian
as Senior Naval Officer, British Adriatic Force
Footnotes