Matthew Robert Best
From The Dreadnought Project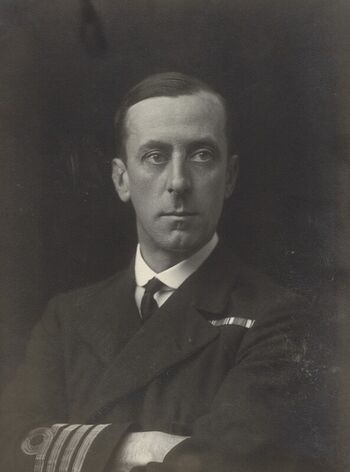 Admiral THE HONOURABLE SIR Matthew Robert Best, K.C.B., D.S.O., C.V.O., Royal Navy (18 June, 1878 – 13 October, 1940) was an officer of the Royal Navy.
Life & Career
Born in Crotanstown, Kildare.
Best was promoted to Commander on 31 December, 1911.[1]
Great War
He was appointed to Iron Duke "for special service" in August, 1914.[2]
In Best's diary entry for Monday 1st September, 1914: "C in C saw all Dreado: Captains onboard Iron Duke on subject of Action Tactics".[3]
At the Battle of Jutland, he served as one of four flag captains to Admiral Jellicoe.[4]
On 15 September he was appointed a Companion of the Distinguished Service Order (D.S.O.) for his services at Jutland.[5]
Post-War
He was appointed as Captain of Nelson in 1927.
On 25 November, 1927 Pound wrote to Keyes, mentioning: "Sir C.M. has been staying with Matthew Best in Nelson and I don't suppose any information obtained from the latter will be very sound".[6]
On the occasion of the King's birthday he was appointed an Ordinary Member of the Third Class, or Companion, in the Military Division of the Most Honourable Order of the Bath (C.B.) on 4 June, 1928.[7]
Best was promoted to the rank of Vice-Admiral on 13 October, 1932, vice Hall Thompson.[8]
Best died on 13 October, 1940 at Crockway, Frampton, Dorset, at the age of sixty-two. His funeral took place at Toller Fratrum, Dorset, on Wednesday 16 October.
Bibliography
"Admiral Sir Matthew Best" (Obituaries). The Times. Tuesday, 15 October, 1940. Issue 48747, col F, pg. 7.
Keyes, R. J. B. (1980). Halpern, Paul G. ed. The Keyes Papers. Volume II 1919-1938. London: George Allen & Unwin Ltd. ISBN 0-04-942165-4.
Service Record
Naval Appointments
Preceded by
Charles W. Chipp
Captain of H.M.S. Daring
21 Jul, 1903[9]
Succeeded by
Harold G. Innes
Preceded by
Arthur G. Craufurd
Captain of H.M.S. Ferret
14 Jul, 1904
Succeeded by
Richard F. H. Hartland-Mahon
Preceded by
The Hon. Herbert Meade
Captain of H.M.S. Royalist
30 May, 1917[10][11] – 7 Apr, 1918[12]
Succeeded by
Arthur K. Betty
Preceded by
A. Ernle M. Chatfield
Captain of H.M.S. Queen Elizabeth
8 Apr, 1919[13][14] – 28 Jun, 1921[15]
Succeeded by
Geoffrey Blake
Preceded by
Arthur J. Davies
Captain of H.M.S. Excellent
15 Aug, 1924[16] – 14 Aug, 1926[17]
Succeeded by
Charles A. Scott
Preceded by
New Command
Captain of H.M.S. Nelson
5 Jan, 1927[18][19] – 15 Aug, 1927[20]
Succeeded by
Sidney J. Meyrick
Preceded by
Frank Larken
Rear-Admiral Commanding, Second Cruiser Squadron
16 May, 1929[21] – 27 Apr, 1931[22]
Succeeded by
Edward A. Astley-Rushton
Preceded by
Francis H. Mitchell
Admiral Superintendent, Malta Dockyard
12 Jun, 1931[23] – 22 Jan, 1934[24]
Succeeded by
Sir Wilfred F. French
Preceded by
Reginald A. R. Plunkett-Ernle-Erle-Drax
as Commander-in-Chief, America and West Indies Station
Commander-in-Chief, North America and West Indies Station
11 Oct, 1934[25] – c. 26 May, 1937[26]
Succeeded by
Matthew R. Best
as Commander-in-Chief, America and West Indies Station
Preceded by
The Hon. Matthew R. Best
as Commander-in-Chief, North America and West Indies Station
Commander-in-Chief, America and West Indies Station
11 Oct, 1934[27] – 26 May, 1937[28]
Succeeded by
Sidney J. Meyrick
Footnotes