Morgan Singer
From The Dreadnought Project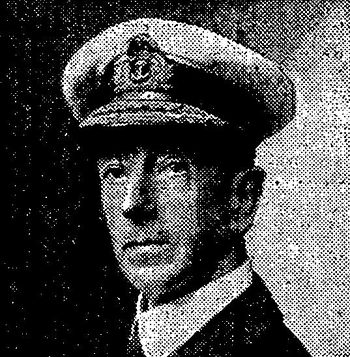 Admiral SIR Morgan Singer, K.C.B., K.C.V.O., Royal Navy (13 December, 1864 – 27 April, 1938) was an officer of the Royal Navy during the First World War. After a career as a gunnery specialist, in 1914 he was appointed as Director of Naval Ordnance and Torpedoes, before going to sea as Second-in-Command of the Tenth Cruiser Squadron on blockade duty in 1917. He saw out the rest of the war as Admiral Superintendent at Bermuda, and in 1921 was appointed Admiral Commanding Coastguard and Reserves. He retired upon promotion to Admiral in 1924.
Early Life & Career
Morgan Singer was born at Woolwich on 13 December, 1864, the son of Commander (later Admiral) Morgan Singer. At the examination for Naval Cadetships, Singer placed thirty-third out of the successful batch of forty-six candidates.[1]
Singer's promotion to the rank of Lieutenant was dated 13 December, 1885.[2]
Singer was promoted to the rank of Commander on 30 June, 1898.[3]
Singer was promoted to the rank of Captain on 31 December, 1903.[4]
Singer was appointed a member of the Ordnance Committee, effective 9 June, 1904.[5][6]
He was appointed Captain of the first class protected cruiser Andromeda on 20 May, 1907.[7]
He was appointed command of the Dominion on 25 January 1910. In September, her practice firing somehow endangered a private yacht. Singer was informed that he had not posted a suitable lookout to prevent such hazards.[8]
Singer succeeded Frederick C. T. Tudor as commanding officer of H.M.S. Excellent on 1 June, 1912.[9] He was appointed a Naval Aide-de-Camp to King George V on 10 May, 1913, vice Charlton.[10]
First World War
See Also: Account of Morgan Singer of the Great War.
Depending on the source, Singer succeeded Rear-Admiral Tudor as Director of Naval Ordnance on either 15 August[11] or 19 August, 1914.[12] His service record says 11 August.
Singer was promoted to the rank of Rear-Admiral on 14 September, 1915, vice Bayly, promoted to Vice-Admiral.[13]
On the growing friction between Fisher and Churchill over the Dardanelles policy Singer commented: "F. should undoubtedly have tendered his resignation or backed up the 1st Lord."[14]
After the operations in Antwerp, which Singer had helped equip, Singer was moved to write to his wife on 10 October, 1914: "I think that Winston had better disband his Naval Division now, but he is so obstinate that this will make him go on all the more, there were some men amongst those interned I'm sure [were] actually wanted for the Fleet!"[15]
In November, 1915 Singer and his family moved into 8 Wilton Street, Grosvenor Place. Fran went to the Francis Holland Church of England School. Singer was appointed an Additional Member of the Third Class, or Companion, in the Civil Division of the Most Honourable Order of the Bath (C.B.) on 1 January, 1916,[16] and received it from His Majesty the King on 15 January.[14]
Upon the reorganisation of the Grand Fleet and Admiralty in November, 1916, Captain Frederic C. Dreyer was one of the officers brought down to the Admiralty, reputedly as D.N.O. Captain Philip Wylie Dumas was moved to write on 1 December that if so it would be an "insult to Singer."[17]
In March he was appointed Rear-Admiral in the Tenth Cruiser Squadron and hoisted his flag in the minelayer H.M.S. Orvieto on 2 April, 1917.[18]
He struck his Flag in the Tenth Cruiser Squadron on 14 December, 1917 and reported to London. On 15 December he was appointed Rear-Admiral Second-in-Command on the North America and West Indies Station and Admiral Superintendent of Bermuda Royal Dockyard.[19]
Post-War
On 8 February, 1919, Singer became temporary Commander-in-Chief on the North America station, and was promoted to the rank of Vice-Admiral on 12 February, vice Madden.[20] On 1 December, he was appointed a Knight Commander of the Royal Victorian Order (K.C.V.O.) on the occasion of the visit of the Prince of Wales to North America.[21]
In July, 1921 Singer was appointed a member of the Imperial War Graves Commission and its Finance Committee in succession to the recently deceased Admiral Sir Edmund S. Poë. Until he fell ill in the autumn of 1937 he would rarely miss a meeting of the Commission.
On the occasion of the King's birthday he was appointed an Ordinary Member of the Second Class, or Knight Commander, in the Military Division of the Order of the Bath (K.C.B.) on 2 June, 1923.[22]
Morgan was promoted to the rank of Admiral on 3 March, 1924, vice Charlton.[23] He was placed on the Retired List at his own request on 1 August, 1924.[24]
His only son, Lieutenant-Commander Michael Morgan-Singer, was killed with the rest of the crew of H.M.A.S. Sydney in November, 1941. Lady Singer died on 23 July, 1952.[25]
Bibliography
"Admiral Sir Morgan Singer" (Obituaries). The Times. Friday, 29 April, 1938. Issue 47981, col D, p. 18.
"Sir Morgan Singer" (Obituaries). The Times. Saturday, 30 April, 1938. Issue 47982, col B, p. 14.
Service Records
Naval Appointments
Preceded by
Arthur G. M. Meredyth
Captain of H.M.S. Flying Fish
3 Oct, 1899[26] – 11 Jan, 1901[27]
Succeeded by
Douglas R. M. Nicholson
Preceded by
Frederick C. T. Tudor
Captain of H.M.S. Prometheus
3 Jan, 1903[28] – 15 Jan, 1904[29]
Succeeded by
Maurice Woollcombe
Preceded by
Arthur Barrow
Naval Member of the Ordnance Committee
9 Jun, 1904[30]
Succeeded by
Randolph F. O. Foote
Preceded by
Harry H. Stileman
Captain of H.M.S. Andromeda
20 May, 1907[31] – 19 Dec, 1907[32]
Succeeded by
Guy R. A. Gaunt
Preceded by
The Hon. Somerset A. Gough-Calthorpe
Captain of H.M.S. Roxburgh
19 Dec, 1907[33] – 25 Jan, 1910[34]
Succeeded by
Cuthbert E. Hunter
Preceded by
John M. de Robeck
Captain of H.M.S. Dominion
25 Jan, 1910[35][36] – 1 Jun, 1912[37]
Succeeded by
Joseph R. Bridson
Preceded by
Frederick C. T. Tudor
Captain of H.M.S. Excellent
1 Jun, 1912[38] – 4 Aug, 1914[39]
Succeeded by
Cole C. Fowler
Preceded by
Frederick C. T. Tudor
Director of Naval Ordnance and Torpedoes
11 Aug, 1914[40] – 1 Mar, 1917[41]
Succeeded by
Edward S. Fitzherbert as Director of Torpedoes and Mining and Frederic Charles Dreyer as Director of Naval Ordnance
Preceded by
John S. Luard
as Second-in-Command, Tenth Cruiser Squadron
Rear-Admiral, Tenth Cruiser Squadron
2 Apr, 1917[42] – 14 Dec, 1917[43]
Succeeded by
?
Preceded by
Duncan T. Brown
as Officer in Charge, H.M. Naval Establishment, Bermuda
Admiral-Superintendent, Bermuda Royal Dockyard
15 Dec, 1917[44]
Succeeded by
Basil H. Fanshawe
as Captain in Charge of H.M. Naval Establishments, Bermuda
Preceded by
Robert S. P. Hornby
Second-in-Command, North America and West Indies Station
15 Dec, 1917[45][46]
Succeeded by
?
Preceded by
Sir William L. Grant
Commander-in-Chief, North America and West Indies Station
8 Feb, 1919[47]
Succeeded by
Sir Trevylyan D. W. Napier
Preceded by
Sir Dudley R. S. de Chair
Admiral Commanding Coastguard and Reserves
23 Jul, 1921[48]
Succeeded by
Sir Hugh H. D. Tothill
as Admiral Commanding Reserves
Footnotes