Talisman Class Destroyer (1915)
From The Dreadnought Project
Four destroyers of the Talisman Class were completed for the Turkish Navy but taken up for Royal Navy service in the war.
They were large, with five 4-in Q.F. guns, making them more like a Flotilla Leader when in Royal Navy service. They were used in submarine flotillas, primarily.
Armament
4-in Guns
Torpedoes
Other Weapons
Depth charges were added to most of the "M" class destroyers, necessitating that some land their aft gun to accommodate the outfit.[1] This may apply here.
Fire Control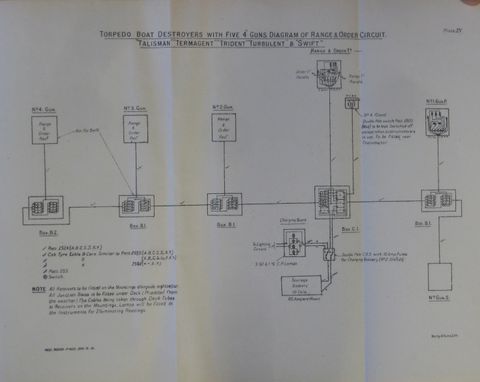 By the end of 1915, at least, these ships had or were to be provided a range and order data system similar recent Barr and Stroud patterns.[3]
The scheme placed the combined transmitter on the forebridge, and a combined receiver near the sightsetter position of each gun. Ranges from 0 to 9900 yards in increments of 100 yards, and orders were "Independent", "Control" and "Fire" with illuminated indicators and a red indicator on the receivers to signal loss of power from the battery pack located below decks.
Mid-1916 Outfit
Experiments from February with two Grand Fleet destroyers employing dumaresqs and Vickers Range Clocks and voicepipes showed definite advantages over ships using unaided spotting and voicepipes, even when the crews had no special training in the new equipment. Tests were also conducted to find a rangefinder suitable to the lively and cramped platform that destroyers provided. This led to an order on 3 April, 1916 that each T.B.D. of "M" class and later should be equipped with:[4][5]
one Dumaresq
range and deflection receivers at each gun
Two ratings, trained before coming aboard, were added to the crew to work the equipment. The clocks and rangefinders were issued in the following three months, and the dumaresqs a few months later. The data instruments did not become available in numbers until 1917. By mid-1917, the whole system was broadly in place in the destroyers of the Grand Fleet and in the Harwich Force.[6]
Director Firing
In 1917, it was decided that the three surviving units, along with destroyers of "L" class and later, should be equipped for director firing.[7]
See Also
Footnotes
Bibliography
Gray, Randal (editor) (1985). Conway's All the World's Fighting Ships 1906–1921. London: Conway Maritime Press. (on Amazon.com and Amazon.co.uk).