Thomas Henry Powis
From The Dreadnought Project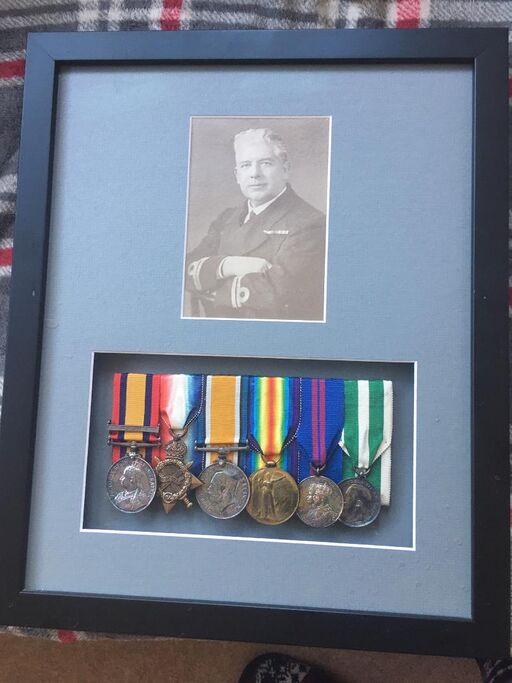 Lieutenant-Commander (retired) Thomas Henry Powis, (27 August, 1868 – 9 October, 1942) served in the Royal Navy.
Life & Career
From 24 February 1885 to 14 June, 1888 Powis served in the screw frigate Raleigh and rose from Boy 1st Class to A.B.. During this commission Raleigh formed part of the "Last RN Sailing Squadron", operating on the Cape of Good Hope and West Africa Station.[1]
Powis was promoted to the rank of Gunner on 1 July, 1895. On 28 August, 1895 he married Lottie Blanche Payne in Landport.[2]
From 30 November, 1897 to 3 November, 1900 Powis served in the torpedo cruiser Fearless as Gunner (T).[3]
He was awarded the 1900 Queen's Medal with the Bar "Natal", implying that he was sent ashore, perhaps being involved in one of the reliefs of Mafeking/Ladysmith/Kimberly.[Inference] Amongst the heirlooms his family retains is a water-colour painting of H.M.S. Powerful leaving Portsmouth. His daughter Doris was born January 1898 – family lore contends that he didn't meet the child until she was nearly three, and that she never cared for her father.[4]
While serving in the armoured cruiser Euryalus from mid-Mat 1906 to late January, 1909 Powis assisted in the aftermath of the 1908 earthquake at Messina. He received a medal for his efforts in August, 1912. He was promoted to the rank of Chief Gunner on 1 April, 1912.[5]
During the war, he served in T.B. 116 from 28 February 1914 to 18 December, 1914 when he was appointed to Spiteful for torpedo duties. He was promoted to the rank of Lieutenant on 18 May, 1916.[6]
On 8 June, 1916 he was appointed to Greenwich for torpedo duties. During his time in her, his son Reginald Thomas served as a telegraphist in destroyers Patriot and Vampire which were part of the Fourteenth Destroyer Flotilla which Greenwich was supporting.[7][8]
On 9 October, 1917 he was appointed to Actæon for torpedo duties. He remained there until being sent to the torpedo training school H.M.S. Vernon on 13 February, 1919.[9]
Powis was promoted to the rank of Lieutenant-Commander (retired) on 15 May, 1924.[10]
See Also
Bibliography
Footnotes