William Alison Dyke Acland, Second Baronet
From The Dreadnought Project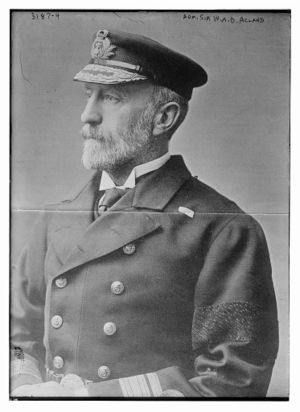 Admiral SIR William Alison Dyke Acland, Second Baronet, C.V.O., Royal Navy (18 December, 1847 – 26 November, 1924) was an officer of the Royal Navy in the latter half of the nineteenth century. He served as naval attaché to Chile during the War of the Pacific. He retired to Torquay after his last flag appointment ended in 1904 and retired from the service in 1911 with the rank of Admiral.
Life & Career
William Alison Dyke Acland was born on 18 December, 1847, the eldest of seven sons born to Sir Henry Wentworth Acland (died 1900), the first baronet. He was educated at private schools before joining the Royal Navy, entering the Britannia in September, 1861. In June, 1867 he became a Sub-Lieutenant and was appointed to the Caledonia, flagship of Vice-Admiral Lord Clarence Paget in the Mediterranean. After service in the Royal Yacht,[1] he was promoted to the rank of Lieutenant on with seniority of 21 September, 1868.[2] In December, 1870 he was appointed to Excellent,[3] and he specialised in gunnery duties. In June, 1872 he was appointed as a Junior Staff Officer at Excellent, before being appointed Gunnery Lieutenant of the Bellerophon, flagship of Vice-Admiral George Wellesley on the North American Station. In 1876 he became a Senior Staff Officer in Excellent,[1] and on 31 March, 1879 Acland was promoted to the rank of Commander.[4]
In 1879 Acland was appointed to the Triumph under Captain (later Admiral Sir) Albert H. Markham. In October, 1880 the ship was ordered from Vancouver to Callao to protect British interests while the War of the Pacific raged between Chile and Peru. Rear-Admiral Stirling offered Acland the position of naval attaché at Chilean General Headquarters, and Acland was present at the battles of Chorrillos and of Miraflores in 1881. In May, 1883 he received command of the composite sloop Miranda on the Australian Station, and among his other duties on that station he was put in charge of preparing naval defences at Sydney, and also served as a Deputy-Commissioner for the Western Pacific. He went on Half Pay for a period of time[1] after being promoted to the rank of Captain on 1 January, 1885.[5]
In July, 1889, Acland returned to sea in command of the second-class cruiser Volage in the Training Squadron. He afterwards commanded the first-class cruiser Edgar in the Mediterranean before taking command of the cruiser Australia, coastguard ship in Southampton Water. In 1895 he was sent in her to Le Havre to do honour to the newly-elected President of France.[1] Having met the Consular Corps on 18 April, President Faure was introduced to Acland and the officers of Australia and told the reason of their presence. The President replied:
I am happy to salute the commander of the Australia and the officers accompanying him. I am touched by the fact that the Queen's government has taken advantage of my visit to Havre to send this ship into our waters. I see in this a fresh sign of the neighbourly relations existing between Great Britain and us, and a manifestation which cannot but render our relations still more cordial. You have expressed to me through the Consul-General your desire that I should visit your fine ship. I shall be happy to go aboard the Australia, and will inform you as to the day and hour of my visit.[6]
Afterwards, Acland was present at the banquet given by the President at the Sub-Prefecture, and the officers of the Australia were present at the concert given that night at the Théatre du Cirque.[6] The French President gave a Acland a signed portrait, which according to his obituary "he greatly prized". In March, 1896 he was created a Naval Aide-de-Camp to Queen Victoria, and was appointed in command of the Indus, coastguard ship in Reserve at Devonport.
Flag Rank
On 30 June, 1899 Acland was promoted to the rank of Rear-Admiral.[1] He travelled to Oxford to be at his father's deathbed on 16 October, 1900.[7] He had been unable to visit earlier due to a mild concussion sustained after being kicked by a recently-acquired horse.[8] He hoisted his flag as Second-in-Command of the Channel Squadron in the battleship Magnificent on the morning of 5 June, 1901, in succession to Rear-Admiral Jenkings.[9] Acland struck his flag in the Magnificent on 5 June, 1902, upon being relieved as Second-in-Command by Rear-Admiral Curzon-Howe.[10]
On 1 October Acland became the first flag officer to take command in Gibraltar.[11] He was appointed a Commander of the Royal Victorian Order on 13 April, 1903 on the occasion of King Edward VIII visiting Gibraltar,[12] and was promoted to the rank of Vice-Admiral on 15 March, 1904, vice Rice.[13] He was superseded in the Gibraltar command by Rear-Admiral Sir Edward Chichester on 10 June, 1904.[14] Acland was promoted to the rank of Admiral on 22 March, 1908, vice Pelham Aldrich.[15] In accordance with the provisions of the Order in Council of 16 July, 1895, he was placed on the Retired List on 17 July, 1911.[16]
Personal Life
In 1887 Acland had married the Hon. Emily Anna, the daughter of the Right Hon. W. H. Smith, M.P. and of the First Viscountess Hambledon. Her younger sister Beatrice had earlier married Acland's brother, Colonel Alfred Dyke Acland. He had two sons, William Henry Dyke Acland, who served in the British Army and Hubert Guy Dyke Acland, who served in the Royal Navy.[1] Two years after being appointed Deputy Lieutenant of County of Devon,[17] Acland died at Torquay aged seventy-seven on Wednesday, 26 November, 1924.[18] His funeral took place on 28 November at All Saints' Church, Babbacombe, Devonshire. He was buried at Holywell Cemetery, Oxford, on 29 November.[19]
See Also
Bibliography
"Admiral Sir W. A. Dyke Acland" (Obituaries). The Times. Thursday, 27 November, 1924. Issue 43820, col E, p. 14.
Papers
Papers in the possession of Hertfordshire Archives and Local Studies.
Service Records
Naval Appointments
Preceded by
?
Captain of H.M.S. Amphion
4 Jul, 1888 – 1888
Succeeded by
Edward G. Hulton
Preceded by
Albert H. Markham
Captain of H.M.S. Volage
18 Jul, 1889[20]
Succeeded by
Charles E. Gissing
Preceded by
New Command
Captain of H.M.S. Edgar
2 Mar, 1893[21]
Succeeded by
William H. Henderson
Preceded by
James A. T. Bruce
Captain of H.M.S. Australia
22 Sep, 1894[22] – Sep, 1897[Inference]
Succeeded by
John M. McQuhae
Preceded by
Albert B. Jenkings
Second-in-Command, Channel Squadron
5 Jun, 1901[23] – 5 Jun, 1902
Succeeded by
The Hon. Assheton G. Curzon-Howe
Preceded by
Charles C. Drury
Senior Officer, Gibraltar
1 Oct, 1902 – 9 Jul, 1904
Succeeded by
Sir Edward Chichester, Bart.
Footnotes