Compton Edward Domvile
From The Dreadnought Project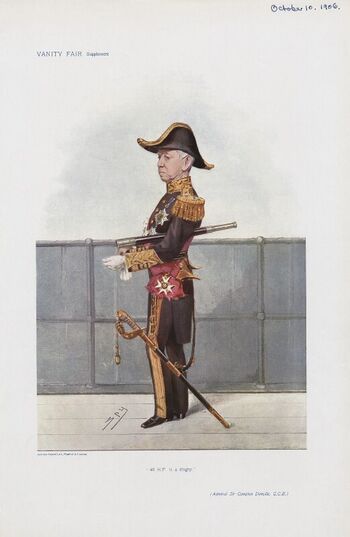 Admiral SIR Compton Edward Domvile, G.C.B., G.C.V.O., Royal Navy (10 October, 1842 – 19 November, 1924) was an officer of the Royal Navy.
Early Life & Career
Domvile was specially promoted to the rank of Commander on 2 September, 1868 for his gallantry in action against Chinese pirates.[1][2]
On 6 January, 1869, Domvile was "fully exonerated" by the Board of Admiralty from a charge made against him by the Chinese government that he was selling junks after an investigation by Captain Hewitt.[3]
He was appointed to the screw frigate Immortalité on 14 October, 1872.[4] At the end of this appointment, he went to the sloop Dryad, in command, on 13 August, 1874,[5] remaining in her until 1 June, 1876.[6]
Domvile was promoted to the rank of Captain on 27 March, 1876.[7]
Domvile was appointed to command the corvette Dido on 20 September, 1879, a month after Captain Arthur R. Wright died while in command.[8][9]
Flag Rank
He was promoted to the rank of Vice-Admiral on 23 February, 1897, vice D'Arcy-Irvine.[10]
On the occasion of the Queen's birthday he was appointed an Ordinary Member of the Second Class, or Knight Commander, in the Military Division of the Most Honourable Order of the Bath (K.C.B.) on 21 May, 1898.[11]
Domvile was promoted to the rank of Admiral on 25 January, 1902, vice Fane.[12] On 1 May, he hoisted his flag in Bulwark, but was soon placed on leave.[13]
On 1 November, the Assistant to the Admiral Superintendent of Naval Reserves, Captain George F. King-Hall, committed to his diary the opinion on Domvile of Prince Louis of Battenberg, the Director of Naval Intelligence:
He writes me, that Domville, the C-in-C is getting quite senile. Forgets things, drinks so much sherry, and, nothing is done, and that if we go to war, there will be a Naval Buller out in Mediterranean. A serious state of things.[14]
A few months later:
Battenberg told me a few days ago, that Domville [sic] was sure to be relieved very soon, otherwise there would be a Scandal. Both Lord Selborne and Lord Walter knew of his failing. Lord Grenfell had told him that things had gone to pieces in the Mediterranean. Half the Captains would not speak to Colville [Chief of the Staff to Domvile].[15]
On the occasion of the King's visit to Malta Domvile was appointed a Knight Grand Cross of the Royal Victorian Order (G.C.V.O.) on 21 April, 1903.[16]
On 9 November, 1904, he was appointed an Ordinary Member of the First Class, or Knight Grand Cross, in the Military Division of the Order of the Bath (G.C.B.) in the King's birthday honours.[17]
In accordance with the provisions of the Order in Council of 22 February, 1870, he was placed on the Retired List on 10 October, 1907.[18]
See Also
Bibliography
"Admiral Sir Compton Domvile" (Obituaries). The Times. Friday, 21 November, 1924. Issue 43815, col B, p. 14.
Service Records
Naval Appointments
Preceded by
Francis Durrant
Captain of the Royal Naval College, Greenwich
1 May, 1877[19]
Succeeded by
Compton E. Domvile
Preceded by
Compton E. Domvile
Captain of the Royal Naval College, Greenwich
Aug, 1883[20] – Nov, 1885[21]
Succeeded by
Alexander P. Hastings
Preceded by
Henry F. Nicholson
Captain of H.M.S. Temeraire
21 Mar, 1884[22][23] – c. 1 Nov, 1886[24]
Succeeded by
Edmund C. Drummond
Preceded by
John A. Fisher
Captain of H.M.S. Excellent
1 Nov, 1886[25][26] – 17 Jul, 1889[27]
Succeeded by
Compton E. Domvile
Preceded by
?
Captain of H.M.S. Collingwood
1 Jul, 1887
Succeeded by
Hugo L. Pearson
Preceded by
?
Captain of H.M.S. Howe
18 Jul, 1889[28] – 15 Sep, 1889[29]
Succeeded by
Henry H. Boys
Preceded by
Compton E. Domvile
Captain of H.M.S. Excellent
16 Sep, 1889[30] – 11 Jun, 1890[31]
Succeeded by
Hugo L. Pearson
Preceded by
Henry F. Nicholson
Vice-President of the Ordnance Committee
12 Jun, 1890[32] – 20 May, 1891[33]
Succeeded by
Henry F. Cleveland
Preceded by
John A. Fisher
Director of Naval Ordnance and Torpedoes
21 May, 1891[34] – 4 Mar, 1894[35]
Succeeded by
Henry C. Kane
Preceded by
Albert H. Markham
Second-in-Command, Mediterranean Station
5 Mar, 1894[36] – 13 May, 1896[37]
Succeeded by
Robert H. Harris
Preceded by
Edward H. Seymour
Admiral Superintendent of Naval Reserves
10 May, 1897[38] – 21 May, 1900[39]
Succeeded by
Sir Gerard H. U. Noel
Preceded by
Sir John A. Fisher
Commander-in-Chief, Mediterranean Station
1 May, 1902[40] – 10 Jun, 1905[41]
Succeeded by
The Rt. Hon. Lord Charles Beresford
Footnotes