Gerard Henry Uctred Noel
From The Dreadnought Project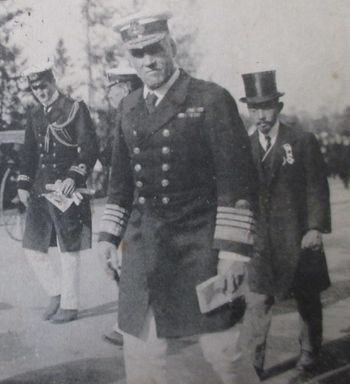 Admiral of the Fleet SIR Gerard Henry Uctred Noel, G.C.B., K.C.M.G., Royal Navy (5 March, 1845 – 23 May, 1918) was an officer of the Royal Navy.
Life & Career
Gerard Henry Uctred Noel was born on 5 March, 1845, the son of the Reverend Augustus William Noel and Lucy Tonge, daughter of Captain Norris William Tonge, Royal Navy.
Noel entered the Royal Navy on 4 December, 1858, appointed as a Naval Cadet to the training ship Illustrious at Portsmouth. On 1 January, 1859, he transferred to the Britannia.[1]
Noel was promoted to the rank of Lieutenant on 21 April, 1866.
He was promoted to the rank of Commander on 31 March, 1874.[2] On 27 July, 1874, he was appointed Commander of the frigate Immortalité. He was reappointed on 15 September, 1875, and from 26 January, 1877, he served in her with the rank of Acting Captain. From 22 May to 24 May he was appointed to Duke of Wellington to attend a Court-Martial, after which he was placed on Half Pay.
On 15 January, 1878, he was appointed to the Royal Yacht Victoria and Albert.
Captain
Noel was promoted to the rank of Captain on 11 January, 1881.[3]
Noel was appointed to the battleship Temeraire on 26 October, 1889.[4][5] He was appointed to Nile in command on 30 June, 1891.[6]
According to his Flag Captain, The Hon. Maurice Bourke, Tryon once pointed to Noel's ship and said, "Oh I wish they were all like that!"[7]
Allegedly, when his Commander, Reginald C. Prothero, wished him a "Good morning, sir" when the ship was weighing anchor at three o'clock one morning, Noel replied, "Captain Prothero, this is no time for frivolous compliments."[8]
Noel was promoted to the rank of Rear-Admiral on 8 May, 1896, vice Fisher.[9]
Flag Rank
On 12 January, 1898, Noel was appointed Second-in-Command of the Mediterranean Fleet. He hoisted his flag on 4 February. His appointment as an Ordinary Member of the Second Class, or Knight Commander, of the Most Distinguished Order of Saint Michael and Saint George (K.C.M.G.) for his services in Crete was announced on 16 November, 1898,[10] and gazetted on 25 November.[11]
To his Commander-in-Chief, Vice-Admiral Sir John A. Fisher, Noel allegedly sent what is perhaps the most entertaining—and threatening—signal made in British Naval History:
If you had reason to find fault with my orders, you should have made an appropriate signal to me, not vented your views on Theseus. I am on my way to see you in my frock coat and sword.[12]
Noel's differences with Sir John Fisher would prove persistent.
He struck his flag as Second-in-Command on 9 February, 1900, and remained abroad for three months. He was appointed Admiral Superintendent of Naval Reserves on 21 May, 1900, in succession to Vice-Admiral Sir Compton E. Domvile.[13]
On 2 November, 1901, he was promoted to the rank of Vice-Admiral, vice Fisher.[14]
Admiral Sir Sydney R. Fremantle, who had served under Noel as a Midshipman in the Rover, later recalled of him:
He was a fine seaman, and had, as a younger man, shown his cultivated and progressive mentality by publishing an essay which was much discussed, the subject being naval tactics under the title, "The Gun, Ram and Torpedo". He had, unfortunately, a violent temper, was a stern disciplinarian, and was very difficult to please.[15]
Noel was appointed an Ordinary Member of the Second Class, or Knight Commander, in the Military Division of the Most Honourable Order of the Bath (K.C.B.) on 26 June, 1902.[16] From 1 October Noel was appointed in command of the Home Fleet, in addition to his appointment as Admiral Superintendent of Naval Reserves.[17]
In mid 1904, upon taking command of the China Station, he wrote to First Lord of the Admiralty Selborne to complain in strong terms about the condition and modernity of his T.B.s and T.B.D.s, which prompted a review of his assets to be sent in reply. Although correspondence between the two seemed generally friendly, the First Lord here seemed annoyed at how Noel had couched his pleas, writing in summation, "I cannot think that the actual case is as bad as your words would seem to imply. The boats seem to me to have been carefully and continuously maintained and repaired, and the 30 knot destroyers certainly cannot by any standard of comparison be called old."[18]
Friction with Selborne seemed to linger, and was indicated a considerable time later when Noel privately alluded to his discomfort with Sir John Fisher's naval reforms around this time which concentrated Britain's battleships in Home waters, bemoaning "the wicked change in Naval policy introduced by Fisher in 1904, under Selborne's weak rule."[19]
Noel was promoted to the rank of Admiral on 24 May, 1905, vice Dale.[20]
In a letter of 23 October, 1906, to the Prince of Wales (later King George V), Sir John Fisher was scathing (and quite ungracious) about Noel:
The politicians and diplomatists will not be hung if the British Navy fails to annihilate the German Fleet and to gobble up every single one of the 842 German merchant steamers now daily on the ocean! No. It will be the Sea Lords! and as one distinguished retrograde Admiral—Sir Gerard Noel, who wants to build more sailing men-of-war—told the King, I personally am to have the proud pre-eminence of Hamam amongst the Sea Lords. I have never been able to ascertain how high Hamam was hung, but it could not have been higher than Noel wishes me; and yet I particularly enjoy his receiving the high and important command of Commander-in-Chief at the Nore. if this is not charity, I do not know what is! I digress to make this remark to Your Royal Highness, as I am accused of relentless hate towards those who differ from me.[21]
In a letter to Tweedmouth of 16 October, 1907, Fisher wrote, "I suppose Noel clearly appreciates that he is to give a cordial and ungrudging support to Admiralty Policy. He used such violent language to me that his acceptance of the Nore greatly surprised me. To have a mutineer in high command would soon lead to awkwardness!"[22]
He was promoted to the rank of Admiral of the Fleet on 2 December, 1908, in the place of Sir James E. Erskine.[23]
Noel was appointed an Ordinary Member of the First Class, or Knight Grand Cross, in the Military Division of the Order of the Bath (G.C.B.) on 1 January, 1913.[24]
In accordance with the provisions of the Order in Council of 22 February, 1870, Noel was placed on the Retired List on 5 March, 1915.[25]
Bibliography
Papers
Service Records
The National Archives. ADM 196/86. Volume 1. f. 33.
The National Archives. ADM 196/37. Volume 1. f. 969. Volume 3. f. 956.
The National Archives. ADM 196/15. Volume 3. ff. 458-459.
Naval Appointments
Preceded by
Thomas Barnardiston
Captain of H.M.S. Rover
21 Sep, 1885[26][27] – 1 Nov, 1888[28]
Succeeded by
Reginald F. H. Henderson
Preceded by
?
Captain of H.M.S. Narcissus
18 Jul, 1889[29] – 13 Sep, 1889[30]
Succeeded by
Lewis A. Beaumont
Preceded by
Edmund C. Drummond
Captain of H.M.S. Temeraire
26 Oct, 1889[31][32] – 19 Jun, 1891[33]
Succeeded by
Frederick W. Loane
Preceded by
New Command
Captain of H.M.S. Nile
30 Jun, 1891[34] – 17 Oct, 1893[35]
Succeeded by
James L. Hammet
Preceded by
Lord Walter Kerr
Junior Naval Lord
1 Nov, 1893[36] – 12 Jan, 1898[37]
Succeeded by
Arthur W. Moore
Preceded by
Robert H. Harris
Second-in-Command, Mediterranean Station
12 Jan, 1898[38][39] – 9 Feb, 1900[40]
Succeeded by
The Rt. Hon. Lord Charles Beresford
Preceded by
Sir Compton E. Domvile
Admiral Superintendent of Naval Reserves
21 May, 1900[41] – 11 Aug, 1900[42]
Succeeded by
?
Preceded by
Sir Cyprian A. G. Bridge
Commander-in-Chief, China Station
15 Jan, 1904[43] – 16 Mar, 1906[44]
Succeeded by
Sir Arthur W. Moore
Preceded by
Sir Hugo L. Pearson
Commander-in-Chief at the Nore
1 Jan, 1907[45]
Succeeded by
Charles C. Drury
Footnotes