Grand Fleet
From The Dreadnought Project
The Grand Fleet was the British Royal Navy's main naval fleet during the First World War. Its nemesis across the North Sea during the conflict was the German's opposing High Sea Fleet.
Background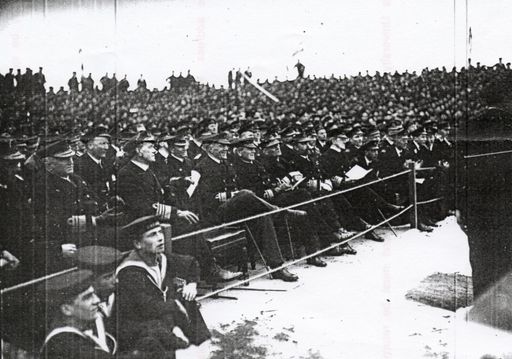 Prior to the outbreak of war all British vessels in Home waters formed part of the Home Fleets, which was divided into three fleets. The First Fleet was composed of ships in full commission; the Second Fleet of ships with 60% crews which could be manned by emptying the barracks and schools on shore; and the Third Fleet whose ships would be brought up to complement in an emergency.[1] On the outbreak of war with Germany the First Fleet become the "principal or Grand Fleet" directly under the Commander-in-Chief, Home Fleets. His orders were:
To bring the enemy to battle on a good occasion, and to frustrate any efforts on his part, whether they are directed towards the landing of an invading or raiding force, or to the break-up of the patrol lines at the entrances to the North Sea.[2]
In 1914 no annual manœuvres were held. Instead a Test Mobilisation of the Second and Third Fleets was performed between 19 and 25 July. On 23 July the First Fleet proceeded to Weymouth Bay and on the 25 the Second and Fleets returned to their Home ports. On 26 July the Admiralty ordered that no more ships of the First Fleet or flotillas were to leave Portland until further notice. Long leave for officers and for second watches was cancelled, and the reopening of schools was postponed. The Commander-in-Chief, Home Fleets, Sir George A. Callaghan, was ordered to report to the Admiralty in London in the evening of 28 July, and the following day the First Fleet was ordered to Scapa Flow under Vice-Admiral Sir George J. S. Warrender, Bart., Vice-Admiral Commanding the Second Battle Squadron. The Grand Fleet passed the Straits of Dover at Midnight on 29-30 July, and on 31 July Admiral Callaghan rejoined the fleet.[3]
War
By 20 August all dreadnoughts in the fleet had completed with ammunition up to 90 to 100 rounds per gun, and all had been painted light grey down to the upper deck.[4]
Jutland
The fleet had the following stray ships attached to it for the battle:[5]
Post-Jutland
Following the conference at Rosyth, on 23 September the Admiralty sent Jellicoe a letter entitled "Considerations as to the Employment of the Grand Fleet in the North Sea."[6]
At the end of the letter direct reference was made to Jellicoe's letter of 30 October, 1914, and Their Lordships' approval of its contents at the time. "Later experience has shown no reason to modify the approval then expressed."[7]
Commanders-in-Chief
Second-in-Command
Chiefs of Staff to the Commander-in-Chief
Commodore of Flotillas, Grant Fleet
Captains of the Fleet
Commodore, First Class Allan F. Everett, 4 August, 1914 – 9 June, 1915[19]
Commodore, First Class Lionel Halsey, June, 1915[20] – December, 1916[21]
Captain Hubert G. Brand, December, 1916[22] – 6 March, 1919[23]
See Also
Footnotes
Bibliography