Lionel Halsey
From The Dreadnought Project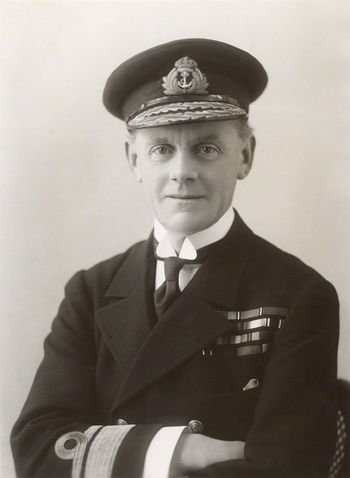 Admiral SIR Lionel Halsey, G.C.M.G., G.C.V.O., K.C.I.E., C.B., R.N., Retired (26 February, 1872 – 26 October, 1949) was a British Royal Navy officer and courtier.
Early Life & Career
Halsey was born in London, the fourth son of Sir Thomas Frederick Halsey, First Baronet. After primary education at the Stubbington House School, Fareham, Hampshire, and entered H.M.S. Britannia in January, 1885. He was commissioned a Sub-Lieutenant on 14 July, 1891. In July, 1893 he was posted to the Royal Yacht and was promoted Lieutenant on 28 August, 1893.[1] He served with the Mediterranean Fleet and then on the North America and West Indies Station, before joining H.M.S. Powerful. In the South African War, he commanded a battery of naval guns in the Defence of Ladysmith, for which he was mentioned in dispatches.
Halsey was specially promoted to the rank of Commander on 1 January, 1901, for services in South Africa.[2] He was appointed to the second class protected cruiser Diana in the Mediterranean as Executive Officer on 15 January, and served in her until 24 June, 1902, when was appointed to Victory for the Coronation Naval Review at Portsmouth. From 15 October, 1902, to 8 October, 1904, he served as Executive Officer in the new armoured cruiser Good Hope, in the Cruiser Squadron.
In January, 1905 Halsey was appointed Naval Member of the new Volunteer Reserve Committee at the Admiralty.
Captain
Halsey was promoted to the rank of Captain on 30 June, 1905.[3] He ceased duty on the Admiralty Volunteer Committee on 26 August, on which date he was appointed in command of Powerful, as Flag Captain to Sir Wilmot H. Fawkes, Commander-in-Chief, Australia.[4]
Upon Fawkes's three years as Commander-in-Chief on the station ending, he was appointed Commander-in-Chief, Plymouth. Halsey went with him as Flag Captain, being appointed to Impregnable as such on 28 April, 1908.[5]
On 11 April, 1911 he was appointed in comman of the armoured cruiser Donegal in the Fourth Cruiser Squadron. He was superseded in command of Donegal on 20 September, 1912.
On 23 September, 1912, Halsey was appointed to Victory for command of the new battle cruiser New Zealand for her trials.[6]
In August, 1913, the First Lord of the Admiralty, Winston Churchill, noted that:
Captain Halsey having made a great success of his mission in the "New Zealand", and having achieved by all accounts an oratorical success not at all in keeping with the ordinary duties of a naval officer, has established special claims upon the Colonial Office, that Department should, in my opinion, be invited to reward him with a C.M.G.[7]
He was accordingly appointed a Companion of the Most Distinguished Order of Saint Michael and Saint George (C.M.G.) on 8 December.
Great War
On 19 September Halsey was appointed a Naval Aide-de-Camp to the King. He had been ordered to transfer to Invincible when that ship was detached following the Battle of Coronel.[8] For some unknown reason, however, he remained in New Zealand, becoming Flag Captain to Rear-Admiral Sir A. Gordon H. W. Moore when he transferred from Invincible.
Halsey commanded the New Zealand at the Battle of Dogger Bank on 24 January, 1915, for which he was again mentioned in dispatches. In June, 1915 he was appointed Captain of the Fleet to Sir John R. Jellicoe in H.M.S. Iron Duke with the rank of Commodore, First Class. Before the war Jellicoe had already earmarked him for Captain of the Fleet if he had taken over in the usual course in December, 1914.[9] He was present at the Battle of Jutland. In the King's Birthday Honours of 3 June, 1916, he was appointed an Additional Member of the Third Class, or Companion, in the Military Division of the Most Honourable Order of the Bath (C.B.).[10] On 15 September, 1916 he was appointed an Officer of the Légion d'honneur and was promoted to Commander in 1917.
On 4 December Halsey was appointed Fourth Sea Lord at the Admiralty, becoming Third Sea Lord in May, 1917. On 26 April, 1917, he was promoted to the rank of Rear-Admiral.[11] Upon relinquishing the office of Third Sea Lord he was appointed an Additional Member of the Second Class, or Knight Commander, of the Order of Saint Michael and Saint George (K.C.M.G.) on 2 August, 1918.[12] He was appointed to H.M.A.S. Australia as Rear-Admiral Commanding the Second Battle Cruiser Squadron in the Grand Fleet on 1 September and assumed command on 4 September.[13]
Post-War
He served at the Admiralty from March to August, 1919, when he became chief of staff to the Prince of Wales for his tour of Canada, the United States, Australia, New Zealand, the West Indies, and other colonies in H.M.S. Renown. For this he was appointed Knight Commander of the Royal Victorian Order (K.C.V.O.) on 1 December, 1919 and promoted Knight Grand Cross (G.C.V.O.) on 11 October, 1920.
In November, 1920 Halsey was appointed Comptroller and Treasurer to the Prince of Wales. He became an extra equerry in 1921. He was promoted to the rank of Vice-Admiral on 5 July, 1921, vice Charlton,[14] and was placed on the Retired List at his own request on 1 November, 1922, "in order to facilitate the promotion of younger officers."[15] He was appointed Knight Commander of the Most Eminent Order of the Indian Empire (K.C.I.E.) on 23 June, 1922, following the Prince's visit to India,[16] promoted to Knight Grand Cross of the Order of St. Michael and St. George (G.C.M.G.) on 16 October, 1925 following the Prince's visit to Africa and South America, and advanced to the rank of Admiral on the Retired List on 4 October, 1926.[17] He was also awarded the Japanese Order of the Rising Sun 1st Class in 1922.
In 1936 he was dismissed from the staff of King Edward VIII, as the Prince of Wales had now become. This was probably due to his opposition to Wallis Simpson becoming queen. In 1937, however, he was appointed an extra equerry to the new King George VI and took part in the coronation procession.
Regrettably all his papers were burnt in a fire at his home after the Great War.[18] Despite this loss, some correspondence, including at least 88 letters he'd sent to his parents Sir Frederick and Lady Halsey while serving on the Australian Station as Flag Captain to Admiral Sir Wilmot Fawkes in H.M.S. Powerful 1905–08 survived and were house at the Hertfordshire Record Office.[19]
See Also
Bibliography
"Admiral Sir Lionel Halsey" (Obituaries). The Times. Thursday, 27 October, 1949. Issue 51523, col E, p. 7.
Service Records
Naval Appointments
Preceded by
Frederick St. G. Rich
Captain of H.M.S. Powerful
26 Aug, 1905[20] – 1 Jan, 1908[21]
Succeeded by
Cecil I. Prowse
Preceded by
Edward S. Fitzherbert
Flag Captain, Plymouth Station
28 Apr, 1908[22] – 11 Apr, 1911[23]
Succeeded by
Arthur L. Cay
Preceded by
Thomas D. L. Sheppard
Captain of H.M.S. Donegal
11 Apr, 1911[24][25] – 20 Sep, 1912[26]
Succeeded by
George H. Borrett
Preceded by
New Command
Captain of H.M.S. New Zealand
23 Sep, 1912[27] – Jun, 1915[28]
Succeeded by
John F. E. Green
Preceded by
Allan F. Everett
Captain of the Fleet, Grand Fleet
Jun, 1915[29] – Dec, 1916[30]
Succeeded by
Hubert G. Brand
Preceded by
Cecil F. Lambert
Fourth Sea Lord
4 Dec, 1916[31][32] – 31 May, 1917[33]
Succeeded by
Sir Hugh H. D. Tothill
as Fourth Sea Lord and Chief of Supplies and Transport
Preceded by
Frederick C. T. Tudor
as Third Sea Lord
Third Sea Lord and Chief of Naval Materiel
31 May, 1917[34][35] – 17 Jun, 1918[36]
Succeeded by
Charles Bartolomé
as Third Sea Lord and Controller of the Navy
Preceded by
Arthur C. Leveson
Rear-Admiral Commanding the Australian Fleet
1 Sep, 1918[37] – 21 Mar, 1919[38]
Succeeded by
John S. Dumaresq
Preceded by
Arthur C. Leveson
Rear-Admiral Commanding, Second Battle Cruiser Squadron
1 Sep, 1918[39] – 21 Mar, 1919[40]
Succeeded by
Command Abolished
Footnotes