H.M.S. Hood (1918)
From The Dreadnought Project
H.M.S. Hood (1918)
Pendant Number:
51 (Mar 1920)[1]
Builder:
John Brown & Company, Clydebank
(Ship no. 460)[2]
Laid down:
1 Sep, 1916[3]
Launched:
22 Aug, 1918[4]
Commissioned:
May, 1920[5]
Sunk:
24 May, 1941[6]
Fate:
by Bismarck
Design Genesis
At the end of 1915 Treasury approval was granted for construction of an experimental battleship whose design would be based on war experience. What was desired was a ship with the armament and speed of the Queen Elizabeth Class battleship, of improved seaworthiness with a high freeboard uninterrupted by casemates for the secondary battery. Improved underwater protection was also specified, along with a shallow draught to minimise the possibility of underwater damage. Between November, 1915 and January, 1916 a number of battleship designs were prepared by the Director of Naval Construction (D.N.C.).[7] The designs were submitted to the Commander-in-Chief, Grand Fleet, Admiral Sir John Jellicoe in January for comment. He replied that the fleet needed other than escorts were battle cruisers, in light of the battle cruisers supposed to be under construction in Germany, three of which were believed to be capable of 30 knots and armed with 15.2-inch guns. The Renown Class battle cruisers were judged to be insufficient for fleet needs owing to their inferior armour protection. Consequently, the D.N.C. switched to preparing battle cruiser designs.[8]
On 7 April, 1916 design "B" was approved by the Board of Admiralty. On 19 April orders for three ships were placed with John Brown, Cammell Laird and Fairfields, and a fourth was ordered on 13 July. On 14 July the four ships were given the names Hood, Howe, Rodney and Anson, respectively.
On 2 September, 1916, Tudor (Third Sea Lord) minuted:
I do not consider vessels of the proposed modified design to be battleships, or even hybrids like the "QUEEN ELIZABETH" as they are fully capable of working with battle cruisers, and in my opinion the battleship proper should make up for reduced speed by augmented number of guns and even greater armour protection than now proposed.[9]
Construction
A battle cruiser was ordered on 19 April, 1916 from John Brown of Clydebank.[10] Laid down on 31 May, 1916, construction was immediately suspended following the Battle of Jutland, in which three British battle cruisers had been lost.[11] On 14 July, the ship was named Hood.[12] The ship was laid down again on 1 September.[13]
Service
Hood was re-commissioned at Devonport on 15 May, 1923[14] under the command of Flag Captain and Chief Staff Officer John K. im Thurn.
She was re-commissioned at Devonport on 7 January, 1926.[15]
She was re-commissioned at Devonport on 28 August, 1928.[16]
Completed to Full Complement at Portsmouth on 12 May, 1931.[17]
She was re-commissioned at Portsmouth on 30 August, 1933.[18]
She was re-commissioned at Portsmouth on 8 September, 1936.[19]
On 30 June, 1937, Hood straddled H.M.S. Protector during full calibre firing practice. A Court of Inquiry faulted Captain Arthur Francis Pridham for the mishap.[20]
Captains
Dates of appointment are provided when known.
Machinery
Generators
In 1916, it was approved that the ships were to be given eight 200 kw dynamos at 220 volts — four reciprocating, two turbo, 2 oil.[53]
Armament
15-in Guns
These are outlined in a post-war Technical History article.[54] The sights were said to embody all the improvements of the later designs, which might mean those employed in the Courageous class.
The turret sights switched back to telescopes from periscopes. The drift corrector was adjustable for angle of drift, but the means of doing so was still the peculiar practice of tilting the telescope arm receiver. The scopes looked out through the turret armour.
Range strips for full charge were graduated directly on the range drum. Three-quarters charge or sub-calibre were effected by metallic tape bands that were locked into place over these.
5.5-in Guns
The guns had armoured shields of 1.5 inches on the face and top, and 1 inch on the sides, weighing 4.25 tons.[55] The mountings were C.P. II.[56]
Torpedoes
Two Service Bar 21-in submerged broadside tubes forward undepressed (or perhaps depressed 2 degrees) and bearing 90.[57]
In 1923, the torpedoes were fired at intervals of 82, 79, 69 and 60 seconds.[58]
Fire Control
Range Dials
As of 1920, Hood was to be equipped with a four Range Dial Type Ds.[59]
Rangefinders
The ships were to have three 15-foot F.X. 2 rangefinders dedicated to supporting torpedo control. That under the armoured hood could independently traverse 5 degrees on either side of the mean line. The other two were in hand-worked mountings with fields of view from 10 degrees to 170 degrees sited in a pair of splinter-proof towers abreast the funnels. All three featured Barr and Stroud's hand following mechanisms for transmitting ranges to the torpedo transmitting station as well as Evershed Bearing Indicators.[60]
By 1921, the details sorted out as follows, with an outfit (except for the secondary battery) of the newest and largest rangefinders in the Royal Navy:[61]
Evershed Bearing Indicators
Hood had a very complete installation. I have made some inferences in transmitter/indicator designations, but it is not wholly clear.[62][Inference]
Main battery:
1 transmitter in 15-in spotting top
2 transmitters on fore bridge
2 transmitters in 15-in Control Tower
presumably, indicators in all 4 turrets
Secondary battery:
2 transmitters in 5.5-in spotting tops
2 transmitters (indicators?) in 5.5-in control towers
2 transmitters on fore bridge
presumably, indicators in all casemate guns
Searchlights:
2 transmitters on fore bridge
4 indicators on night defence position aft
Starshells:
2 transmitters on fore bridge
presumably, indicators on those guns able to fire starshells
Mechanical Aid-to-Spotter
At some point, Hood was probably equipped with four Mechanical Aid-to-Spotter Mark IIs or Mark II*s:
one on each side of the foretop, driven by flexible shafting from the Evershed rack on the director
one on each side of the Gun Control Tower employing an electrical F.T.P. system.
As the need for such gear was apparently first identified in early 1916, it seems likely that these installations were effected well after Jutland.[63]
Directors
Main Battery
Hood was fitted with two tripod-type directors, one in an armoured tower and one in a light aloft tower. Both were to be fitted with double cam grooves and two rollers.[64] Each 15-in turret also featured an Open Director Sight.[65]
The turret Elevation Receivers were pattern number H. 24, capable of 30 degrees elevation. The Training Receivers were the double dial type, pattern number 9.[66]
Secondary Battery
Her 5.5-in guns were to be served by a pair of pedestal-mounted directors situated high on her forward superstructure.[67]
The mounts had 6-in P. XIII Type Elevation Receivers with electrical tilt correction capable of indicating 30 degrees elevation, Pattern V.E. 2. The Small Type Training Receivers were pattern number 20 on P1 to P4 and S1 to S4, whereas P4 to P8 and S5 to S8 had pattern number 21.[68]
Transmitting Stations
Dreyer Table
Hood had a Mark V Dreyer table.[69] It was probably the only one ever to go to sea.
Torpedo Control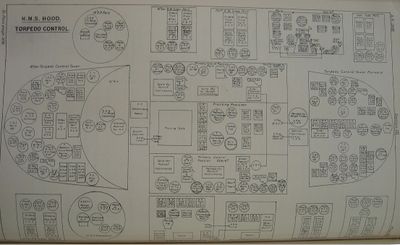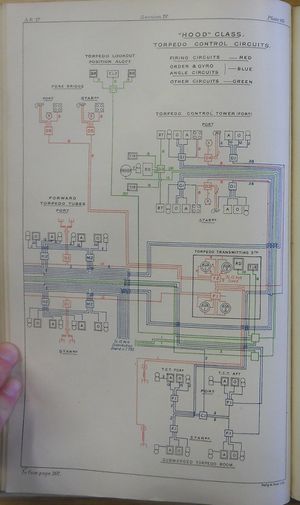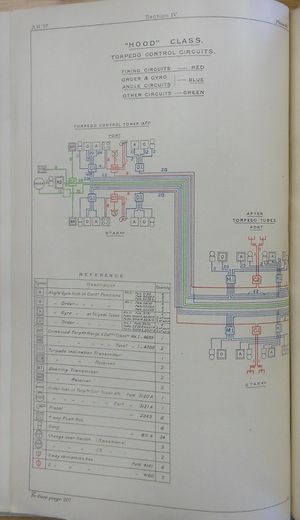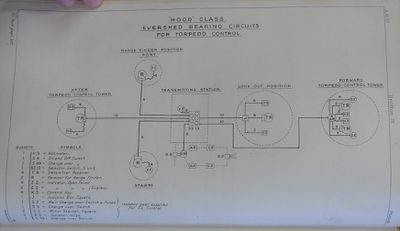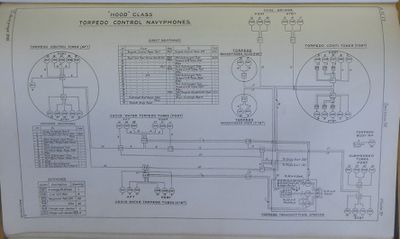 There is a wealth of information on Hood's planned torpedo control arrangements in Annual Report of the Torpedo School for both 1917 and 1918. I will slowly incorporate the material here, as it will be the subject of some discussion. This editor's view is that the torpedo control outlay in this ship illustrates a gross over-emphasis on the value of these weapons in ships with such large outfits of long-ranged guns. — TONY LOVELL, Editor.
In 1919, she was selected to receive one of the first nine Renouf Torpedo Tactical Instrument Type Fs manufactured by Elliott Brothers.[75]
In mid-1920, it was decided that Hood should receive a Renouf Torpedo Tactical Instrument Type B[76] as well as three Torpedo Control Disc Mark III* and as many pairs of mounting brackets to be installed in her primary torpedo control position. She had no Mark III T.C.Ds..[77]
See Also
Footnotes
Bibliography
Admiralty, Gunnery Branch (1917). The Director Firing Handbook. O.U. 6125 (late C.B. 1259). Copy No. 322 at The National Archives. ADM 186/227.
Admiralty, Gunnery Branch (1918). Handbook of Captain F. C. Dreyer's Fire Control Tables, 1918. C.B. 1456. Copy No. 10 at Admiralty Library, Portsmouth, United Kingdom.
Dittmar, F.J.; Colledge, J.J. (1972). British Warships 1914–1919. London: Ian Allan.
Roberts, John (1997). Battlecruisers. London: Chatham Publishing. ISBN 186176006X. Annapolis: Naval Institute Press. ISBN 1557500681. (on Amazon.com and Amazon.co.uk).
Roberts, John (1982, 2001). Anatomy of the Ship: The Battlecruiser Hood London: Conway Maritime Press. ISBN 085177900X. (on Amazon.com and Amazon.co.uk).
Johnston, Ian (2011). Clydebank Battlecruisers: Forgotten Photographs from John Brown's Shipyard. South Yorkshire: Seaforth Publishing, Pen & Sword Books. (on Amazon.com and Amazon.co.uk).
Taylor, Dr. Bruce (2005). The Battlecruiser Hood: An Illustrated Biography 1916-1941. London: Chatham Publishing. ISBN 1 86176 216 X.