Harold Owen Reinold
From The Dreadnought Project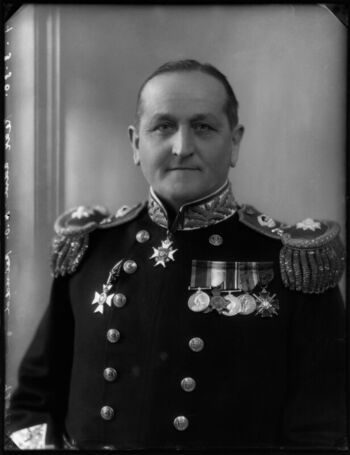 Vice-Admiral Harold Owen Reinold, C.B., C.V.O., Royal Navy (18 October, 1877 – 4 January, 1962) was an officer of the Royal Navy.
His father was Professor Arnold William Reinold, and his cousin Basil Edward Reinold, five years younger, also served in the Navy during the Great War.
Life & Career
Born in Greenwich, Reinold gained ten months time on passing out of Britannia. He was first appointed, additional, to Narcissus in the Cruiser Squadron, on 17 August, 1893.
In September 1895 while serving in the armoured cruiser Undaunted on the China Station, Reinold was deprived of one month's time by Commander-in-Chief for misconduct.
28 March, 1898 Reinold was appointed to the training brig Pilot for navigating duties. On 12 April, 1898, he was faulted for an error in judgment in grounding the vessel.
Reinold was promoted to the rank of Lieutenant on 31 December, 1899.[1]
Reinold passed in Pilotage for first class ships on 6 February, 1904. On the 17th, he was appointed to H.M.S. Minerva in Devonport, where he remained until being appointed to Charybdis as navigating Lieutenant on 26 April, 1904. She operated on the North American Station until paying off on 24 March, 1905 and Reinold was then appointed to (of course!) Scylla. His term in her would be just over a year in duration.
On 26 July, 1909 he was appointed to the Indomitable as navigating officer. Reinold left Indomitable for Lion on 1 December, 1911 and was promoted to the rank of Commander on 31 December, 1911.[2]
Reinold was appointed to the armoured cruiser Defence for navigating duties on 6 January, 1913. She operated in the Mediterranean, and in June, 1914 he took ill and was allowed to take a month's sick leave to take a course of baths at Sales Maggiore. Although he was welcome to return to England thereafter, if required, Reinold rejoined Defence on 16 July.
Great War
In October 1914, Reinold joined Euryalus as navigating officer. The following month he left the ship to participate in the Court-Martial of Rear-Admiral Troubridge.
On 11 February, 1915 Reinold was sent to Hospital with an intestinal disease. He was found fit at Haslar on 14 April.
In August 1915, as a Commander, Reinold commanded the monitor H.M.S. Prince Rupert during bombardment operations lasting through November.[3] He was gazetted for these deeds on 12 January, 1916.[4]
Reinold was promoted to the rank of Captain on 30 June, 1917.[5]
Interbellum
In July 1919, he was appointed in command of the light cruiser Ceres, in which capacity he assisted in operations to evacuate Odessa, for which he received the Admiralty's expression of appreciation. Reinold was superseded in Ceres by John Knowles im Thurn after two years in command.[6]
On 8 May 1924 he was admitted to Haslar for an injury to his right leg.
Reinold was promoted to the rank of Rear-Admiral on 7 April, 1928.[7]
In 1930, Reinold served as Chairman of the Committee appointed to consider the question of the Paint Supply of the Fleet. He was superseded the next year by Percy L. H. Noble.[8]
Reinold was promoted to the rank of Vice-Admiral on 1 January, 1933 (vice Kitson) and was placed on the Retired List on 2 January, 1933.[9]
World War II
Reinold emerged from three weeks in Haslar Royal Naval Hospital for bronchitis to assume an appointment as Flag Officer in Charge, Southampton, vice Tillard to serve in the rank of Rear-Admiral from 17 April, 1942. However, at the end of August, he was sent back to hospital. He was deemed unfit for further duty on 12 September, 1942.[10]
Reinold died at Paulsgrove, Hayling Island on 4 January, 1962.[11]
See Also
"Obituary" (Obituaries). The Times. Saturday, 6 January, 1962. Issue 55282, col B, pg. 12.
Naval Appointments
Preceded by
E. Hyde Parker
Captain of H.M.S. Endymion
12 Dec, 1914[12] – 20 Dec, 1914[13]
Succeeded by
Arthur V. Vyvyan
Preceded by
Henry F. Aplin
Captain of H.M.S. Hermione
18 Apr, 1915[14] – Apr, 1915[15]
Succeeded by
Reginald St. P. Parry
Preceded by
?
Captain of H.M.S. Prince Rupert
12 Jun, 1915[16] – 16 May, 1917[17]
Succeeded by
Henry W. Osburn
Preceded by
Herbert L. Edwards
King's Harbour Master, Plymouth
16 May, 1917[18]
Succeeded by
Geoffrey H. Freyberg
Preceded by
Henry G. E. Lane
Captain of H.M.S. Ceres
Jul, 1919[19][20] – 18 Jul, 1921[21]
Succeeded by
John K. im Thurn
Preceded by
New Command
Captain of H.M.S. Durban
1 Nov, 1921[22] – 20 Dec, 1921[23]
Succeeded by
Casper B. Ballard
Preceded by
Archibald Cochrane
Captain of H.M.S. Caroline
20 Dec, 1921[24] – 17 Feb, 1922[25]
Succeeded by
Cecil R. Hemans
Preceded by
Oliver E. Leggett
Captain of Portsmouth Navigation School
30 Nov, 1922[26][27] – 2 Dec, 1924[28]
Succeeded by
John W. Carrington
Preceded by
John K. im Thurn
Captain of H.M.S. Hood
30 Apr, 1925[29][30] – May, 1927[31]
Succeeded by
Wilfred F. French
Preceded by
Thomas H. Binney
Deputy Director of Plans
24 Jun, 1927 – 1 May, 1928
Succeeded by
G. Frederick B. Edward-Collins
Preceded by
Joseph C. W. Henley
Director of Naval Equipment
14 Mar, 1930[32] – 2 Mar, 1931[33]
Succeeded by
Percy L. H. Noble
Preceded by
Oliver Backhouse
Admiral Superintendent, Devonport Dockyard
2 Mar, 1931[34] – 2 Mar, 1935[35]
Succeeded by
Arthur L. Snagge
Preceded by
Stephen D. Tillard
Flag Officer in Command, Southampton
17 Feb, 1942 – 14 Sep, 1942
Succeeded by
James M. Pipon
Footnotes