John Donald Kelly
From The Dreadnought Project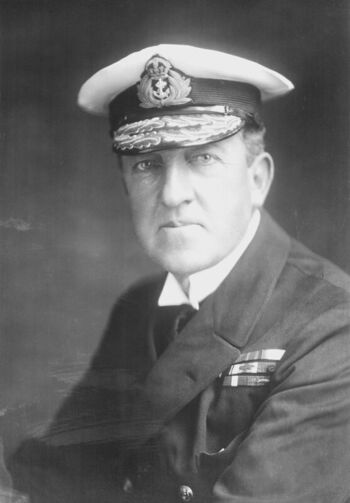 Admiral of the Fleet SIR John Donald Kelly, G.C.B., G.C.V.O., Royal Navy (13 July, 1871 – 4 November, 1936) was an officer of the Royal Navy.
Early Life & Career
Keely joined Britannia in January, 1884. After passing out in December 1885, he started his naval career with a year's appointment in Sultan of the Channel Squadron, then to the third class protected cruiser Calliope on the China Station, from which he was invalided and sent home in H.M.S. Thalia on 11 April, 1888.
Kelly failed to pass from College in November 1891 and was sent to Hotspur on 12 December, to be denied Christmas leave in light of the impression that he had not applied himself sufficiently to his studies. He managed to pass out in February 1892, with a third-class certificate in Gunnery and a second-class in Torpedoes. He apparently left before being given permission, and he was docked three months' time for misconduct.[1]
He was promoted to the rank of Lieutenant on 31 December, 1893.[2]
In May 1903, Kelly passed as an Interpreter in Swahili.
Kelly was promoted to the rank of Commander on 30 June, 1904.[3]
Captain
Kelly was appointed to Majestic on 4 February, 1911, for command of H.M.S. Empress of India.
On the occasion of the coronation of King George V, he was promoted to the rank of Captain, dated 22 June.[4] He was superseded on 18 July and on 15 August was granted permission to study French in his own time. After a period of half pay, he was appointed to President on 18 August, 1912, for a Signal Course, and on 9 September for the War Course at the Royal Naval War College, where he obtained a First Class and placed eighth out of eight captains in order of merit. He was adjudged to be "V.G. & attentive." In October he was classed as an Acting Interpreter in French (lower). Having completed the War Course on 20 December, on 1 January, 1913, he was appointed to Victory as Superintendent of Physical Training at the Royal Naval Barracks. On 21 February his services were placed at the disposal of the 1913 Royal Naval and Military Tournament as Assistant Director of Contracts, to whom he was lent 21 May to 7 June.
On 3 January, 1914, he was admitted to Haslar Royal Naval Hospital with a hernia, and remained in hospital for two months. He was given command of the Hermione in the Fourth Cruiser Squadron on 7 April 1914.[5] On 13 May he was ordered home and returned to Britain on the liner Mauretania. Kelly was appointed in command of the light cruiser Dublin on 6 July, 1914.[6] and assumed command on 21 July.[Citation needed]
Great War
In September 1916, Kelly was appointed in command of the light cruiser Weymouth.
Kelly was appointed command of Princess Royal on 8 July, 1917, temporarily handing command to Sidney R. Drury-Lowe for just shy of three months between 9 October and 30 December, while Kelly received treatment for a hernia.[7][8]
Post-War
Kelly was appointed an Additional Member of the Third Class, or Companion, in the Military Division of the Most Honourable Order of the Bath (C.B.) on 1 January, 1919.[9] On 1 April he became sole Director of Operations upon the termination of Captain Coode's being terminated without relief.[10]
He was promoted to the rank of Rear-Admiral dated 21 November, 1921, vice Glossop.[11]
He was promoted to the rank of Vice-Admiral on 25 October, 1926, vice Fergusson.[12]
On the occasion of the King's birthday he was appointed an Ordinary Member of the Second Class, or Knight Commander, in the Military Division of the Order of the Bath (K.C.B.) on 3 June, 1929.[13]
Kelly was promoted to the rank of Admiral on 12 December, 1930, vice Alexander-Sinclair.[14]
On 12 July, 1936, Kelly was specially promoted to the rank of Admiral of the Fleet.[15]
See Also
"Admiral of the Fleet Sir J. D. Kelly" (Obituaries). The Times. Thursday, 5 November, 1936. Issue 47524, col B, p. 16.
Lowis, Commander Geoffrey (1959). Fabulous Admirals and Some Naval Fragments: Being a Brief Account of some of the Froth on those Characters who Enlivened the Royal Navy a Generation or Two Ago. London: Putnam.
Naval Appointments
Preceded by
George E. S. Petch
Captain of H.M.S. Empress of India
4 Feb, 1911[16][17] – 18 Jul, 1911[18]
Succeeded by
Hector L. Watts-Jones
Preceded by
?
In Command, Physical Training School, Portsmouth
1 Jan, 1913[19] – 7 Apr, 1914
Succeeded by
Frank O. Lewis
Preceded by
Henry M. Doughty
Captain of H.M.S. Hermione
7 Apr, 1914[20][21] – Jun, 1914[22]
Succeeded by
Henry F. Aplin
Preceded by
Henry Blackett
Captain of H.M.S. Dublin
6 Jul, 1914[23][24] – 8 Feb, 1916[25]
Succeeded by
Albert C. Scott
Preceded by
Edwin V. Underhill
Captain of H.M.S. Devonshire
3 Mar, 1916[26] – 1 Sep, 1916[27]
Succeeded by
Henry B. T. Somerville
Preceded by
Denis B. Crampton
Captain of H.M.S. Weymouth
1 Sep, 1916[28][29] – Jun, 1917[30]
Succeeded by
George N. Tomlin
Preceded by
Walter H. Cowan
Captain of H.M.S. Princess Royal
Jun, 1917[31] – 1 Sep, 1917[32]
Succeeded by
Sidney R. Drury-Lowe
Preceded by
Sidney R. Drury-Lowe
Captain of H.M.S. Princess Royal
30 Dec, 1917[33]
Succeeded by
Reginald St. P. Parry
Preceded by
A. Dudley P. R. Pound
Director of Operations Division (Home)
15 Jul, 1919[34][35] – 1 Apr, 1920[36]
Succeeded by
Operations Division
Preceded by
separate Home and Foreign Divisions
Director of Operations Division
1 Apr, 1920[37][38] – 15 Feb, 1922[39]
Succeeded by
Henry W. Parker
Preceded by
Richard Webb
Vice-Admiral Commanding, Fourth Battle Squadron
27 Jul, 1922[40] – Aug, 1923[41]
Succeeded by
Hugh D. R. Watson
Preceded by
The Hon. Algernon D. E. H. Boyle
Fourth Sea Lord and Chief of Supplies and Transport
1 Apr, 1924[42] – 30 Apr, 1927[43]
Succeeded by
William Fisher
Preceded by
Michael H. Hodges
Vice-Admiral Commanding, First Battle Squadron
30 Apr, 1927[44] – 26 Apr, 1929[45]
Succeeded by
W. A. Howard Kelly
Preceded by
Arthur A. M. Duff
Admiral Commanding Reserves
1 Aug, 1929[46] – 24 Sep, 1931[47]
Succeeded by
Henry W. Parker
Preceded by
Sir Michael H. Hodges
Commander-in-Chief, Atlantic Fleet
6 Oct, 1931[48][49] – 13 Sep, 1933[50]
Succeeded by
?
Preceded by
Sir Arthur K. Waistell
Commander-in-Chief, Portsmouth Station
17 Jan, 1934[51][52] – Jul, 1936
Succeeded by
Sir William W. Fisher
Footnotes