Richard Webb
From The Dreadnought Project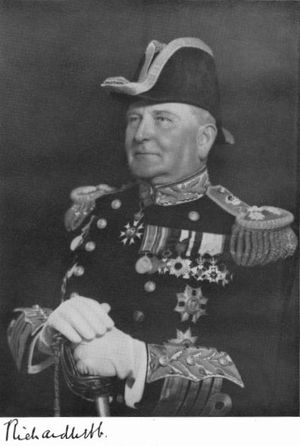 Admiral SIR Richard Webb, K.C.M.G., C.B. (20 July, 1870 – 20 January, 1950) was an officer of the Royal Navy during the First World War.
Early Life & Career
Richard Webb was born on 20 July, 1870, the youngest son of Mr. Richard C. Webb, of Holt Lodge, Norfolk.
He was confirmed in the rank of Sub-Lieutenant on 10 June, 1891, dated 14 December, 1889.[1]
Webb was promoted to the rank of Lieutenant on 14 December, 1891.[2]
Webb was promoted to the rank of Commander on 1 January, 1902.[3] On 5 June he was appointed Commander of the Ariadne on the North America and West Indies Station. Arthur Marder writes "when commanding the flagship Ariadne on the West Indian Station in pre-war days, he forebade gin in the ward-room as an ungentlemanly drink!"[4] Marder doesn't name his informant, but given that Webb was Commander of the Ariadne, not in command, one may take Marder and his informant's gossip with a pinch of salt.
Webb was promoted to the rank of Captain on 1 January, 1907.[5]
He was appointed in command of the third class protected cruiser Amethyst on 5 January, 1909.[6]
On 2 April, 1912, he was appointed to Victory additional in Portsmouth to act as Flag Captain to Vice-Admiral Henry Jackson. He would remain in that role until 16 August, 1913.[7]
Great War
Webb was appointed acting Director of the Trade Division on 14 August, 1914.[8]
On 1 January, 1915, Webb was appointed an Ordinary Member of the Third Class, or Companion, in the Civil Division of the Most Honourable Order of the Bath (C.B.).[9]
Webb wrote to Colonel Hankey on 28 May, 1915:
This is a war of extermination not one of platitudes about Business as Usual. The best way of protecting our trade is by beating the enemy. If we don't do that there won't be any trade to protect.[10]
On 1 October, 1917, Webb was appointed in command of the battle cruiser New Zealand.[11] He was promoted to the rank of Rear-Admiral on 3 September, 1918, vice Dumas.[12] On 15 October he married Miss Agnes E. Foster, only daughter of Richard F. Foster and the late Honourable Mrs. Richard Foster. The wedding took place at St. Mark's Church, North Audley Street, London, and Vice-Admiral Henry Campbell acted as best man.[13] The following month he was appointed Assistant High Commissioner at Constantinople following the armistice with the Ottoman Empire.[14] His staff was appointed to H.M.S. Superb dated 11 November, 1918.[15]
Post-War
On 1 January, 1920, Webb was appointed an Additional Member of the Second Class, or Knight Commander, of the Most Distinguished Order of Saint Michael and Saint George (K.C.M.G.).[16] He was promoted to the rank of Vice-Admiral on 30 June, 1924, vice Gaunt.[17] On 21 January, 1928, he was promoted to the rank of Admiral, vice Oliver.[18] He was placed on the Retired List at his own request on 27 February, 1929.[19]
Bibliography
"Admiral Sir Richard Webb" (Obituaries). The Times. Saturday, 21 January, 1950. Issue 51595, col F, p. 8.
Black, Nicholas (2005). The Admiralty War Staff and its Influence on the Conduct of the Naval War between 1914 and 1918. Unpublished PhD Thesis. London: University College, University of London.
Papers
Service Records
Naval Appointments
Preceded by
James D. Dick
Captain of H.M.S. Amethyst
5 Jan, 1909[20][21] – 17 Aug, 1911[22]
Succeeded by
Charles S. Wills
Preceded by
Charles F. Thorp
Captain of H.M.S. Terpsichore
1 Dec, 1911[23] – 14 Dec, 1911[24]
Succeeded by
?
Preceded by
Hugh F. W. Wyldbore-Smith
Captain of H.M.S. Sappho
14 Dec, 1911[25] – 2 Apr, 1912[26]
Succeeded by
Gerald V. C. Knox
Preceded by
Charles F. Thorp
Flag Captain of the Royal Naval College, Greenwich
2 Apr, 1912[27] – 16 Aug, 1913[28]
Succeeded by
Charles E. Le Mesurier
Preceded by
Arthur W. Lowis
Captain of H.M.S. Illustrious
2 Jul, 1913[29]
Succeeded by
Bertram M. Chambers
Preceded by
New Appointment
Director of the Trade Division
14 Aug, 1914[30] – 1 Oct, 1917[31]
Succeeded by
Alan G. Hotham
Preceded by
Edward C. Kennedy
Captain of H.M.S. New Zealand
1 Oct, 1917[32][33] – Sep, 1918[34]
Succeeded by
Leonard A. B. Donaldson
Preceded by
Michael Culme-Seymour
Second-in-Command, Mediterranean Station
1 Sep, 1920[35] – 27 Jul, 1922[36]
Succeeded by
Hugh D. R. Watson
Preceded by
Michael Culme-Seymour
Vice-Admiral Commanding, Fourth Battle Squadron
1 Sep, 1920[37][38] – 27 Jul, 1922[39]
Succeeded by
John D. Kelly
Preceded by
George P. W. Hope
President of the Royal Naval College, Greenwich
27 Feb, 1926[40] – 27 Feb, 1929[41]
Succeeded by
John W. L. McClintock
Footnotes