John Saumarez Dumaresq
From The Dreadnought Project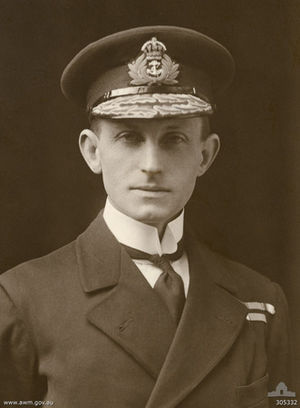 Rear-Admiral John Saumarez Dumaresq, C.B., C.V.O., Royal Navy (26 October, 1873 – 22 July, 1922) was an officer of the Royal Navy who made an important contribution to the field of long-range naval gunnery with the invention of the Dumaresq. He was the first Australian-born officer to command the Australian Fleet.
Early Life & Career
Dumaresq was born in Sydney, the son of pastoralist William Alexander Dumaresq. He grew up in England, however, from age 2.[1]
Dumaresq was confirmed in the rank of Sub-Lieutenant dated 26 October, 1892.[2]
He qualified as an Interpreter in French.
Dumaresq was promoted to the rank of Commander on 30 June, 1904.[3]
Following King Edward VII's visit to Russia, Dumaresq was appointed a Member of the Fourth Class of the Royal Victorian Order (M.V.O.) on 10 June, 1908.[4]
He was appointed to command the battleship Prince of Wales on 18 November, 1912.[5]
At the outbreak of war, he was flag captain to Rear-Admiral Gough-Calthorpe in Shannon, operating with the Second Cruiser Squadron.[6]
At the Battle of Jutland, he commanded the armoured cruiser H.M.S. Shannon, operating as part of the Second Cruiser Squadron.
On 15 September 1916 he was appointed an Additional Member of the Third Class, or Companion, in the Military Division of the Most Honourable Order of the Bath (C.B.) dated 31 May.[7]
Post-War
Dumaresq remained in command of the light cruiser H.M.A.S. Sydney until 22 February, 1919 when he became Commodore commanding His Majesty's Australian Fleet, with the rank of Commodore, First Class, dated 22 March.[8] On 15 June, 1921 he was promoted to the rank of Rear-Admiral,[9] becoming the first Australian-born officer to attain that rank, and to command the Royal Australian Fleet.
By the early 1920s, cutbacks in defence spending led Dumaresq into conflict with senior political figures as he sought to ensure that the Navy was properly resourced. He returned to the Royal Navy on 29 April, 1922, thus ending his service with the R.A.N. Dumaresq's final gesture, criticising Australia's apathy towards defence spending, suggests something of his willingness to publicly state his views on matters of national importance. Some regarded him as a strict disciplinarian but he was widely respected, shy of publicity, and has been credited with introducing an esprit de corps into the Navy that the young service had been lacking.
Having raised a stir, on the way to Japan, Dumaresq fell seriously ill in the Philippines with pneumonia in May of 1922.[10] He died in Manila on 22 July of septic pneumonia.[11] The funeral service was held in the Episcopal Cathedral, and he was buried in the British cemetery at San Pedro Macati. His coffin was escorted by a contingent of 1,200 infantry, and a thirteen gun salute was rendered at the cemetery.[12]
See Also
Bibliography
Service Records
Naval Appointments
Preceded by
Bernhard A. Pratt-Barlow
Captain of H.M.S. Lively
14 Jul, 1904[13] – before 16 Sep, 1904[14]
Succeeded by
John C. H. Lindsay
Preceded by
Frank Brandt
Captain of H.M. T.B. 116
18 Apr, 1906[15] – 16 Jun, 1907[16]
Succeeded by
Herbert N. Garnett
Preceded by
Francis G. St. John
Captain of H.M.S. Nith
7 Feb, 1908[17][18] – c. early 1910[19][20]
Succeeded by
Arthur K. Macrorie
Preceded by
New Command
Captain of H.M.S. Swift
10 Feb, 1910[21] – 2 Aug, 1910[22]
Succeeded by
George B. W. Young
Preceded by
Henry T. Buller
Captain of H.M.S. Prince of Wales
18 Nov, 1912[23] – 18 Nov, 1913[24]
Succeeded by
Robert N. Bax
Preceded by
Charles D. Carpendale
Captain of H.M.S. Shannon
19 Dec, 1913[25][26] – 5 Feb, 1917[27]
Succeeded by
Vincent B. Molteno
Preceded by
John C. Glossop
Captain of H.M.A.S. Sydney
5 Feb, 1917[28] – 24 Sep, 1917[29]
Succeeded by
John S. Dumaresq
Preceded by
Cyril T. M. Fuller
Captain of H.M.S. Repulse
24 Sep, 1917[30] – 6 Nov, 1917[31]
Succeeded by
William H. D. Boyle
Preceded by
John S. Dumaresq
Captain of H.M.A.S. Sydney
6 Nov, 1917[32] – 22 Feb, 1919
Succeeded by
Henry P. Cayley
Preceded by
?
Second-in-Command, Second Light Cruiser Squadron
24 Dec, 1917[33]
Succeeded by
?
Preceded by
Lionel Halsey
Rear-Admiral Commanding the Australian Fleet
22 Feb, 1919[Citation needed]
Succeeded by
Albert P. Addison
Preceded by
Sir George E. Patey
Rear-Admiral Commanding, Royal Australian Navy Squadron
Mar, 1919[34] – Apr, 1922[35]
Succeeded by
Albert P. Addison
Footnotes