Christopher George Francis Maurice Cradock
From The Dreadnought Project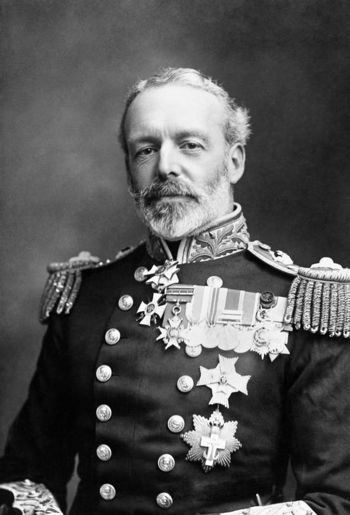 Rear-Admiral SIR Christopher George Francis Maurice Cradock, K.C.V.O., C.B., Royal Navy (2 July, 1862 – 1 November, 1914) was an officer of the Royal Navy, best known for leading his squadron to destruction against the Imperial German Navy in the Battle of Coronel in 1914.
Early Life & Career
Cradock was born on 2 July, 1862 at Richmond, Yorkshire, the fourth son of Christopher Cradock, of Hartforth Hall, by his wife, Georgina, daughter of Major Gordon Duff, Ninety-Second Highlanders. Christopher Cradock entered Britannia on 15 January, 1875 which he left with Third Class passes. On 22 December, 1876 he was appointed to the Pallas, where he remained upon promotion to Midshipman on 22 December, 1877. On 25 July, 1879 he was appointed to the Minotaur, before being appointed to the Cleopatra on the China Station on 24 August, 1880. He was re-appointed on promotion to Acting Sub-Lieutenant on 21 December, 1881. He was discharged from Cleopatra on 6 March, 1882 to return to Britain, and on 8 July, he was appointed to Excellent for examinations at the Royal Naval College, Greenwich. In March, 1883 he passed the College with a Third Class pass, and in May obtained a Third Class pass in Torpedo work and a Second Class pass in Gunnery work in August.
In 1884, as a Sub-Lieutenant, he landed with the naval brigade for garrison duties in Upper Egypt and as first lieutenant of the Dolphin, served with the Eastern Sudan field force, being chosen by the Governor-General of the Red Sea to act as his Aide-de-Camp.
Cradock was promoted to the rank of Lieutenant on 30 June, 1885.[1] Appointed to the gunvessel Linnet on 1 November, 1885, he subsequently took part in the occupation of Affafit, receiving the Khedive's Bronze Star with clasp for the Battle of Toker, and the Medjidieh of the Fourth Class. His time in Linnet extended to mid 1889. In July, he was appointed to the second class battleship H.M.S. Howe to participate in the Annual Manoeuvres of 1889, followed by service in Volage in the Training Squadron.
Cradock was again appointed to the screw sloop Dolphin on 6 September, 1890.[2]
Cradock afterwards served in the Royal Yacht Victoria and Albert, from which he was promoted to Commander on 31 August, 1896.
As Commander of the despatch vessel Alacrity, he commanded the naval brigade which led the Allied forces at the storming of the Taku Forts, 17 July 1900, and was noted for promotion for gallantry. Later on, as commander of the British naval brigade, he directed the British, American, Japanese, and Italian forces when they advanced to the relief of the Tientsin Settlement; and he took part in the subsequent relief of Sir Edward Seymour's column at Siku, besides assisting in the capture of the Peiyang arsenal, Tientsin.
Cradock was appointed an Ordinary Member of the Third Class, or Companion, in the Military Division of the Order of the Bath (C.B.) on 26 June, 1902.[3] He was appointed command of Bacchante on 20 December, 1902.[4]
On the occasion of the King's visit to Malta Cradock was appointed a Member of the Fourth Class of the Royal Victorian Order (M.V.O.) on 21 April, 1903.[5]
He took command of the armoured cruiser Leviathan early in 1905, but was invalided from command in June.[6]
From 17 July, 1906 to 6 August, 1908, he was captain of Swiftsure.[7]
Commodore & Flag Rank
He was appointed Commodore, Second Class in command of the Royal Naval Barracks, Portsmouth on 1 July, 1909 in succession to Rear-Admiral Shortland.[8] In 1909 a special notation was made in his service record, viz: "A.9014/09. To be prom. [promoted] to Flag Rank when turn arrives, irrespective of having compd.[completed] 6 years qual. [qualifying] service in order prescribed."[9] On 2 July he was fined £2 and costs in the Havant Petty Sessions for failing to stop his motorcar after colliding with a motorcyclist. A summons against Cradock on a charge of "driving to the common danger" was adjourned pending a possible appeal by him against the fine.[10] His duties in Portsmouth, in addition to superintending the Naval Barracks, appear to have also consisted of sitting on Courts-Martial and entertaining important visitors.[Inference]
Cradock was promoted to the rank of Rear-Admiral on 24 August, 1910, vice Inglefield.[11] On 24 February, 1911 he was admitted to Haslar Naval Hospital with "disease of the kidneys." He was discharged on 7 March "at own expense," and from 6 March to 23 June he was appointed to the Royal Naval War College at Portsmouth, where he came sixth out of seven flag officers on the course, and was noted to be "very attentive, but sick ⅓ of the term."[12] For the Naval Review held at Spithead on 24 June, Cradock was detailed to attend visitors on the the chartered merchantman, S.S. Rewa.
On 29 August, 1911, Cradock relieved Rear-Admiral Sackville H. Carden as Rear-Admiral (Second-in-Command) of the Atlantic Fleet, hoisting his flag at Sheerness.[13] He was appointed a Knight Commander in the Royal Victorian Order (K.C.V.O.) on 28 February, 1912,[14] and was knighted in an investiture at Buckingham Palace on 6 March.[15] He was succeeded by Rear-Admiral Cecil F. Thursby on 29 August.[16] On 10 October he was decorated with the Silver medal for Gallantry of the Board of Trade, in a ceremony at Buckingham Palace, along with other participants in the Dehli rescue.[17]
Cradock's appointment as Rear-Admiral Commanding the Fourth Cruiser, or Training Squadron in succession to Rear-Admiral Edward E. Bradford was announced in November.[18] He hoisted his flag in the Donegal on 8 February, 1913, and transferred to the Suffolk on the 27th.[19]
As can be seen from the photograph at right, Cradock kept dogs when at Portsmouth, but never married. Admiral Sir Charles Hope Dundas of Dundas, who claimed Cradock as his "particular friend" back in their Channel Fleet days, later wrote: "Why he was a bachelor I never knew. Probably he never met the girl he cared for sufficiently."[20]
Great War
At the outbreak of war, he was faced with a task of great difficulty. With his flag in the armoured cruiser Suffolk, he had a much larger force under his command than the two German light cruisers immediately opposed to him; but the area under his control extended from the St. Lawrence to Brazil; and, as the admiral in charge of a force designed for commerce protection, he had the duty of seeing that enemy merchant ships in Atlantic ports were shadowed and that the flow of British trade was maintained. He performed this varied work very skilfully; during the first week of the war he drove both German cruisers off the trade routes, and only missed destroying one of them—the Karlsruhe—by a very narrow margin. On 14 August, 1914 the Admiralty was able to telegraph to Paris: "The passage across the Atlantic is safe; British trade is running as usual."
Cradock was now compelled to take similar measures for the southern Atlantic, whither he had driven his opponents. Before proceeding south, he hoisted his flag in the Good Hope, and early in September arrived at Pernambuco, where he was told by the Admiralty that the German admiral, von Spee, with the enemy's China squadron, was assumed to be moving eastwards across the Pacific with the Falkland Islands as a possible objective. This message quite altered the nature and scope of Cradock's duties, as he was now faced with the double problem of countering every possible move on the part of a powerful, concentrated squadron, and, at the same time of protecting trade against the Dresden which was still at large.
Either task was extraordinarily difficult; if he went in search of his principal opponent it would be quite possible for Admiral von Spee to slip past, and then fall upon our trade and coaling bases in the Atlantic. In these circumstances, Cradock telegraphed to the Admiralty that the only way of dealing with the situation was to concentrate two forces, one to the east and one to the west of the Magellan Straits, and to make each sufficiently powerful to crush Admiral von Spee's squadron. This the Admiralty, with urgent demands at the moment for naval force elsewhere, did not do; it sent Cradock orders to search and protect trade, with the ships then under his command: the armoured cruisers Good Hope and Monmouth, the light cruiser Glasgow, and the armed merchantman Otranto, reinforced by the old battleship Canopus, mounting four 12-inch guns, which was being sent to join him.
He at once pointed out that this addition was of no use, as it reduced the speed of his squadron to twelve knots, and so made the first part of his orders impossible of fulfilment. The Admiralty's instructions were in any case very ambiguous; Rear-Admiral Cradock understood them as an order to seek out the enemy and fight, and this he now proceeded to do.
Captain Heathcoat Grant of the Canopus, "an old and intimate friend" of Cradock's "since the days when we were midshipmen together", recalled that "Sir Christopher was under no delusions as to the relative strength of the force under his command" versus Spee's squadron. "He arranged with me that if he was fortunate enough to locate the enemy in force, he would endeavour as far as possible to keep the action at such a speed as would enable the Canopus to assist him with her heavier armament of 12-inch guns, this we both realised would be a difficult task, as the most we could possibly expect to keep up in our present condition would be some 14, possibly 15 knots for a short period."[21]
On 20 October, Grant and Cradock went for a walk into the Falklands countryside:
"It was a lovely day and I think the Admiral enjoyed it as much as myself. He had been rather depressed with what he considered his poor chances of catching the enemy under favourable conditions, if at all, and no wonder with a scratch squadron such as he had, most of the neighbouring coast and ports full of German spies, the Pacific Ocean open to them, and all the innumerable hiding places round the Straits of Magellan, in which they could safely conceal themselves before their probable attempts to break through to the Atlantic side.
"The island strongly reminded one of the Shetlands, with its bare heather-covered hills, and patches of peat and grass. It was full of interest to both of us, as it was at this time teeming with wild bird life, duck of all sorts, geese and penguins all coming in for their breeding season. We found a goose nest and many others, and later came on a big colony of penguins who had just landed and were very busy making preparations for their future nurseries. Cradock's dog, Jack, made a determined attack on the penguin army and was with difficulty restrained from despatching a pugnacious old cock bird. Sea lions were sighted and many seal, and for a time both of us forgot our troubles."[22]
Taking his squadron out from Stanley to the west coast of South America on 22 October, he arrived off Coronel on 31 October, having assigned to the Canopus the duty of escorting the colliers of his squadron. Meanwhile, a new board of Admiralty had been appointed with Lord Fisher as First Sea Lord. They at once telegraphed to him that he was to keep his squadron concentrated and form a junction with the Defence—a powerful armoured cruiser which had been ordered out from home—and that he was not expected to fight without the Canopus. The new orders never reached him.
At 4.20 in the afternoon of 1 November he fell in with Admiral von Spee's squadron consisting of the Scharnhorst, Gneisenau, Leipzig, Dresden, and Nurnberg; a force which outmatched him in gun power, armour, and speed. Cradock was quite unable to adjust the balance, as the Canopus was still 250 miles away; and, deeming it his duty to engage at once he formed his squadron in line of battle and endeavoured to close. Until sunset, he still had the advantage of the light; but Admiral von Spee, making skilful use of the higher speed of his force, kept between Cradock's squadron and the land until after sunset.
It was not until about 7 o'clock p.m. that the action began. The German ships were then almost invisible with the land behind them, and the British cruisers were sharply silhouetted against the glow in the western sky. In spite of a very heavy southerly sea, the German fire was extraordinarily good, their broadside was heavier, and by eight o'clock all was over. The Good Hope sank with all on board at 7.35; the Glasgow, after taking such part in the action as was possible with her light armament, withdrew and, joining the Otranto, made good her escape; and the Monmouth succeeded, for a time, in getting away. Her condition was, however, almost hopeless, as she was making water badly and every gun was out of action. At about 9 o'clock whilst the captain was struggling to keep his vessel afloat she fell in with the Nurnberg, which had been too far behind to take part in the action. Though incapable of resistance, Captain Brandt refused to surrender, and his ship went down with all hands.
When the news of the engagement arrived in England, public opinion was critical of the action of the British admiral. The disaster was imputed to recklessness, in engaging a squadron superior to his own, and to his disregard of the orders he had received. Later investigations showed that it was impossible for him to carry out the orders sent to him and, at the same time, keep his squadron concentrated on the old and slow battleship Canopus which had been sent to him as a reinforcement. More than that, his messages home and the Admiralty's replies proved that he had pointed this out; and that the new board of Admiralty had realized the difficulty of his position and the ambiguity of his orders.
Motives for Seeking Battle
In 1924, Admiral Sir Francis C. B. Bridgeman received a letter from Wing Commander H. M. Stanley-Turner, who in 1914 had been officer commanding troops in the Falkland Islands. He had met Cradock almost every day while the admiral had been in Port Stanley.[23] An extract from the letter read:
I well remember that after Cradock's signal asking for reinforcements, he finally received a definitive order. I cannot pretend after this period to remember what the exact wording of the signal was, but … it was to the effect that he was to proceed to sea forthwith, seek out the enemy and engage him … Cradock had stayed the night at Government House; and was in my opinion worried, although he largely concealed it under his usual cheerful manner. I remember that he wrote to letters; one … to Admiral Meux, and the other … to a relative … These two letters were put on the mantelpiece in the Governor's office, and they were to be posted when the news came along that the Good Hope had been sunk. I also remember that that morning at breakfast Cradock said 'Winston has always borne a grudge against me, ever since the …… affair.' (I forget the name of the ship, but it was I think, a P&O — the one which was wrecked with the Duke and Duchess of Fife on board.) He then said: 'This is Winston's doing' — referring apparently to the order which I have mentioned above. He seemed very worried.[24]
The "…… affair" mentioned by Stanley-Turner was presumably the wrecking of the Peninsular and Oriental liner Dehli off Tangier on 13 December, 1911. The Atlantic Fleet under Vice-Admiral Jellicoe was on the scene and Cradock had been detailed to render all possible assistance. Aboard the ship had been the Duke of Fife and his wife, the Princess Royal, the eldest daughter of the late King Edward VII and sister of King George V. Although surviving Admiralty dockets on the Dehli's loss shed little light on matters, an intriguing passage in the diary of the Committee of Imperial Defence's Assistant Secretary (Military), Major Adrian Grant Duff, may possibly offer an explanation:
The "superiority" of the Navy has let them in rather badly over the ... Delhi on C. Spartel – the Naval wireless stations won't accept wireless messages from mere Merchant vessels – so Gibraltar ignored the Delhi's requests for assistance – hence the first assistance came from a French man of war and British help only came from Gibraltar after Cadiz had taken in the message and passed it on by land line – unfortunately for the Navy – the Princess Royal was on board![25]
As Cradock had been the principal Royal Navy officer involved in the rescue operations, this may explain his mention of these events to Stanley-Turner, and his belief that the First Lord held a grudge against him. He was not the only one to believe so, as Sir Francis Bridgeman wrote to Jack Sandars that "I heard from Bartolomé that Churchill was a great admirer of Cradock, which was news to me. I had been let to believe that the opposite was the case!"[26]
Aftermath
A memorial service was held for Cradock on Friday, 13 November at Christ Church, London. The King was represented by Commander Sir Charles Cust; Queen Alexandra by General Sir Dighton Probyn, and the Admiralty by Captain Richmond. The Princess Royal sent a wreath.
Also represented at the service were the Argentinian Minister, Admiral of the Fleet Sir Edward H. Seymour, Rear-Admiral Adolphus FitzGeorge, Lady Jellicoe, Admiral Sir Wilmot H. Fawkes, Earl Brassey, Countess Fitzwilliam, Admiral Lord Beresford, Admiral The Hon. Sir Edmund R. Fremantle, Vice-Admiral Sir Colin R. Keppel, Vice-Admiral The Hon. Alexander E. Bethell, Mr. and Mrs. Pease, Mr. Howard and Lady Strathcona, Lady Berthwick, Sir George Armstrong, Admiral Sir Berkeley Milne, Admiral Sir James E. C. Goodrich, Sir Lionel and Lady Carden, and Sir Reginald Custance. Lady Maud Warrender sang the solo "O rest in the Lord".[27]
A tablet was set up in the Parish Church of St. Agatha, at Hartforth, the Cradock family seat.
In January, 1915 a committee was set up for creating a memorial to Cradock to be placed in York Minster.[28] The mural, designed by F. W. Pomeroy, A.R.A., was unveiled on Friday, 16 June, 1916 by the Marquess of Zetland. The First Lord of the Admiralty, Arthur J. Balfour, gave a speech in honour of the late Rear-Admiral, which ended:
We do not know, we never shall know, what were the thoughts of Admiral Cradock when it became evident that, outgunned and outranged, success was an impossibility. We shall never know what he felt when the setting sun on that evening threw his own ships up clearly against the bright Western sky, a mark for his enemies, and at the same time rendered his own fire difficult and ineffective by placing them in the shade. He must have realized then that his hopes were dashed for ever to the ground, that his plan had failed. In the face of death, certain and imminent, I doubt not that he thought, if only for a moment, of how his friends and his countrymen would judge his action. If he did I feel sure that he realized, what is the truth, that he could safely leave his fame to the admiring justice of his countrymen. He lies beneath the ocean—no more fitting resting-place for men of our race—his body is separated from us by half the world, and he and his gallant comrades lie far from the pleasant homes of England, yet they have their reward, and we, looking at what they attempted and judging what they did in the light of what they attempted, are surely right in saying that theirs' is an immortal place in the great roll of naval heroes whose work has built up the Empire and secured the freedom of mankind, and whose work, at the very moment I am speaking, is preserving that Empire and maintaining that freedom, and who, God willing, will have successors who will preserve and maintain it until the end of time.[29]
Balfour was accompanied by Admiral of the Fleet Sir Hedworth Meux, Admiral Lord Beresford, Admiral Sir Stanley C. J. Colville and Vice-Admiral Sir George J. S. Warrender.[30] A reception was held at the Mansion House afterwards at which Admiral Sir Fancis C. B. Bridgeman proposed the health of Sir Arthur Balfour.[29]
TO THE GLORY OF GOD
AND IN MEMORY OF
REAR ADMIRAL SIR CHRISTOPHER CRADOCK.
KNIGHT COMMANDER OF THE ROYAL VICTORIAN ORDER.
COMPANION OF THE MOST HONOURABLE ORDER OF THE BATH.
WHO GALLANTLY UPHOLDING
THE HIGH TRADITION OF THE BRITISH NAVY
LED HIS SQUADRON
AGAINST AN OVERWHELMING FORCE OF THE ENEMY
OFF CORONEL ON THE COAST OF CHILI,
AND FELL GLORIOUSLY IN ACTION
ON ALL SAINTS' DAY I914
THIS MONUMENT IS ERECTED BY HIS GRATEFUL COUNTRYMEN.
God forbid that I should do this thing,
To flee away from them.
If our time is come let us die manfully for our brethren,
And let us not return our honour. I Maccabees IX, 10.
See Also
Bibliography
Cradock, Rear-Admiral Sir Christopher (1908). Whispers from the Fleet. Portsmouth: Gieve's.
Dundas of Dundas, Admiral Sir Charles (1922). An Admiral's Yarns: Stray Memories of 50 Years. London: Herbert Jenkins, Ltd.
Grant, Vice Admiral Sir Heathcoat S. "H.M.S. Canopus, August 1914, to March, 1916—I." The Naval Review XI (1): pp. 143-152.
Grant, Vice Admiral Sir Heathcoat S. "H.M.S. Canopus, August, 1914, to March, 1916—II." The Naval Review XI (2): pp. 324-337.
Hickling, Vice-Admiral Harold, C.B., C.B.E., D.S.O. (1965). Sailor at Sea. London: William Kimber.
Hirst, Paymaster Commander Lloyd (1934). Coronel and After. London: Peter Davies.
Ross, Stewart (1998). Admiral Sir Francis Bridgeman: The Life and Times of an Officer and a Gentleman. Cambridge: Baily's. ISBN 0952362880.
Yates, Keith (1995). Graf Spee's Raiders: Challenge to the Royal Navy, 1914-1915. London: Leo Cooper. ISBN 0850524512.
Service Records
Naval Appointments
Preceded by
Spencer H. M. Login
Captain of H.M.S. Alacrity
1 Feb, 1900[31]
Succeeded by
Seymour E. Erskine
Preceded by
Francis J. Foley
Captain of H.M.S. Andromeda
24 Mar, 1902[32][33] – 1903[34]
Succeeded by
Frederic E. E. Brock
Preceded by
Frederic E. E. Brock
Captain of H.M.S. Bacchante
20 Dec, 1902[35] – 25 Jan, 1905[36]
Succeeded by
Francis G. Kirby
Preceded by
Francis G. Kirby
Captain of H.M.S. Leviathan
25 Jan, 1905[37] – 17 Jun, 1905[38]
Succeeded by
The Hon. Robert F. Boyle
Preceded by
Arthur A. C. Galloway
Captain of H.M.S. Swiftsure
17 Jul, 1906[39] – 6 Aug, 1908[40]
Succeeded by
Cecil F. Thursby
Preceded by
Edward G. Shortland
Commodore-in-Command, Royal Naval Barracks, Portsmouth
1 Jul, 1909[41] – 25 Oct, 1910[42]
Succeeded by
Alexander L. Duff
Preceded by
Sackville H. Carden
Second-in-Command, Atlantic Fleet
29 Aug, 1911[43] – 29 Aug, 1912[44]
Succeeded by
?
Preceded by
?
Rear-Admiral, Second-in-Command, Third Battle Squadron
29 Aug, 1911[Citation needed]
Succeeded by
Cecil F. Thursby
Preceded by
Edward E. Bradford
Rear-Admiral Commanding, Fourth Cruiser Squadron
8 Feb, 1913[45] – 1 Nov, 1914
Succeeded by
Robert S. P. Hornby as Commander-in-Chief, North America and West Indies Station
Footnotes