Francis Charles Bridgeman Bridgeman
From The Dreadnought Project
Admiral SIR Francis Charles Bridgeman Bridgeman (born Francis Charles Bridgeman Bridgeman-Simpson, changing his name on 4 November 1896), G.C.B., G.C.V.O., J.P., Royal Navy (7 December, 1848 – 17 February, 1929) was an officer of the Royal Navy. He twice commanded the British Home Fleet in the run-up to the First World War, and served as Second Sea Lord, Commander-in-Chief of the Home Fleet, and First Sea Lord. In 1912 he was dismissed in acrimonious circumstances by First Lord of the Admiralty Winston Churchill and went into retirement a year later.
Early Life & Career
Bridgeman-Simpson was promoted to the rank of Lieutenant on 8 April, 1873.
He was appointed Gunnery Lieutenant of the corvette Encounter on the China Station on 9 January, 1879. She paid off on 15 June, 1883, when he was given fifty-nine days' full pay leave. On 3 October he was appointed to Excellent, additional, to requalify in gunnery. Thus requalified, on 5 January, 1884, he was appointed to the barbette ship Temeraire in the Mediterranean[1] as First Lieutenant and Gunnery Officer. Captain Henry F. Nicholson strongly recommended him for promotion.[2] He later recalled that, "I learnt nothing all the time I was first lieutenant in the battleship—nothing at all."[3]
Commander
Bridgeman-Simpson was promoted to the rank of Commander on 30 June, 1884.[4] At the end of the year he went through the Lieutenants' short course of Torpedo on half pay, and on 1 January, 1885, commissioned as Commander (Second-in-Command) the battleship Triumph for service as flag ship on the Pacific Station. The Commander-in-Chief was Rear-Admiral Sir Michael Culme-Seymour, Bart.[5]
Sub-Lieutenant (later Admiral of the Fleet Sir) Henry F. Oliver, who joined Triumph in 1886, later recorded problems with Bridgeman-Simpson when he ordered the guns sponged out properly:
The Commander was very proud of his white quarter deck, with some patent white composition in the seams instead of pitch, and I expected trouble when we fired. Soon we had target practice and the starboard quarter deck gun fired eight rounds quickly without a hitch or jam and black water ran out of the breech and the sacred quarter deck was defiled. Along came a furious Commander and said he would have me put under arrest, then came the Commander-in-Chief's big voice, "You let the boy alone, Commander, he is the only officer who has made these guns work properly."[6]
In late 1887 Culme-Seymour was replaced by Rear-Admiral Algernon C. F. Heneage. Towards the end of the commission Bridgeman-Simpson developed an "oblique inguinal hernia" and went sick from March to May, 1888.[7] Oliver described it thus:
At sail drill the Admiral sent a rude message through the Captain to the Commander, Bridgeman-Simpson. The Commander sent for the First Lieutenant to carry on and walked off below and went on the sick list and the Fleet Surgeon invalided him, he had a slight rupture. He went home later from Panama and Dick, the First Lieutenant, became Acting Commander.
Writers have sought to deduce from this that Bridgeman was hounded by Heneage until he fabricated an ailment to go home.[8]
On 19 May, 1888, he was appointed Commander of Excellent. On 18 July, 1889, he was lent to the battleship Howe for the annual manœuvres before returning to Excellent.[9] On 6 November he married Emily Charlotte (1842–1922), daughter of Thomas and Mary Shiffner. Emily was six years older than Bridgeman-Simpson, and had inherited Copgrove, a mansion near Harrogate.[10]
Bridgeman-Simpson was promoted to the rank of Captain on 1 January, 1890.[11]
Captain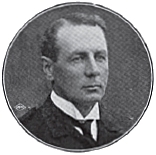 Bridgeman-Simpson was superseded in Excellent on 3 January, and on 22 May was appointed Captain of Camperdown as Flag Captain to Culme-Seymour,[12] now Vice-Admiral and Senior Officer in Command of the Channel Squadron. He would command Camperdown in the Annual Manoeuvres of 1890, his ship acting as part of Fleet Number 2 which represented a hypothetical Hostile Fleet attacking British trade routes.[13] Camperdown paid off on 30 May, 1892, and Culme-Seymour paid Bridgeman fulsome tribute, writing: "V.G., zealous and has a thorough knowledge of his profession. Has carried out difficult duties of Flag Captain to my satisfaction."[14]
On 11 July, 1893, he was appointed in command of Iphigenia for the annual manœuvres, paying her off on 19 August.[15] On 17 October he commissioned the new battleship Ramillies as Flag Captain to Culme-Seymour, now an Admiral and serving as Commander-in-Chief of the Mediterranean in succession to the late Sir George Tryon.[16]
Bridgeman-Simpson was superseded on 17 January, 1895, at his own request on account of ill health,[17] and then went on half-pay. It was noted on 4 November, 1896, that he "abandons" the name of Simpson in his surname, becoming Francis Charles Bridgeman Bridgeman. On 17 December he took command of the first class protected cruiser Blenheim in the Channel Squadron. He once again became Culme-Seymour's Flag Captain on 10 August, 1897, upon the latter becoming Commander-in-Chief, Portsmouth.[18]
In March, 1898, Bridgeman entered into a contract with a private firm for purposes of establishing a canteen in Blenheim, a choice the Admiralty found displeasing. Bridgeman was further "admonished for want of care" in the loss of a confidential book from Duke of Wellington in March, 1900.[19]
These problems behind him, Bridgeman was appointed a Naval Aide-de-Camp to the King, dated 24 May, 1901, vice Parr.[20] He took command of the new armoured cruiser Drake on 13 January, 1903.[21] He was appointed a Member of the Fourth Class of the Royal Victorian Order (M.V.O.) on 5 May of that year.[22]
Flag Rank
He was promoted to the rank of Rear-Admiral dated 12 August, 1903, vice Aldrich.[23] On 25 June, 1904 he hoisted his flag as Second-in-Command in the Channel Fleet in succession to Rear-Admiral the Honourable Hedworth Lambton.[24]
On 6 March, 1906, he was appointed Rear-Admiral Second-in-Command in the Mediterranean Fleet in succession to the seriously ill Harry Tremenheere Grenfell, again under Beresford, who wrote of him on 21 May to the First Lord, Tweedmouth:
I am so glad that I have got Bridgeman. I look upon him as by far and away the best of our Junior Admirals. His knowledge of the Service is profound, he delights in work, is a very shrewd and hard headed man, and never gives a suggestion without there is great merit in it.[25]
Beresford wrote of Bridgeman on 5 October, again to Tweedmouth:
He is the best admiral I know of those who may come to high command[,] always ready to work[,] full of initiative, zealous[,] a loyal comrade[.] No one officer knows the Service better, and his services should be retained to the State, although he has a large property to manage.[26]
Upon departing as Commander-in-Chief in January, 1907, Beresford wrote of Bridgeman, "A delightful personality & most loyal & painstaking second. Knows the Service thoroughly & will make a brilliant C in C. Perfect knowledge of tactics."[27] At the same time Bridgeman was granted the Acting Rank of Vice-Admiral.[28]
On 30 October, 1906, Bridgeman's appointment as Commander-in-Chief of the Home Fleet was announced.[29] At the time of his appointment, Bridgeman was still placed seventh on the list of Rear-Admirals. Shortly before becoming Commander-in-Chief, he wrote to Captain F. C. Doveton Sturdee:
Preparedness for battle is what we must work for, and so long as I am taken fully and freely into the counsels of the senior C.-in-C., I shall help him to the best of my ability … expecting him to receive with sympathy and patience whatever I may … propose. There are plenty of rocks to get stranded on in this scheme, and careful pilotage will be the surest road to success. I don't mind saying that Lord Charles [Beresford] is fortunate in having you to help him.[30]
He was confirmed in the rank of Vice-Admiral dated 16 February, 1907.[31]
Home Fleet
Bridgeman hoisted his flag as Commander-in-Chief of the Home Fleet in the battleship Majestic, Captain Robert G. Fraser, at 9 a.m. on 5 March, 1907, at Sheerness.[32] He transferred his flag to Dreadnought on her return from Trinidad on 28 March at Portsmouth.[33]
On 3 August he was knighted and promoted Knight Commander in the Royal Victorian Order (K.C.V.O.), on the occasion of the King's visit to the Home Fleet.[34]
On the occasion of the King's birthday he was appointed an Ordinary Member of the Second Class, or Knight Commander, of the Military Division of the Most Honourable Order of the Bath (K.C.B.) on 26 June, 1908.[35]
Second Sea Lord
Vice-Admiral George F. King-Hall, then on half pay, recorded in his diary on 2 February, 1909:
Bertie [Herbert King-Hall] and Mabel came down to lunch. Bertie told me that Bridgeman, on being asked to go as 2nd Sea Lord, said he would only go on conditions, so Sir John Fisher asked him to come and see him and the interview lasted an hour. Bridgeman said he would not go unless his conditions were fulfilled and a guarantee given.



Sir John argued and appealed, telling Bridgeman that he would be 1st Lord some day and could then do what he wished. "No" said Bridgeman "that won't do." Sir John at last gave in, though as Bridgeman told Bertie, he was almost reduced to tears by Sir John, then Sir John said, "Well now it is settled, who is to tell the Cat" and it was ultimately decided that Bridgeman should see McKenna himself, and he stood out with him, the same as with Sir John.



Two of the conditions were that Rosyth should be proceeded and pushed on and a certain number of Battleships built. At the third interview McKenna gave in and told Bridgeman that he had insisted on a minimum number of B.Ships and in fact that this number exceeded what Bridgeman insisted on. He said "If I do not get them, I shall resign and shall expect you to do the same." "Of course I will", replied B, "and also the whole Board will resign also." The only thing left is that he should have a Captain for an assistant to deal with the Lieutenants, instead of a civilian clerk doing so. Bridgeman deserves the thanks of the whole service for what he has done.[36]
Bridgeman struck his flag as Commander-in-Chief, Home Fleet, on 24 March, 1909, and on 25 March became Second Sea Lord on the Board of Admiralty.[37] On 12 April he was confirmed in the rank of Admiral.[38]
Home Fleet Again
On 25 March, 1911, he hoisted his flag once more as Commander-in-Chief of the Home Fleet.[39] One of his commanding officers, Captain (later Admiral Sir) Walter H. Cowan, of the light cruiser Gloucester, wrote forty years later of him:
The C in C of the Fleet into which I came, was Sir Francis Bridgeman, and he was a delight to serve under and to dine with. Up and down his dinner table were 4 big silver statuettes of Hunt servants and hounds, every detail correct of clothes and saddlery of about 100 years back, then on the bulkheads of the dining cabin were Leech's coloured prints of hunting the FOX.
He was the ideal of a Yorkshire all-round Sportsman and a remarkably handsome man. A member of the Royal Yacht Squadron, and his yacht in commission each season at Cowes.[40]
Bridgeman struck his flag at Portsmouth on 22 July, and proceeded to London for medical attention.[41] He then underwent an operation for appendicitis.[Citation needed] On 1 August Vice-Admiral Sir George A. Callaghan was ordered by the Admiralty to take temporary command of the First and Second Divisions of the Fleet in Bridgeman's absence, but not the Third and Fourth Divisions, as the Vice-Admiral Commanding, Prince Louis of Battenberg, was the senior of the two. Bridgeman re-hoisted his flag in Neptune at Cromarty on 12 September.[42]
Out of the 255 days he was in command he was absent, ill, for 52 days.
First Sea Lord
Dr. John S. Sandars, Arthur Balfour's former Private Secretary and a friend of Bridgeman's, wrote to the former:
I asked Bridgeman how he came to leave command of the Home Fleet. He said that Winston had sent for him, never mentioning what he wanted him for, and to his great surprise he was pressed to accept the post of First Sea Lord, although he had been Commander-in-Chief of the Home Fleet less than a year. He did his best to decline, but Winston was insistent. Winston told him that he was satisfied he should never be able to work with Wilson, and that he had satisfied himself that he could work with him (Bridgeman). In the result much against the grain Bridgeman had to consent.[43]
Bridgeman's own account of his motives for accepting the position is instructive:
Two reasons forced me to do it—


1st Within the Admiralty, there were designs for wrecking the whole Scheme of Education, that had to be stopped, & I saw no means of doing so other than coming here myself!


2d I do feel that I was perhaps needlessly standing in the way of younger men, who its very desirable shd go ahead! So long as I remained, there could be no real advancement for, say, Jellicoe, directly I go, up he comes automatically to Command of the 2d Div, & a splendid opportunity for him![44]
Reason for dissatisfaction with Bridgeman's tenure as First Sea Lord may perhaps be found in Walter Cowan's recollection of him:
When afterwards he was 1st Sea Lord at the Admiralty, whatever season of year it was, his Naval Assistant, Captain (Jumbo) Napier, I think it was, [it was actually Captain Charles Bartolomé] was often in despair how to get hold of him. All the winter he would be hunting up in Yorkshire, then in the Spring with the New Forest Stag Hounds and fishing somewhere after that, then Cowes and his yacht until the shooting season, and yet with it all, nothing was amiss with his Admiralty administration.[45]
He was appointed an Ordinary Member of the Military Division of the First Class, or Knight Grand Cross, of the Order of the Bath (G.C.B.) on 10 December.[46]
Retirement
In accordance with the provisions of the Order in Council of 22 February, 1870, Bridgeman was placed on the Retired List on 7 December, 1913.[47] In 1914 he was one of the numerous signatories of the British Covenant against Home Rule in Ulster.[48]
He was installed as a Knight Grand Cross of the Order of the Bath in a ceremonial investiture at Westminster Abbey, the first since 1913, on 18 May, 1920.[49]
Bridgeman was appointed Vice-Admiral of the United Kingdom when Sir Michael Culme-Seymour resigned, dated 2 February, 1920.[50] Upon the death of Lord Fisher in July, 1920, Bridgeman served as one of the honorary pallbearers along with former First Sea Lords Jellicoe and Jackson, and five other admirals.[51] The following year he served as an honorary pallbearer at the funerals of Lord Charles Beresford and the Marquess of Milford Haven (latterly Prince Louis of Battenberg).[52] On 25 November[53] Lady Bridgeman died at the age of eighty. Her funeral took place on 29 November at St. Michael and All Angels Church, Copgrove.[54]
Bridgeman died at Nassau, in the Bahamas, on 17 February, 1929.[55] His funeral took place at Copgrove on 4 March.[56]
Allegedly Bridgeman regarded Milford Haven as such an instrumental figure in his removal as First Sea Lord that he blocked the election of his son Lord Louis Mountbatten to the Royal Yacht Squadron.[57]
Assessment
Upon the announcement of Bridgeman's death Admiral Sir Lewis Bayly wrote to The Times newspaper:
Having served for many years under Sir Francis Bridgeman in the Home Fleet, I should like to say a few words in honour of a man who was a perfect English gentleman, as well as being an excellent officer. He was always tactful and courteous to all, no matter what their rank or station. Though a strict disciplinarian, he was very helpful in time of difficulty, and ever ready to hear one's reasons for mistakes made, as long as the same mistake was not made the second time. The one thing he abhorred was a want of straightness; once he found a man was not always straight, such a person no long existed for him. he did not suffer fools gladly, but in dealing with with them his inborn his inborn courtesy never failed him.[58]
Arthur Marder, writing in 1961, wrote of Bridgeman:
Although not a particularly forceful person, and more a follower than a leader, Bridgeman did possess sound judgment and he might have made a moderately successful First Sea Lord, had he served under anybody but Churchill. The two simply did not get along, the root trouble being Bridgeman's resentment against the First Lord's interference in everything.[59]
Marder was hardly in a position to judge who would be a "successful" First Sea Lord, let alone a "moderately successful" one. It is difficult to deny however that Bridgeman was put in a bad position. Having been appointed by a man who made a career of sidelining people, and with Battenberg in the wings as a First Sea Lord-in-waiting, Bridgeman, in this writer's opinion, never had a chance. Notwithstanding, his repeated absences from the Admiralty did him no favours when he was eventually compelled to resign. — SIMON HARLEY, Co-editor.
See Also
Bibliography
"Admiral Sir Francis Bridgeman" (Obituaries). The Times. Tuesday, 19 February, 1929. Issue 45131, col A, p. 19.
"Admiral Sir Francis Bridgeman" (Obituaries). The Times. Friday, 22 February, 1929. Issue 45134, col E, p. 9.
Bennett, Geoffrey (1968). Charlie B: A Biography of Admiral Lord Beresford of Metemmeh and Curraghmore [&c.]. London: Peter Dawnay Ltd.
Lambert, Nicholas A. (1995). Murfett, Malcolm H.. ed. The First Sea Lords: From Fisher to Mountbatten. Westport, CT: Praeger Publishers. ISBN 0275942317.
Ross, Stewart (1998). Admiral Sir Francis Bridgeman: The Life and Times of an Officer and a Gentleman. Cambridge: Baily's. ISBN 0952362880.
Service Records
Naval Appointments
Preceded by
Richard D. King
Captain of H.M.S. Camperdown
22 May, 1890[60][61] – 30 May, 1892[62]
Succeeded by
George L. Atkinson
Preceded by
?
Captain of H.M.S. Iphigenia
11 Jul, 1893[63] – 19 Aug, 1893[64]
Succeeded by
Thomas MacGill
Preceded by
New Command
Captain of H.M.S. Ramillies
17 Oct, 1893[65] – 17 Jan, 1895[66]
Succeeded by
William H. May
Preceded by
Edmund S. Pöe
Captain of H.M.S. Blenheim
17 Dec, 1896[67] – Aug, 1897[68]
Succeeded by
Frederic W. Fisher
Preceded by
Henry C. Kane
Captain of H.M.S. Victory
10 Aug, 1897[69]
Succeeded by
Richard F. Phillimore
Preceded by
William H. May
Flag Captain, Portsmouth Station
10 Aug, 1897[70]
Succeeded by
Edward P. Jones
Preceded by
New Command
Captain of H.M.S. Drake
13 Jan, 1903[71] – 12 Aug, 1903[72]
Succeeded by
John R. Jellicoe
Preceded by
Former Channel Fleet
Second-in-Command, Atlantic Fleet
25 Jun, 1904[73] – 25 Aug, 1905[74]
Succeeded by
Sir A. Berkeley Milne, Bart.
Preceded by
The Hon. Hedworth Lambton
Second-in-Command, Channel Fleet
25 Jun, 1904[75] – 25 Aug, 1905[76]
Succeeded by
Charles J. Barlow
Preceded by
Sir Harry T. Grenfell
Second-in-Command, Mediterranean Station
6 Mar, 1906[77] – 24 Feb, 1907[78]
Succeeded by
H.S.H. Prince Louis of Battenberg
Preceded by
Sir William H. May
Second Sea Lord
25 Mar, 1909[79] – 25 Mar, 1911[80]
Succeeded by
Sir George Le C. Egerton
Preceded by
Sir Arthur K. Wilson
First Sea Lord
5 Dec, 1911[81] – 9 Dec, 1912[82]
Succeeded by
H.S.H. Prince Louis of Battenberg
Court Appointments
Preceded by
Michael Culme-Seymour
Vice-Admiral of the United Kingdom
2 Feb, 1920[83]
Succeeded by
Stanley C. J. Colville
Footnotes