Alexander Edward Bethell
From The Dreadnought Project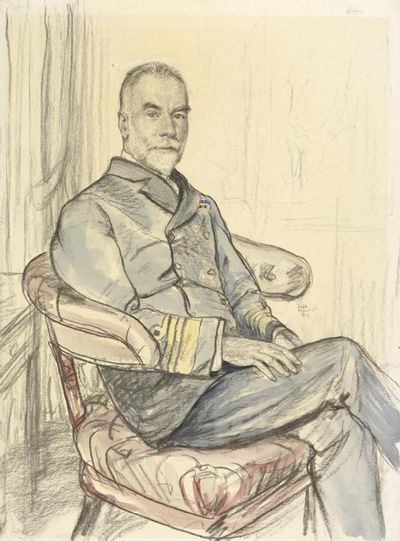 Admiral THE HONOURABLE SIR Alexander Edward Bethell, G.C.M.G., K.C.B., Royal Navy (28 August, 1855 – 13 June, 1932) was an officer of the Royal Navy during the First World War.
Early Life & Career
Bethell was born in London. He joined the central ironclad battery ship Hercules as a Sub-Lieutenant on 10 June, 1878, but stayed only until 16 August. Captain Fisher noted that Bethell conducted himself "with sobriety to my entire satisfaction."[1]
Bethell was promoted to the rank of Lieutenant with seniority of 14 August, 1878.[2]
For the last two weeks in September, 1878, Bethell was an officer on H.M.S. Atalanta on her first training voyage to the West Indies.[3][4] He returned to Britain soon enough, for he studied to qualify as a torpedo officer in Vernon from 30 September 1879 until the end of the following June. He served as Lieutenant (T) in Swiftsure from March 1881 (1882? 1883?) until May 1885, spending his last month commanding second-class torpedo boats.[5]
Bethell was promoted to the rank of Commander on 31 December, 1891.[6]
Bethell was promoted to the rank of Captain on 30 June, 1898.[7]
On 6 April 1903, Bethell was appointed Assistant Director of Torpedoes, a role he would remain in until 21 December 1906.[8]
For services in Somaliland Bethell was appointed an Additional Member of the Third Class, or Companion, of the Most Distinguished Order of Saint Michael and Saint George (C.M.G.) on 6 September, 1904.[9]
1906 Radiotelegraphic Conference and aftermath
Bethell was the chief Admiralty representative in the British delegation at the 1906 Radiotelegraphic Conference, held in Berlin in October 1906. The conference was called to discuss the first international regulations of wireless communications and had been preceded by a preliminary conference held in Berlin in 1903. The British delegation were eight in number and one of the largest in number after Germany. They were represented by three representatives from the Post Office; three representatives from the Admiralty; and two representatives from the War Office. Bethell was representing the Admiralty in his then position as Assistant Director of Naval Ordnance, a role he would hold until December 1906.[8] Bethell would also give evidence before the 1907 Select Committee hearing, called in order to determine whether Britain would ratify the Convention and hence agree to the first international wireless regulations.[10] By a narrow vote, ratification would be agreed upon and Britain would sign up to the Radiotelegraphic Convention.[10]
In December 1906, Bethell completed his appointment as Assistant Director of Torpedoes and was appointed captain of Hindustan until January of 1908.
Home Fleet and Flag Rank
On 10 January, 1908 Bethell was appointed Chief of Staff to the Commander-in-Chief, Home Fleet, Vice-Admiral Francis C. B. Bridgeman.[11] On 1 March, he was promoted to the rank of Rear-Admiral, vice Russell.[12]
Bethell was appointed to the Naval Intelligence Department, additional, on 17 February, 1909, and became Director of Naval Intelligence in succession to Rear-Admiral Edmond J. W. Slade on 3 March.[13]
He was appointed an Ordinary Member of the Second Class, or Knight Commander, of the Order of the Order of Saint Michael and Saint George (K.C.M.G.) on 1 January, 1912.[14]
East Indies
Bethell relieved Vice-Admiral Sir Edmond J. W. Slade as Commander-in-Chief on the East Indies Station on 5 February, 1912.[15]
War College
Having submitted Bethell's name for the King's approval, on 20 November, 1912, Churchill elaborated for the King's benefit on Bethell's suitability for the position:
Sir Alexander Bethell is specially qualified for the presidency of the War College from the fact that he has filled for a considerable period the position of Director of Naval Intelligence, which under the old system corresponded as nearly as possible to that of Chief of the War Staff. It is proposed that a very close connection shall exist between the War College and the War Staff in London. We do not want unnecessarily to widen the circle of officers who are privy to Admiralty secrets. Sir A. Bethell knows everything and can therefore guide the College in the right directions in tactical and strategic teaching without disclosing anything that ought to be kept secret. it is desirable to know everything in order to understand what to conceal. It is also desirable that the heads of the War Staff and War College should be able mutually to help each other.

I was agreeably surprised by the readiness of Sir A. Bethell to give up his lucrative East Indian command and know he is willing to do so, subject to the King's approval, only to get nearer the front line in case of trouble. In spite of his unimpressive manner he is an officer of first-rate ability. I am quite sure no better appointment is within reach at the present time.[16]
He was promoted to the rank of Vice-Admiral on 10 May, 1913, vice Adair.[17] On the occasion of King George V's birthday he was appointed an Ordinary Member of the Second Class, or Knight Commander, in the Military Division of the Order of the Bath (K.C.B.) on 22 June, 1914.[18]
Great War
On 17 January, 1915, Bethell was appointed in command of the Channel Fleet in succession to Vice-Admiral Sir Lewis Bayly.[19] On the following day the Prime Minister, Herbert H. Asquith, wrote to Venetia Stanley: "Winston tells me that they have recalled Lewis Bayly from the command of the Channel Fleet as a consequence of his loss of 'Formidable', & have put Admiral Bethell in his place. It is rather disquieting, for Bayly was supposed to be almost the pick of our younger Admirals. Bethell, whom I used to see on the C.I.D., is to my thinking no flier. We really seem to have better reserves in the way of Commanders in the Army than in the Navy."[20]
He was promoted to the rank of Admiral on 10 June, 1916.[21] Upon relinquishing the command at Plymouth he was appointed an Additional Member of the First Class, or Knight Grand Cross, of the Order of Saint Michael and Saint George (G.C.M.G.) on 2 August, 1918.[22] He was placed on the Retired List ostensibly at his own request on 1 September.[23]
Retirement
Bethell died in a London nursing home on 13 June, 1932, aged seventy-six.[24] His funeral took place on 17 June at Combe St. Nicholas, Chard. Amongst those present were Admirals Sir Montague E. Browning and Sir George Le C. Egerton.[25]
See Also
Bibliography
"Admiral Sir Alexander Bethell" (Obituaries). The Times. Wednesday, 15 June, 1932. Issue 46160, col C, pg. 9.
Papers
Service Records
Naval Appointments
Preceded by
?
Captain of H.M.S. Sandfly
4 Jul, 1888 – 28 Aug, 1888
Succeeded by
Frederick T. Hamilton
Preceded by
?
Captain of H.M.S. Sharpshooter
18 Jul, 1889
Succeeded by
Lionel de L. Wells
Preceded by
Gerald C. Langley
Captain of H.M.S. Arethusa
11 Jul, 1899[26] – 22 Aug, 1899[27]
Succeeded by
James Startin
Preceded by
Robert H. S. Stokes
Captain of H.M.S. Naiad
19 Mar, 1901[28] – 5 Apr, 1903[29]
Succeeded by
Robert H. J. Stewart
Preceded by
Henry B. Jackson
Assistant Director of Torpedoes
6 Apr, 1903[30] – 20 Dec, 1906[31]
Succeeded by
Bernard Currey
Preceded by
The Hon. Stanley C. J. Colville
Captain of H.M.S. Hindustan
21 Dec, 1906[32] – 9 Jan, 1908[33]
Succeeded by
The Hon. Somerset A. Gough-Calthorpe
Preceded by
Edmond J. W. Slade
Director of Naval Intelligence
3 Mar, 1909[34] – 7 Jan, 1912[35]
Succeeded by
?
Preceded by
Sir Edmond J. W. Slade
Commander-in-Chief, East Indies Station
23 Mar, 1912[36]
Succeeded by
Sir Richard H. Peirse
Preceded by
Sir Henry B. Jackson
In Command of the Royal Naval War College, Greenwich
28 Jan, 1913[37] – 14 Jul, 1913[38]
Succeeded by
?
Preceded by
Henry W. Grant
Captain of H.M.S. Albemarle
15 Jul, 1913[39] – 9 Aug, 1913[40]
Succeeded by
Arthur W. Craig
Preceded by
?
Vice-Admiral Commanding, Sixth Battle Squadron
15 Jul, 1913[Citation needed]
Succeeded by
Charles H. Dundas
as Rear-Admiral Commanding, Sixth Battle Squadron
Preceded by
Sir Henry B. Jackson
Vice-Admiral Commanding, Seventh Battle Squadron
13 Jul, 1914[41] – 8 Aug, 1914[42]
Succeeded by
Command merged into Eighth Battle Squadron[43]
Preceded by
Sir Frederic W. Fisher
President of the Royal Naval College, Greenwich
24 Oct, 1914[44]
Succeeded by
Sir Lewis Bayly
Preceded by
Sir Lewis Bayly
Vice-Admiral in Command, Fifth Battle Squadron
17 Jan, 1915[45]
Succeeded by
Cecil F. Thursby
Preceded by
Sir Arthur M. Farquhar
Admiral Commanding Coastguard and Reserves
1 Jun, 1915[46]
Succeeded by
The Hon. Sir Somerset A. Gough-Calthorpe
Preceded by
Sir George J. S. Warrender, Bart.
Commander in Chief, Plymouth Station
7 Dec, 1916[47]
Succeeded by
Sir Cecil F. Thursby
Footnotes