Arthur Knyvet Wilson, Third Baronet
From The Dreadnought Project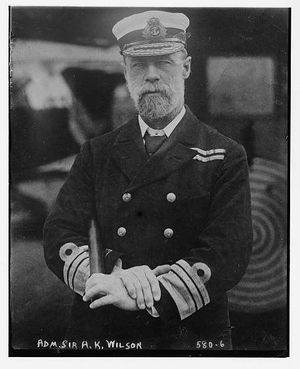 Admiral of the Fleet SIR Arthur Knyvet Wilson, Third Baronet, V.C., G.C.B., O.M., G.C.V.O., Royal Navy (4 March, 1842 – 25 May, 1921) was an officer of the Royal Navy. He joined in 1855 distinguished himself afloat and ashore, winning the Victoria Cross in 1884 for gallantry displayed in the Sudan. Rising to fleet command in the early 1900s, he was widely regarded as the Navy's preeminent tactician. He was promoted to Admiral of the Fleet in 1907 and succeeded Lord Fisher as First Sea Lord in 1910. After the Agadir Crisis revealed differences of opinion between the Admiralty and the War Office, Wilson was sacked in 1911 by the new First Lord of the Admiralty, Winston Churchill. Still held in great esteem, at the outbreak of the First World War he was recalled to the Admiralty to serve in an advisory and unpaid capacity and played a key rôle in deciding policy under the Fisher-Churchill régime. A modest man, he refused a Peerage and only succeeded to the Wilson Baronetcy after the death of his brother in 1919.
Early Life & Career
Wilson was born in Swaffham, Norfolk, on 4 March, 1842. He was the third son of Commander (later Rear-Admiral) George Knyvet Wilson RN (1798–1866), and his wife, Agnes Mary, daughter of the Revd William Yonge (d. 2 December, 1845), aged ninety-two, vicar of Swaffham, 1799–1845. Wilson attended Eton College from 1852 to 1855; he entered the navy in 1855, and was immediately employed on active service in the Black Sea during the later stages of the Crimean War.
Subsequently he joined his relative Captain Henry Keppel on board the Raleigh, destined for the China station. After the Raleigh was wrecked Wilson transferred to the flagship Calcutta and served with distinction through the Second Opium War, notably at the capture of Canton (Guangzhou) in 1858.
After service in the Pacific, Wilson passed his examinations for Lieutenant in 1863, but with seniority back-dated to December, 1861, for his outstanding results. In 1867, he was appointed to H.M.S. Rodney and embarked on a naval mission to Japan under Commander Richard Tracey which helped to lay the foundations of the Imperial Japanese Navy. Upon his return he spent a year on the cadet training ship Britannia, before serving as the junior member of a committee appointed to examine the capabilities of the Whitehead, or locomotive, torpedo in 1870. He then served afloat for six years, during which time his professional skill, enthusiasm, and resource came to the attention of several senior officers, notably Sir Astley Cooper Key, who would become First Sea Lord, 1879–85.
Promoted to the rank of Commander on 18 September, 1873,[1] Wilson joined a new Raleigh under Captain George Tryon in the detached squadron from 1874 to 1876. On 26 April, 1876 he was appointed commander of the Vernon,[2] a hulk in Portsmouth harbour recently established as a torpedo school. For the next three years Wilson devoted his great talent and energy to the use of torpedoes and mines, particularly mine counter-measures, a vital task for a sea-control navy that expected to operate in hostile coastal waters.
Captain
Wilson was promoted to the rank of Captain on 20 April, 1880. He was reappointed to Vernon to work on the Torpedo Manual, being given Committee Pay for this. On 5 March, 1881, he was appointed to the new torpedo depôt ship Hecla in the Mediterranean,[3] which he joined at Malta on 25 March.[4] He was present at the bombardment of Alexandria in 1882 and, with John Fisher, played a major part in operations on shore. Two years later he landed with a machine gun detachment at Trinkitat in the Sudan, during the campaign against Mahdists, and won the Victoria Cross (21 May 1884) for his gallantry at the battle of El Teb on 29 February, 1884. When one corner of the infantry square broke Wilson held off the Mahdists with his sword and, when that broke, his fists, until relieved.
The citation for his Victoria Cross read:
This Officer, on the staff of Rear-Admiral Sir William Hewett, at the battle of El-Teb, on the 29th February, attached himself during the advance to the right half battery, Naval Brigade, in the place of Lieutenant Royds, R.N., mortally wounded.

As the troops closed on the enemy's Krupp battery the Arabs charged out on the corner of the square and on the detachment who were dragging the Gardner gun. Captain Wilson then sprang to the front and engaged in single combat with some of the enemy, thus protecting his detachment till some men of the York and Lancaster Regiment came to his assistance with their bayonets. But for the action of this Officer Sir Redvers Buller thinks that one or more of his detachment must have been speared.

Captain Wilson was wounded but remained with the half battery during the day.[5]
Thereafter, on the lower deck he became known as "Tug" Wilson, after a British heavy-weight fighter of that name.[6][7]
Sub-Lieutenant George A. Ballard, who served in the Hecla from 1883 to 1884, later wrote of Wilson: "He knew every detail of his duties and was a born commander of men and the best all-round captain of a man-of-war under whom I ever had the honour in my opinion to serve."[8]
In January, 1885, Rear-Admiral Sir Walter J. Hunt-Grubbe asked Wilson if he wanted to be his Flag Captain on the Cape of Good Hope Station in command of the Raleigh, which Wilson accepted, noting, "I like the idea of having command of my old ship."[9] Wilson would command the frigate from 24 February, 1885 until being discharged on 2 March, 1887.[10]
In 1886, while in Raleigh, Wilson devised a new sight to be added to a Whitehead director which offered a simplistic means of judging whether the target would be in range; it consisted simply of an aperture whose height was set to the known height of the enemy's masts – he was assumed to be within range if his masts did not fit inside the box. Wilson submitted a prototype to Vernon for evaluation.[11]
Wilson was appointed as Assistant Director of Torpedoes (or similar) on 7 March, 1887. On the occasion of Queen Victoria's golden jubilee, he was appointed an Ordinary Member of the Third Class, or Companion, in the Military Division of the Most Honourable Order of the Bath (C.B.) on 21 June, 1887.[12] This honour was followed by being loaned to command the H.M.S. Imperieuse at the Jubilee Review before returning to Assistant Director of Torpedoes until 31 December, 1888.[13]
Wilson was appointed to Vernon on 1 January 1889,[14] which had now become a separate command. He developed the submerged torpedo tube, the twin torpedo launcher for torpedo boats, and net-cutters to deal with the protective nets then deployed against torpedoes.
Wilson commanded the battleship Sans Pareil in the Mediterranean Fleet from 9 February, 1892[15] to 1895, being present on 22 June, 1893, when the Victoria was rammed and sunk with the loss of his old captain, Sir George Tryon. Wilson had not approved of Tryon's radical ideas on tactics, and had been annoyed when Tryon poached his commander, John Jellicoe, for the flagship. After serving as temporary Flag Captain to Sir Michael Culme-Seymour, Wilson, as senior captain, worked on cruiser scouting systems and exercised independent command.
Flag Rank
Wilson was promoted to the rank of Rear-Admiral on 20 June, 1895, vice Morant.[16] On 24 July he was appointed to H.M.S. Hermione in command of a Torpedo Squadron during the annual tactical exercises. One feature of the manoeuvres this year proved to be the comparative testing of a masthead semaphore machine Wilson had invented, which was mounted in the Channel flagship Royal Sovereign. The new device was well clear of smoke which often obscured traditional semaphore machines, and its controls were remotely placed on the bridge to be nearer executive personnel.[17] Following the conclusion of the manoeuvres, he struck his flag on 24 August and went on half pay.[18] His main pastime during this spell of unemployment was shooting.[19]
On 23 August, 1897, he was appointed a Lord Commissioner of the Admiralty and Third Sea Lord and Controller of the Navy.[20] Historian Arthur Marder described him as a "very able controller".[21]
At the end of 1900, Wilson wrote:
The attempt to produce great results on a small displacement has in the past been the cause of many of our failure. Ample power and strength of all parts in every machine and ample space for work of every kind are the conditions of real efficiency, and cannot be encroached upon without risk of breakdown or loss of time in carrying out some important operation. The breakdown of one auxiliary machine at a critical moment, the straining of a bulkhead under pressure, a few seconds lost in the time in the loading of the guns, or the difficulty of carrying out some repair owing to a cramped space may do infinitely more harm than the increase of size necessary to give an ample margin of strength and space.[22]
With regards to Wilson and his infamous supposed antipathy towards submarines, the historian Peter Hore has written:
It is Wilson, of course, who is often accused of having said something like submarines were underhand and damned un-English, but there is no evidence of this and an examination of the record, and more importantly his actions, shows quite the opposite intention.[23]
The Earl of Selborne, who succeeded George Goschen as First Lord of the Admiralty in 1900, claimed many years later that Wilson had been an "utter failure" as Controller, "and a mischievous failure too."[24] Following a disagreement over the matter of boilers in H.M. ships, on 18 March, 1901, Selborne offered Wilson the command of the Channel Squadron, with the option of publishing his dissenting views so long as he remained on half pay in the interim. Wilson graciously accepted the command and declined the offer of publishing his views, writing "Being relieved from all responsibility with regard to that question, I see no necessity for publishing my views, and I should be very sorry to do anything that might hamper my successor in carrying out whatever he thinks best."[25]
Channel Squadron
On 17 April, 1901, Wilson hoisted his flag in the Majestic at Portsmouth, with Bradford as his Flag Captain, and on the 20th left for Berehaven to take command of the Channel Squadron.[26][27] He was promoted to the rank of Vice-Admiral on 24 May, vice Seymour.[28]
In a letter to Rear-Admiral Wilmot H. Fawkes on 29 October, Fisher advised, "send Wilson to succeed me [in command in the Mediterranean]. He is THE man without doubt."[29]
Wilson was knighted and promoted Knight Commander of the Order of the Bath (K.C.B.) on 26 June, 1902.[30]
Home Fleet
Wilson hoisted his flag in H.M.S. Revenge in Portsmouth on 21 May, 1903, with Rear-Admiral Poë as his second-in-command.[31][32] On the occasion of the King's visit to Ireland he was appointed a Knight Commander of the Royal Victorian Order (K.C.V.O.) on 11 August.[33]
A young officer later recorded of Wilson's time as Commander-in-Chief:
In matters of duty he was as hard as granite, and under his command the Home Fleet became virtually a 'School for Battle'. At sea his ships were kept on a war footing by day, and were often darkened and manœuvred without lights at night. He was also a tactician who studied tactics by practical use of the Fleet he commanded. The lessons, however, he kept to himself, so, unfortunately, there was no record of them for the education of the younger officers.[34]
In June, 1904, as future appointments were being discussed, including the possibility of Wilson becoming Commander-in-Chief in the Mediterranean, the Director of Naval Intelligence, Rear-Admiral Prince Louis of Battenberg, gave his opinion to the Earl of Selborne on Wilson and Beresford. It is considered worth quoting in full:
Beresford and Wilson are, I take it, our two Naval leaders—practically our only ones until men like Lambton, May, etc, come on. Beresford trains the Flag-Officers and Captains under him, but Wilson does not. Of course, he teaches them by precept, but he never puts his teaching to the test. Beresford does, and does it admirably: in fact, he is the only Admiral who has ever done this. He has consistently taught those under him since he commanded a ship. This, as you know, is the secret of the success of the German Military and Naval Services. If you ask Wilson whether Captain "Smith," commanding a battleship in the Home Fleet, is likely to make a good Admiral, his reply can only be based on conjecture. If you ask Beresford a similar question, his opinion is based on the way Captain "Jones" of the Channel Fleet has handled that fleet, or a division of it, on the numerous occasions when he has been given the opportunity. Look at Lambton and Poë, who have just done twelve months under these two leaders. There can be no comparison (assuming them to be men of equal capacity) as to which is now better fitted for a higher command. This curious trait of Wilson's to do everything himself finds expression in other ways. He declines to have any more staff than the C.-in-C. at the Cape or the East Indies (except that now, owing to having the three Destroyer Flotillas, he proposes keeping an Intelligence Officer at Portland). He knows quite well what an enormous fleet he will have under him in war, as I supply him with the Order of Battle every month, and I know that he is making elaborate plans, but it is all done by himself alone and personally. If he were to go to the Mediterranean he would continue with exactly the same system. I don't say he could not do it, as he is a bachelor, and a pipe and a bit of biscuit does him for a meal any time, and he is probably able to work twenty hours a day and sleep in his clothes. I venture to think that he, in common with all Admirals I know (except Beresford and Fisher), does not know how to use a staff. (Take the case of Drury's round of the Home ports to find out about the work of the Chief-of-the-Staff whom the three C.-in-C.s declare not to be necessary.) Fisher's case is peculiar. In the Mediterranean and at Portsmouth he does everything himself, like Wilson; but unlike him, he employs a large number of younger officers, including Captains, as his staff, no matter what their special duties may be. In the Mediterranean, King-Hall, the so-called Chief-of-the-Staff, had to see to all the masses of detail which the C.-in-C. found dull and so passed on to him; but the war preparations and schemes he dealt with himself, with his unofficial staff, whilst the Secretary was a mere clerk sent for like a servant every five minutes. The Mediterranean station must always remain our big training ground. What we want there is a C.-in-C. who will train and teach his Flag-Officers, his Captains, and train and teach his staff. That Wilson will not do, though he will have his fleet admirably prepared for war, and if the French come out he will beat them; of that there is no doubt. But if anything was to suddenly remove the C.-in-C. there would be chaos. One of our most pressing needs is "trained and qualified admirals." The only people who can produce them are the C.-in-C.s of the permanent fleets.[35]
The above objections aside, the main objection to Wilson being given the Mediterranean command was his age, which in 1905 would be sixty-three, with only two years left before compulsory retirement, as opposed to the traditional three year tenure of command in the Mediterranean.[36]
During the manœuvres of 1904 off Spithead, Wilson proposed that submarines should fire their torpedoes, but Fisher demurred. It was proposed to refit two old destroyers to withstand being struck by collision heads but the cost proved prohibitive.[37]
Channel Fleet
On 14 December, 1904, Wilson was informed that the Home Fleet was forthwith to be styled the Channel Fleet, while the existing Channel Fleet became the Atlantic Fleet.[38] He was promoted to the rank of Admiral on 24 February, 1905, in the place of Admiral Ernest Rice,[39] and appointed a Knight Grand Cross of the Royal Victorian Order (G.C.V.O.) on 11 August.[40]
Having arranged a visit of the correspondent Arnold White to the Channel Fleet in 1906, Sir John Fisher wrote of Wilson:
Be tender with him, as he looks on the Press as a diabolical and unmitigated evil and will be wishing to hang you all the time. But he is A-1 and worth your knowing and seeing, though he's deadly opposed to me and my views. Yet he is a fighting man has a fighting brain.[41]
Fisher later wrote to Lord Tweedmouth, writing of Wilson that it's: "a great failing in him that he can never evoke enthusiasm and is well named "'ard 'art" by the men!"[42] He was appointed an Ordinary Member of the First Class, or Knight Grand Cross, in the Military Division of the Order of the Bath (G.C.B.) on 9 November.[43]
Wilson has been accused of being directly responsible through incompetence for the failed salvage of the Channel Fleet battleship Montagu, which ran aground on Lundy Island in May, 1906.[44] Given that the sole source for this accusation was the salvage officer's son, who at the time of the wrecking was a child, the editor believes that the charge can be dismissed with prejudice. For the record, the Board of Admiralty expressed their satisfaction "at [the] manner in which operations for salvage of 'Montagu' were conducted."[45]
Wilson was specially promoted to the rank of Admiral of the Fleet on 1 March, 1907,[46] and learnt of the promotion when having an audience with King Edward VII, who handed him his commission. He hauled down his flag on 4 March and went ashore in the morning, without fanfare, having ordered that he not be cheered when he left.[47]
Brief Retirement
On 8 March, Fisher wrote to Beresford:
We tried hard to get Wilson to take it (the Head of War College) but he has determined to be Cincinnatus[48] and will end his days planting cabbages in Norfolk! However, I've sent him a lot of War Plans to ponder over and criticise, so we shall I hope get a lot of his brains still.[49]
Wilson returned to Swaffham to live with his sole surviving sister. He learnt to drive and maintain the new car which he bought, and took up golf, in addition to playing tennis and shooting. With some local residents he formed a golf club and laid out a nine-hole course on wasteland outside the town.[50] Writing to the naval journalist John Leyland on 22 September, Fisher described Beresford as, "a man who I KNOW has not the genius of Wilson for strategy and would not (I am sure) be equal to the task."[51]
Fire Control
In November, 1907 the inventor and businessman Arthur Pollen informed the Admiralty that his latest fire-control instruments were ready for trial. Wilson was asked by the Admiralty to inspect and trial the equipment, which invitation he accepted.[52] Wilson inspected the gear on 20 November in the cruiser Ariadne and then had dinner with Pollen in the evening. Pollen himself later recalled that their relationship at this time was cordial. On 4 December Wilson informed Pollen that he had agreed to the Admiralty's request that he serve as judge at the official trials of Pollen's equipment and enclosed a programme of experiments. On the 8th Wilson requested of Pollen, "a written statement showing exactly what are the advantages you claim for your system as fitted in the Ariadne and for which the Admiralty are asked to pay £100,000." In response Pollen provided Wilson, Bacon (Director of Naval Ordnance) and Dreyer (Wilson's assistant for the trials) a copy of his print, An Apology for the A.C. Battle System.[53] This only helped Wilson appreciate that the system was incomplete and that the Admiralty's rights extended to only part of it.[54]
On 2 March, in a letter to Lord Tweedmouth, Pollen directly criticised Wilson:
On certain mechanical questions, he seemed not to have given himself time to understand either the principles or actual working of the instruments.[55]
The Admiralty, for its part, commended Wilson for providing a valuable report on "Change of Range Experiments carried out on Vengeance".[56]
In July, 1908 Fisher advised McKenna to request Wilson on behalf of the Board to review the results of the 1908 manœuvres.[57] In a letter to Viscount Knollys at the end of 1908, Fisher implied that in the event of war breaking out over the Franco-German dispute in Morocco in September, he would have appointed Wilson as Commander-in-Chief in place of Beresford.[58] In April, 1909 he was invited by Prime Minister Asquith to become a member of the Committee of Imperial Defence, without Asquith giving either the Secretary of the C.I.D. or the Board of Admiralty any prior notice.[59] His "clear and straight forward manner" at the Beresford Enquiry apparently impressed senior cabinet ministers present,[60] and Lord Morley noted, "Sir A. Wilsonstrikes me, and I think the others of us, as much the best-balanced sort of man, to say nothing of his having proved himself as a first rate commander."[61]
On 19 November, 1910, McKenna wrote to Wilson:
The subject of my letter will be no surprise to you. The King has already told you how necessary it is in the interests of the Service that you should become First Sea Lord in succession to Sir John Fisher, and I am only now repeating what you have already heard from His Majesty in saying that your acceptance of this office is of the highest national consequence. I have heard from the King that though reluctant to undertake such heavy responsibility you will nevertheless agree to accept the appointment.how necessary it is in the interests of the service that you should become First Sea Lord in succession to Sir John Fisher.[62]
Wilson replied on 20 November:
After my interview with the King I cannot refuse your offer of the post of First Sea Lord, and though as I told H.M. it is very much against my judgement I must now do my best and I shall be ready to take on on the 25th Jany[63]
The Commander-in-Chief, Home Fleet, Sir Francis Bridgeman, wrote to Fisher expressing reservations about Wilson becoming First Sea Lord. "I dare say under the circumstances Wilson is the best solution, but I know from experience with him that there is no joy to be found in serving either with him or under him! Deadly dull! and uncompromising, as you know. He will never consult any one and is impatient in argument, even to being impossible!"[64]
First Sea Lord
In January 1910 Wilson was appointed First Sea Lord in an attempt to heal the divisions within the service created by John Fisher's controversial regime. He took the post with reluctance. The complex political demands of the Admiralty were not congenial to a man bred for the quarter-deck, and long used to having the final word. He found Whitehall a severe trial, lacking the interpersonal skills, political sensitivity, and sheer pleasure in strife that marked his predecessor. While he pushed through important work on the war orders, minesweeping, and other technical issues he lacked the breadth of vision to stamp his personality and opinions on the service. Never happy in his new position, Wilson was exposed as unsuitable by his disastrous performance at a meeting of the committee of imperial defence on 23 August 1911.
Shawn Grimes has argued that, contrary to popular belief, Wilson's views broke with Fisher's strategic vision only so far as he allowed himself to be questioned about them.[65]
Inasfar as Wilson's arguments before the C.I.D. go, the editor agrees wholeheartedly with Andrew Lambert's considered opinion: "The global blue-water strategic ideas that Wilson expressed at the meeting were based on long experience, and offered the only programme whereby Britain could hope to exert any influence on European politics at a time when the other powers all possessed million-man armies."
The editor cannot help but think that Wilson - and Fisher's case - might have been helped had the Royal Navy actively trained for combined operations, but it did not. However, supreme self-confidence has always been an advantage of incalculable value for the Service. On the other hand, the self-confidence of the Army and its supporters beggars belief. The despatch of the entire regular Army to France seems to have been regarded as a panacea which would miraculously end a war with Germany. Total war does not seem to have been contemplated, let alone planned for, which to the editor's mind reflects extremely poorly the Army's General Staff and Lord Haldane, he who saw himself as the one to impose a general staff on the Navy.
On 26 October, Fisher wrote to Churchill:
A. K. Wilson is magnificent at sea but he has wrecked McKenna ashore - (of course I am writing to you the secrets of my heart now - I have not said this to a soul nor shall I!) - and he would just as certainly win a great Battle at sea as ever Nelson was certain! That's a fact until Sir John Jellicoe commands the Home Fleet Wilson is our Admiralissimo![66]
Churchill wrote to Asquith on 5 November that Wilson's memorandum on a General Staff for the Navy, "is decisive in its opposition not only to any particular scheme, but against the whole principle of a War Staff for the Navy. … I like Sir Arthur Wilson personally & shd be vy sorry to run the risk of embittering relations wh are now pleasant. I therefore propose to take no public action during his tenure." He continued, "If Wilson retires in the ordinary course in March, I shall be left without a First Sea Lord in the middle of the passage of the Estimates & his successor will not be able to take any real responsibility for them. It isnecessary therefore that the change shd be made in January at the latest, & that the King shd know this, & shd assent to a peerage being conferred before he leaves for India."[67]
Bridgeman related to his friend John S. Sandars how he came to succeed Wilson as First Sea Lord. Sandars then recounted the tale in a letter to former Prime Minister and ex-leader of the Unionist party Arthur J. Balfour:
I asked Bridgeman how he came to leave command of the Home Fleet. He said that Winston had sent for him, never mentioning what he wanted him for, and to his great surprise he was pressed to accept the post of First Sea Lord, although he had been Commander-in-Chief of the Home Fleet less than a year. He did his best to decline, but Winston was insistent. Winston told him that he was satisfied he should never be able to work with Wilson, and that he had satisfied himself that he could work with him (Bridgeman). In the result much against the grain Bridgeman had to consent.
…
Winston's first official act was to put into Bridgeman's hand the letter which he, Winston, had addressed to Wilson. Bridgeman told me that the letter was a fine example of what a letter ought not to be under such circumstances, especially having regard to the high standing and conspicuous service of the outgoing First Sea Lord. He told me that it was a plain notice to quit, coupled with a solatium that he might have a peerage if he liked. The letter was sent, and of course, under these circumstances, Wilson, without any grace whatever, promptly declined the honour …[68]
Captain (later Admiral Sir) Dudley R. S. de Chair noted in his diary that "Wilson said he was dismissed like a butler … It looks as if Lord Fisher['s] hand was in it."[69] Wilson was officially superseded as First Sea Lord on 5 December, 1911.[70] George A. Ballard, then a Captain, was present when he left the Admiralty for the last time as First Sea Lord:
It was on a par with all his life. He had bidden farewell to his colleagues and staff in his room upstairs, and was now entirely alone. Not a soul attended him as he went out, no Daimler waited for him at the kerb, no group of bystanders were watching on the pavement. Walking down the empty corridor, evidently in a mood of complete self-absorption, he returned the hall porter's salute, passed the doorway, turned westward and was lost in the traffic of the Mall. The little knot of spectators inside stared in silence.[71]
Second Retirement
On his seventieth birthday, 4 March, 1912, Wilson was placed on the Retired List,[72] and on 8 March the King appointed him to the Order of Merit (O.M.).[73]
Return to the Admiralty
On 19 October, 1914, Lord Haldane (a man in no small measure ultimately responsible for Wilson's retirement in 1911) wrote to Churchill:
Do not pay the least attention to the fools who write & talk in the press. It is this real thing that counts, & the nation thoroughly believes in you. I should like to see Fisher & Wilson brought in, & Prince Louis kept with them as Second Sea Lord. The advent of the first two would make our country feel our old spirit of the navy was alive and come back.[74]
On 20 October Churchill saw Asquith who wrote to Venetia Stanley, "Winston has a grandiose scheme (entre nous) for bringing in both Fisher and Sir A. Wilson!" Asquith approved, and after Churchill visited him again on 27 October he wrote, "our poor blue-eyed German [Prince Louis] will have to go, and (as W says) he will be reinforced by 2 'Well-plucked chickens' of 74 & 72."[75] On 28 October, having tendered his resignation, Prince Louis recommended that he be succeeded as First Sea Lord by Fisher, with Wilson as Chief of the Admiralty War Staff. "If impossible, then Sir A. Wilson shd be 1SL rather than Ld F.—The entire Navy wd subscribe to this I'm sure. With you wd rest the task of overruling his well known obstinacy."[76] Having obtained the services of Lord Fisher as First Sea Lord, Churchill apparently sent for Oliver, Naval Secretary to the First Lord, who later wrote:
Then he wanted Admiral of the Fleet Sir Arthur Wilson V.C. as Chief of the War Staff and I was sent to Portsmouth where Sir Arthur was staying to ask him to take it. Sir Arthur said he would not as it was too long since he had been afloat and had not recent experience of naval developments, but he would come to the Admiralty in an entirely unofficial and unpaid capacity to help and give advice when asked. So Fisher became 1st Sea Lord and Wilson came unofficially, he roved about and visited ports and was very keen about inventing plans and devices to defeat submarines. He invented mined anti-submarine nets and deep minefields and the mines for aircraft to lay in the Belgian Canals.[77]
In a letter to Jellicoe of 11 January, 1915, Churchill wrote that, "Arthur Wilson rules our councils in tactics and is incomparably superior to anyone I have seen."[78]
On 19 May, Wilson wrote to Asquith:
Dear Mr Asquith,
In view of the reports in the papers this morning as to the probable reconstruction of the Government, I think I ought to tell you that although I agreed to undertake the office of First Sea Lord under Mr Churchill because it appeared to me to be the best means of maintaining continuity of policy under the unfortunate circumstances that have arisen, I am not prepared to undertake the duties under any new First Lord, as the strain under such circumstances would be far beyond my strength.[79]
On that same day, Fisher had sent Asquith his notorious "NEW MEASURES DEMAND NEW MEN" memorandum which out lined his terms for return, terms which Hankey called, "impossible and no self-respecting minister would look at them."[80][81] Point two of Fisher's memorandum was explicit:
2. That Sir A. K. Wilson leaves the Admiralty and the Committee of Imperial Defence and the War Council, as my time otherwise will be occupied resisting the bombardment of Heligoland and other such wild projects. Also his policy is totally opposed to mine, and he has accepted the position of First Sea Lord in succession to me, and thereby adopting a policy diametrically opposed to my views.[82]
Also on the 19th Jellicoe wrote to the Second Sea Lord, Sir Frederick T. Hamilton:
[T]he flag officers afloat are even more distrustful of Sir Arthur Wilson than of Winston Churchill and we should have no confidence whatever in an administration headed by him. I greatly fear that he will eventually be First Sea Lord and I as well as all the rest would view that as a national disaster.[83]
Admiral The Honourable Sir Stanley C. J. Colville had written on 14 May, shortly after Churchill's downfall, "If 'Old Tugs' was to succeed him [Fisher], well we better make peace at once."[84]
On 22 May, the Army's Director of Military Operations, acting Major-General Charles E. Callwell (a colonel retrieved at the outbreak of war from the Retired List[85]) wrote to H. A. Gwynne on the subject of the necessity for a new First Sea Lord:
Above all let it not be A. K. Wilson who is a man of quite inferior calibre and who backed up Winston in his folly over the naval attack on the Dardanelles. AKW is all right knocking down Fuzzy Wuzzies with his fists, or getting a cable round a bollard, but the idea that he is a strategist of the first water has no foundation in fact and he is dumb at War Councils and institutions of that character.[86]
Writing to Jellicoe from Dungavel on 31 May, Fisher wrote, "A. K. Wilson at the Admiralty is a REAL danger! While I was there it did not signify, as I nullified him."[87]
Third Retirement
He remained active until August 1918, when he went back to Beech Cottage, Swaffham, Norfolk. Upon the death of his brother, Sir Roland, on 29 October, 1919, Wilson succeeded him in the Wilson baronetcy.[88] Wilson died at Beech Cottage in the afternoon of 25 May, 1921,[89] of heart failure following pneumonia.[70] His funeral took place on 30 May at Swaffham Church, the Bishop of Thetford officiating. The honorary pallbearers were Admiral Sir Henry F. Oliver (representing the Board of Admiralty), Admiral Sir George Le C. Egerton, Admiral Sir Edward E. Bradford, Rear-Admiral Richard M. Harbord-Hamond, Commander H. G. C. Franklin (representing the Commander-in-Chief at the Nore) and Lord Fisher of Kilverstone (the son of "Jacky" Fisher).[90]
Wilson's sister, Katherine Knyvet Wilson, died on 20 December, 1931.[91]
Assessment
See Also
Bibliography
Ballard, Vice-Admiral G. A. (February, 1924). "Admiral of the Fleet Sir Arthur Knyvet Wilson." The Naval Review. XII (1).
Bradford, Admiral Sir Edward Eden (1923). Life of Admiral of the Fleet Sir Arthur Knyvet Wilson. London: John Murray.
Brooks, John (2005). Dreadnought Gunnery and the Battle of Jutland: The Question of Fire Control. Oxon: Routledge. ISBN 0714657026. (on Amazon.com and Amazon.co.uk).
Fisher of Kilverstone, Lord (1956). Marder, Arthur J.. ed. Fear God and Dread Nought: The Correspondence of Admiral of the Fleet Lord Fisher of Kilverstone: Years of Power, 1904-1912. Volume II. London: Jonathan Cape.
Lambert, Andrew (2004). Wilson, Sir Arthur Knyvet, Third Baronet (1842–1921). Oxford Dictionary of National Biography. Ed. H. C. G. Matthew and Brian Harrison. Oxford: Oxford University Press. Online ed. Ed. Lawrence Goldman. January, 2008.
Lambert, Nicholas A. (1995). Murfett, Malcolm H.. ed. The First Sea Lords: From Fisher to Mountbatten. Westport, CT: Praeger Publishers. ISBN 0-275-94231-7.
Sumida, Jon Tetsuro (1989). In Defence of Naval Supremacy: Finance, Technology and British Naval Policy, 1889-1914. Winchester, Mass.: Unwin Hyman, Inc.. ISBN 0044451040. (on Amazon.com and Amazon.co.uk).
Service Records
Naval Appointments
Preceded by
Morgan Singer
Captain of H.M.S. Hecla
5 Mar, 1881[92][93] – 30 Jul, 1884[94]
Succeeded by
Hector B. Stewart
Preceded by
New Position
Assistant Director of Torpedoes
7 Mar, 1887[95] – 31 Dec, 1888[96]
Succeeded by
Edmund F. Jeffreys
Preceded by
?
Captain of H.M.S. Imperieuse
7 Jul, 1887[97] – 31 Aug, 1887[98]
Succeeded by
William H. May
Preceded by
Samuel Long
Captain of H.M.S. Vernon
1 Jan, 1889[99][100] – 9 Feb, 1892[101]
Succeeded by
William H. Hall
Preceded by
Cyprian A. G. Bridge
Captain of H.M.S. Sans Pareil
9 Feb, 1892[102] – 17 Apr, 1895[103]
Succeeded by
James L. Hammet
Preceded by
Sir John A. Fisher
Third Naval Lord and Controller of the Navy
23 Aug, 1897[104] – 15 Apr, 1901[105]
Succeeded by
William H. May
Preceded by
Sir Harry H. Rawson
Senior Officer in Command, Channel Squadron
14 Apr, 1901[106] – 16 Apr, 1903[107]
Succeeded by
Lord Charles Beresford
Preceded by
The Rt. Hon. Lord Charles Beresford
Admiral Commanding, Channel Fleet
14 Dec, 1906[108]
Succeeded by
The Rt. Hon. Lord Charles Beresford
Preceded by
The Rt. Hon. The Lord Fisher
First Sea Lord
25 Jan, 1910[109]
Succeeded by
Sir Francis C. B. Bridgeman
Footnotes