Percy Moreton Scott, First Baronet
From The Dreadnought Project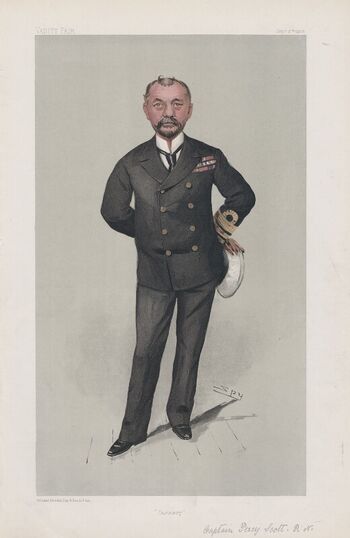 Admiral SIR Percy Moreton Scott, First Baronet, K.C.B., K.C.V.O., Hon. L.L.D., R.N. (10 July, 1853 – 18 October, 1924) was a forceful and creative naval officer of the Royal Navy in the period leading up to the First World War. It is particularly in the field of naval gunnery, and the concurrent drive for accuracy, for which he is most-remembered.
Early career, 1867–1899
Scott was born in Canonbury, Middlesex, on 10 July, 1853, the son of Montagu Scott, a solicitor, and his wife, Laura Kezia Snelling. He obtained a nomination for the Royal Navy and went to study at Eastman's Royal Naval Academy, Southsea. He entered the training ship Britannia in September, 1866, having passed in forty-sixth out of sixty-six naval cadets.[1]
In his Passing Out examinations Scott achieved 174 out of 200 in his Euclid, 42 out of 150 for arithmetic, 60 out of 150 for plane trigonometry, and 767 out of 1000 for Seamanship. He passed out twenty-second out of sixty naval cadets, and was granted a Second Class Certificate.[2]
In December, 1867 Scott was appointed to the frigate Forte, which became the flagship in the East Indies. In June, 1868 he was rated as a Midshipman, and returned to Britain in February, 1872. He passed his exam for promotion to Sub-Lieutenant with first-class certificates in Seamanship and Gunnery and a second-class certificate in Navigation. His seniority as Sub-Lieutenant was to 17 December, 1872.[3]
Scott was appointed to the screw ship-of-the-line Victor Emanuel on 19 November, 1873, which served on the Cape Station.[4] This was followed by an appointment to the composite-hulled corvette Active on 2 January, 1874.[5]
Scott was specially promoted to the rank of Lieutenant on 1 November, 1875.[6]
Scott was appointed additional to the Excellent to qualify as a Gunnery Officer on 28 September, 1877.[7]
Along with William May and Prince Louis of Battenberg, Scott was appointed to the iron-hulled screw frigate Inconstant, on 24 August, 1880. Two weeks later Inconstant became flagship of a Detached Squadron for Particular Service under Rear-Admiral Earl Clanwilliam.[8]
In November, 1882 he was appointed to the Senior Staff of the Devonport gunnery school, H.M.S. Cambridge. He was appointed to the Senior Staff of the Excellent on 19 April, 1883,[9] under Captain John Fisher. He was promoted to the rank of Commander on 30 June, 1886.[10] Between September, 1887 and February, 1890 he served in the Mediterranean as Commander of the second class battleship Edinburgh. He was appointed to Excellent as Commander on 3 January, 1890.[11]
Scott was promoted to the rank of Captain on 1 January, 1893.[12] On 10 January he married Teresa Roma, eldest daughter of Sir Frederick D. Dixon-Hartland. They had three children. In May, 1896 he took command of the second class protected cruiser Scylla on the Mediterranean station, and remained in her until July, 1899. During this commission he developed and introduced into service a number of critical inventions for increasing the rate and accuracy of naval gunfire, to exploit the new quick-firing guns, along with signal equipment. Scott recognized that competition and reward were the keys to gunnery improvement. The Scylla established new records for gunnery. His Commander-in-Chief, Admiral Sir John O. Hopkins, advised him to keep control of his patents.
South Africa, China, and fame, 1899–1902
On 18 September, 1899 Scott was appointed to command the largest cruiser afloat, H.M.S. Terrible,[13] with orders to proceed to the China Station. Once again he was detained at the Cape, until March, 1900, by the South African War. This time he attracted notice by devising and building land service mountings for 4.7-inch guns from his ship, which played a critical role in the defence of Ladysmith. He also provided field mountings for 12-pounder, 4.7-inch, and 6-inch guns to serve with the naval brigade, which alleviated the army's lack of heavy artillery. For these services he was created C.B. He also acted as military commandant of Durban, at a time when the city was threatened by the Boer advance. When the Terrible reached China, Scott landed further guns, for the operations against the Boxer uprising, including the relief of the Peking (Beijing) legations.
Once the campaign was over Scott devoted his efforts to perfecting the gunnery of his ship, which reached new and unprecedented levels, and with the help of the Flag Captain, John Rushworth Jellicoe, inspired the whole squadron. He also shared his enthusiasm with Lieutenant William S. Sims of the United States Navy, who became the leader of modern American naval gunnery. He was appointed a Commander of the Royal Victorian Order (C.V.O.) on 14 October, 1902.[14]
On 1 April, 1903 Scott was appointed commanding officer of H.M.S. Excellent,[15] and he devoted the next two years to improving the gunnery of the service. In 1904 Scott was awarded £8,000 for his various inventions: by this time he had already entered into a royalties agreement with Vickers, who manufactured all his devices. Ultimately this netted him over £200,000 from sales to the Admiralty and various foreign governments. He was in the habit of taking his payment in handfuls of banknotes at Vickers's London office. He was appointed a Naval Aide-de-Camp to the King dated 31 August, 1903, vice Corry.[16]
Scott was promoted to the rank of Rear-Admiral on 24 February, 1905, vice Craigie.[17] Fisher then created the post of Inspector of Target Practice for him, to which he was appointed on 6 March.[18] It was presumably around this time that the German Naval Attaché, von Coerper, described Scott as "an incredible 'windbag' and publicity hound."[19] On the occasion of the King's visit to Portsmouth to launch the battleship Dreadnought Scott was appointed a Knight Commander in the Royal Victorian Order (K.C.V.O.) on 10 February, 1906.[20]
By developing the gunlayer's test and the battle practice firing at a moored target Scott markedly improved the gunnery of the service. He was one of the key figures in Fisher's technical revolution. His methods enabled the navy to fire accurately, and to think about increasing the range at which actions were fought from 2000 yards to around 10,000. On 15 July, 1907, Scott was appointed Rear-Admiral Commanding the First Cruiser Squadron, with his flag in Good Hope, part of Admiral Lord Charles Beresford's Channel Fleet.
Good Hope would really do Scott proud, proving to be the best-shooting ship in the Channel Fleet for 1907 and again in 1908, when she was first in every class of gun tested. This produced the occasion for Scott to address the ship's company in a toast that was both pungently British and sadly ironic given the ship's eventual fate,[21]
As far as my memory serves me, this is the first time on record that a ship has been first with every desciption of gun that she carries, and I am also of the opinion that in no previous instance has a ship had this success for two years in succession. Such a performance reflects great credit upon all concerned. I have up to the present never had the bad luck to servce in a ship where the men could not shoot straight ... and I hope never to be in one. Because in action – if a ship that cannot hit engages a ship that can hit, her officers and men will suffer great personal inconvenience.
Within a year Scott's relationship with Beresford became critically strained. As part of Fisher's inner circle Scott was anathema to Beresford, who suspected him of being a spy for the First Sea Lord. At the same time Scott had a low opinion of Beresford, which on two occasions became public knowledge. On 4 November, 1907, Scott, as senior officer at Portland, signalled one of his cruisers "Paintwork appears to be more in demand than gunnery, so you had better come in in time to make yourself look pretty by the 8th." The reference was to a planned inspection by the Kaiser. On the 8th Beresford, who had only heard about the signal that day, publicly berated Scott on the quarterdeck of his flag ship, and then issued a humiliating signal to the fleet. Scott was notified of Their Lordships' "grave disapprobation, it being a matter vital to discipline and good order that perfect loyalty to superiors should govern the conduct of all officers of the Fleet."[22] The following year, while under way, Beresford ordered Scott's squadron to carry out a manœuvre that would have led to a collision. Scott wisely refrained from acknowledging it until it was cancelled.
To prevent any further trouble while Beresford served out the remainder of his truncated command, Scott's squadron was detached for a mission to South Africa, in connection with the Union there, followed by a cruise to promote British interests in South America. The former part of the mission was particularly successful. This was another part of Fisher's revolution, replacing the old system of weak ships on station with the occasional visit of large and powerful squadrons. He was promoted to the rank of Vice-Admiral on 2 December, 1908, vice Henderson,[23] and struck his flag at Gibraltar on 16 February, 1909.[24][25]
For the next four years Scott's efforts were devoted to the development of gunnery equipment, in particular the director firing system, which enabled all the guns of a ship to be laid onto a single target from a central aiming position. After early experimental installations aboard various ships from 1907 the system was put into production in 1913. It was crucial to the success of long-range gunfire under wartime conditions. Scott was appointed an Ordinary Member of the Second Class, or Knight Commander, in the Military Division of the Order of the Bath (K.C.B.) on 24 June, 1910.[26] In 1911 he divorced his wife on the grounds of her adultery, and was awarded custody of their three children.
In the New Year Honours of 1913 a baronetcy was conferred upon Scott.[27] That an honour was granted him is surprising as reportedly, mere weeks earlier:
the King is very angry with him for allowing an account of his invention & its details to appear in the Sphere of 7th Dec & says that after this indiscretion he ought certainly not to be given an honour at present.[28]
On 20 March, 1913 he was promoted to the rank of Admiral, vice May.[29] In accordance with the provisions of the Order in Council of 8 December, 1903, on 21 March, 1913 he was placed on the Retired List, at his own request.[30] With only command of a Cruiser Squadron behind him, there was no possibility of any further sea appointments. On 23 March, 1914 he married Fanny Vaughan Johnston, formerly the wife of Colonel A. P. Welman (from whom she obtained a divorce), third daughter of Thomas Ramsay Dinnis, although they separated soon afterwards.
Scott took it upon himself to rally the nation about another revelation that worried him: the peril of submarine attack and how it might unseat a nation reliant on the line of battle. On 5 June, 1914, he wrote a letter to The Times asking, "What is the good of a battleship?" and forecasting the dangers submarines imposed to merchant shipping.[31]
First World War and after
Shortly after the outbreak of war in 1914, Scott was recalled to the Admiralty by Fisher, and remained until May, 1916. He began by fitting out sixteen merchant ships to resemble modern battleships, and continued to work on gunnery questions, before moving on to consider counter-measures against the submarine threat, which he, like Fisher, had prophesied before the war. When the first Zeppelin air raids on London began in September, 1915 Balfour, then First Lord of the Admiralty, appointed Scott to create a gun defence system for the capital, which he controlled until the army took over in the following February. His pioneering work played a large role in defeating this threat. His elder son was killed at the Battle of Jutland, 31 May, 1916, when the armoured cruiser Defence blew up.
Although closely consulted by Jellicoe's Admiralty board on post-Jutland gunnery reforms up to the end of 1917, Scott was ignored thereafter. He was also active on Fisher's Board of Invention and Research, working on anti-aircraft gunnery. In 1920 he successfully sued Vickers over a unilateral change in the computation of his royalties. After the war Scott wrote a series of powerful letters to The Times, developing the view, which he had first advanced in April, 1914, that the day of the battleship was over. In view of the performance of submarines and aeroplanes he argued that Britain should not build any more battleships, but rely on submarines and smaller craft. Coming from the father of modern heavy naval gunnery such opinions carried some weight, and would have been more seriously addressed if he had not earned a reputation for controversy.
With the benefit of hindsight it is clear that his views were premature, although the effectiveness of the gas weapons he advocated was never tested in action. His memoirs, Fifty Years in the Royal Navy, were published in 1919; although controversial, they do not deal with many of the most interesting aspects of his career, and a chapter on his quarrel with Beresford was excised when Lord Charles died. Scott died of a heart attack at his home, 52 South Audley Street, London, on 18 October, 1924. After a funeral service and cremation in London his ashes were committed to the sea at Spithead. The Committal Service was performed by the Reverend W. H. Goudge in H.M.S. Truant. He left an estate valued at £130,000 and two houses. His second son, Douglas Winchester Scott (b. 1907), succeeded to the baronetcy. He died at King Edward VII Hospital, Midhurst, on 10 April, 1984.[32]
See Also
Bibliography
"Admiral Sir Percy Scott" (Obituaries). The Times. Monday, 20 October, 1924. Issue 43787, col B, p. 21.
Baddeley, V. W. (1937). Dictionary of National Biography. Fourth Supplement. Oxford: Oxford University Press.
Brooks, John (1997). "Percy Scott and the Director". Warship 1996: pp. 150–170.
Marder, Arthur J. (1961). From the Dreadnought to Scapa Flow, The Royal Navy in the Fisher Era, 1904-1919: The Road to War, 1904-1914. Volume I. London: Oxford University Press.
Padfield, Peter (1966). Aim Straight: A Biography of Admiral Sir Percy Scott. London: Hodder and Stoughton.
Scott, Admiral Sir Percy Moreton (1919). Fifty Years in the Royal Navy. London: John Murray.
Service Records
Naval Appointments
Preceded by
Charles C. Drury
Naval Member of the Ordnance Committee
20 Nov, 1893[33] – 27 May, 1896[34]
Succeeded by
Alfred A. C. Parr
Preceded by
Edward Chichester
Captain of H.M.S. Scylla
28 May, 1896[35][36] – 20 Jul, 1899[37]
Succeeded by
Arthur A. C. Galloway
Preceded by
Charles G. Robinson
Captain of H.M.S. Terrible
18 Sep, 1899[38] – 24 Oct, 1902[39]
Succeeded by
Arthur T. Stuart
Preceded by
Arthur Barrow
Captain of H.M.S. Excellent
1 Apr, 1903[40] – 5 Mar, 1905[41]
Succeeded by
Frederick T. Hamilton
Preceded by
Position Established
Inspector of Target Practice
6 Mar, 1905[42] – 14 Jul, 1907[43]
Succeeded by
Frederick T. Hamilton
Preceded by
George Neville
Rear-Admiral Commanding, First Cruiser Squadron
15 Jul, 1907[44] – 19 Feb, 1909[45]
Succeeded by
The Hon. Stanley C. J. Colville
Footnotes