William Henry May
From The Dreadnought Project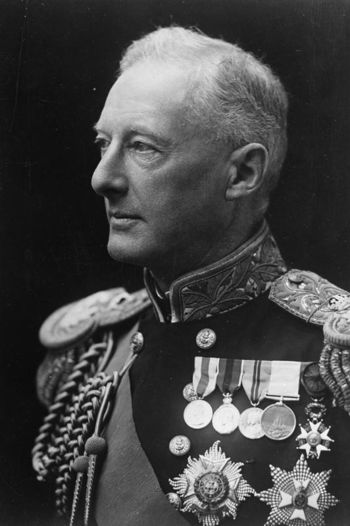 Admiral of the Fleet SIR William Henry May, G.C.B., G.C.V.O., Royal Navy (31 July, 1849 – 7 October, 1930) was an officer of the Royal Navy in the period leading up to the First World War.
Early Life & Career
May was born in Liscard, Cheshire.
May was promoted to the rank of Lieutenant from the Royal Yacht on 7 September, 1871.[1]
Along with Percy Scott and Prince Louis of Battenberg, May was appointed to the steam frigate Inconstant, on 24 August, 1880. May served as Torpedo Lieutenant. Two weeks later Inconstant became flagship of a Detached Squadron for Particular Service under Rear-Admiral Earl Clanwilliam.[2] May was promoted to the rank of Commander with seniority of 9 March, 1881.[3] On promotion he departed Inconstant and went on half pay.[Inference][4]
His time on half-pay lasted only a few months until he was appointed to command the new torpedo ram Polyphemus, taking command on 25 November, 1881.[5] The same year he worked with Captain Arthur Wilson of Vernon in evaluating a new Fiume Mark III torpedo against the service's R.L. torpedoes Marks I and II, carrying out these tests at Woolwich and Fiume.[6]
From Polyphemus, May went to the Royal Yacht Victoria & Albert on 9 May, 1884.[7]
Captain
May was promoted to the rank of Captain on 9 May, 1887,[8] a year in which a submerged torpedo tube he had designed was being evaluated in Severn.[9] The tube needed some adjustments in design before any practical value was obtained, but by 1888 it seemed to have promise. It was to be retained in the ship, contingent upon further refinements proving successful.[10]
In March, 1888 May went to China as flag captain to Admiral Sir Nowell Salmon in the armoured cruiser Imperieuse. Acting on secret orders, he took possession of Christmas Island on the voyage to the East. This earned him the nickname "Christmas" May to go with "Handsome Willie" May.
He returned to England at the end of the commission in December 1890, and was appointed naval attaché to the European states. He served in this capacity for two and a half years, principally in France, Russia, and Germany, and then, without intermission, was appointed to the Admiralty as assistant director of torpedoes. In January 1895 he went as flag captain and chief of staff to Admiral Sir Michael Culme Seymour on the Mediterranean station, where he gave evidence of outstanding organizing ability. After two years' service in the Mediterranean he returned to England and was at once appointed flag captain to Admiral Sir Nowell Salmon, Commander-in-Chief at Portsmouth, acting as chief of staff during the 1897 jubilee celebrations. He was appointed a Naval Aide-de-Camp to Queen Victoria dated 7 May, 1899, vice Pipon.[11] After this he went to the gunnery school Excellent, which he commanded until January, 1901. He was then appointed Director of Naval Ordnance and Torpedoes.
On 16 January, Fisher wrote to the First Lord of the Admiralty, the Earl of Selborne:
I am very glad to think that you have Captain W. H. May at your elbow at the Admiralty as Director of Naval Ordnance and your expert adviser in these matters. He was simply A.1.! I was hoping he would be Controller …[12]
He was reappointed a Naval Aide-de-Camp, to King Edward VII, on 25 February.[13]
Flag Rank
In April, 1901, aged fifty-one, May reached flag rank, having a month earlier been made Third Sea Lord and Controller of the Navy. During the four years of his controllership many far-reaching changes in naval construction and dockyard administration took place. The dreadnought policy was initiated, though May was not a member of the Committee on Designs appointed in October, 1904 to consider the characteristics of the new type; a greater sea-going capacity was given to the torpedo-boat destroyer class; the use of oil sprayed upon coal was introduced, and ships' machinery underwent great alterations. On 30 December, 1904, May was knighted and advanced to the rank of Knight Commander in the Royal Victorian Order (K.C.V.O.).[14] In February, 1905 May was appointed to command the recently formed Atlantic Fleet with his flag in the King Edward VII. He was confirmed in the rank of Vice-Admiral on 29 June.[15] In July he took the fleet to Brest, to make a naval demonstration of the entente cordiale. May's presence and personality, his knowledge of French, and his able handling of the fleet in entering and leaving Brest harbour created a very good impression on French naval officers.
After two years in command of the Atlantic Fleet, May returned to the Admiralty as Second Sea Lord. At this time (1907) great efforts were being made to cut down naval expenditure, and the Liberal government ordered a reduction of £1 million. When a further reduction of £750,000 was proposed, May, with the Third and Fourth sea lords, sent a memorandum to the First Sea Lord, Sir John (afterwards Lord) Fisher, intimating that if this was done they must resign; it was not. He was promoted to the rank of Admiral on 5 November, 1908, vice Craigie.[16]
Home Fleet
In 1909 May was appointed to command the Home Fleet with his flag in the Dreadnought. This command included all the ships in home waters, and was, in May's opinion, too large. He concentrated on investigating the many tactical problems which the recent growth of the fleet in numbers and size, and the addition to the sea-going fleet of a fighting flotilla, had brought into existence. Gunnery, under the impulse of Percy Scott, had made great advances, though it was still far short of what came to be demanded of it in 1914. The torpedo had increased in both range and speed, and presented a new element in tactics. Many officers serving under May's command were dissatisfied with the existing tactical doctrines, and advocated new systems of handling the large and heterogeneous body of ships which formed a modern fleet command. May was open to receiving, discussing, and trying new ideas. He initiated an extensive series of tactical exercises of an enhanced scale and comprehensiveness; the cruising formations from which deployment into battle formation could most rapidly be made; the use of flotillas in a tactical offensive; the employment of fast squadrons in action; the alternative of squadronal command in place of the single line under one command—these were prominent among the tactical matters to which May devoted attention. A man of an essentially practical turn of mind, he submitted to trial new theories and suggestions "on the scale of twelve inches to the foot". At a gathering of the Home Fleet, Captain David Beatty recorded of him, "very nice and pleasant, but not a man that impresses one as being possessed of the qualities of a great commander."[17]
On hauling down his flag in March, 1911, May was appointed Commander-in-Chief at Devonport. On the occasion of King George V's coronation he was appointed an Additional Member of the First Class, or Knight Grand Cross, in the Military Division of the Order of the Bath (G.C.B.) on 19 June.[18] On 20 March, 1913, he was promoted to the rank of Admiral of the Fleet, vice Hotham.[19]
Retirement
During the First World War May served on the Dardanelles Commission (1916–17) chaired by the Earl of Cromer; as chairman of the reconstruction committee which dealt, in anticipation, with the problems of post-war reductions; and on a subcommittee on fisheries.
He was installed as a Knight Grand Cross of the Order of the Bath in a ceremonial investiture at Westminster Abbey, the first since 1913, on 18 May, 1920.[20] After his retirement he lived at Coldstream, Berwickshire, where he took an active part in local affairs. He died at his residence, Bughtrigg, Coldstream, on 7 October, 1930.
Bibliography
"Admiral of the Fleet Sir W. H. May" (Obituaries). The Times. Wednesday, 8 October, 1930. Issue 45638, col D, p. 19.
Jones, Dr. Mary (August 2003). "'Handsome Willie May': A Reappraisal". The Mariner's Mirror 89 (3): pp. 310-324.
May, Admiral of the Fleet Sir William H. (1934). The Life of a Sailor. London: William Clowes and Sons, Limited.
Papers
Service Records
The National Archives. ADM 196/86. Volume 1. f. 64.
The National Archives. ADM 196/39. Volume 2. f. 857. Volume 3. f. 860.
The National Archives. ADM 196/17. Volume 5. ff. 499, 531.
Naval Appointments
Preceded by
?
Captain of H.M.S. Polyphemus
25 Nov, 1881[21] – 9 May, 1884[22]
Succeeded by
Edwin J. P. Gallwey
Preceded by
Arthur K. Wilson
Captain of H.M.S. Imperieuse
1 Mar, 1888[23] – 10 Nov, 1890[24]
Succeeded by
Edmund S. Poë
Preceded by
Edward H. Howard
Royal Navy Naval Attaché to the European States
10 Nov, 1890 – 1 Jun, 1893
Succeeded by
?
Preceded by
Edmund F. Jeffreys
Assistant Director of Torpedoes
1 Jun, 1893[25] – 17 Jan, 1895[26]
Succeeded by
The Hon. Maurice A. Bourke
Preceded by
Francis C. B. Bridgeman
Captain of H.M.S. Ramillies
17 Jan, 1895[27] – 12 Dec, 1896[28]
Succeeded by
William Des V. Hamilton
Preceded by
?
Chief of Staff, Mediterranean Station
17 Jan, 1895[29]
Succeeded by
William Des V. Hamilton
Preceded by
Wollaston C. Karslake
Flag Captain, Portsmouth Station
13 Mar, 1897[30]
Succeeded by
Francis C. B. Bridgeman
Preceded by
Edmund F. Jeffreys
Captain of H.M.S. Excellent
10 Aug, 1897[31]
Succeeded by
Arthur Barrow
Preceded by
Edmund F. Jeffreys
Director of Naval Ordnance and Torpedoes
21 Jan, 1901[32] – 16 Apr, 1901[33]
Succeeded by
Angus MacLeod
Preceded by
Arthur K. Wilson
Third Naval Lord and Controller of the Navy
15 Apr, 1901 – 7 Feb, 1905
Succeeded by
Sir Henry B. Jackson
as Third Sea Lord and Controller of the Navy
Preceded by
Lord Charles Beresford
Commander-in-Chief, Atlantic Fleet
1 Mar, 1905
Succeeded by
Sir Assheton G. Curzon-Howe
Preceded by
Sir Charles C. Drury
as Second Naval Lord
Second Sea Lord
20 Mar, 1907[34]
Succeeded by
Sir Francis C. B. Bridgeman
Preceded by
Sir Wilmot H. Fawkes
Commander in Chief, Plymouth Station
11 May, 1911[35]
Succeeded by
Sir George Le C. Egerton
Footnotes