Frederick Tower Hamilton
From The Dreadnought Project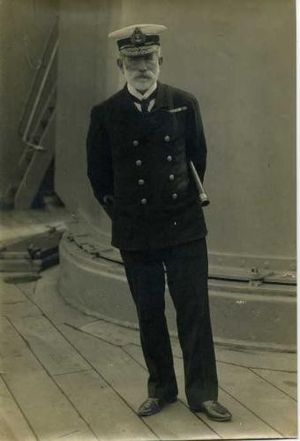 Admiral SIR Frederick Tower Hamilton, G.C.V.O., K.C.B., Royal Navy (8 March, 1856 – 4 October, 1917) was an officer of the Royal Navy during the First World War.
Life & Career
Hamilton was promoted to the rank of Lieutenant with seniority of 6 November, 1879.[1] The Controller of the Navy, Vice-Admiral Sir William Houston Stewart, wrote to him that "I am glad to see that the Admiralty have recognised your good services by the promotion you so well merit."[2]
In 1881 Hamilton was one of five officers selected to qualify in torpedo duties (another was Lieutenant Henry B. Jackson).[3] He was appointed to Vernon on 11 January, 1884 as a torpedo Lieutenant.[4]
Hamilton was appointed in command of the torpedo school ship Defiance at Devonport on 1 November, 1897.[5] He was promoted to the rank of Captain on 1 January, 1898,[6] and was re-appointed in command of Defiance.[7]
In March 1901, he assumed command of the second class protected cruiser Furious, remaining in the ship for one year.[8]
On 18 March, 1902 he was appointed to the battleship Bulwark as Flag Captain to Admiral Sir Compton E. Domvile, new Commander-in-Chief in the Mediterranean.[9]
On the occasion of the King's visit to Malta Hamilton was appointed a Member of the Fourth Class of the Royal Victorian Order (M.V.O.) on 21 April, 1903.[10]
Hamilton was appointed Captain of H.M.S. Excellent on 24 February, 1905, with the rank of Commodore, Second Class from 29 June, 1906.[11] He was appointed a Naval Aide-de-Camp to the King dated 18 September, vice Denison.[12]
Hamilton's appointment as Inspector of Target Practice in succession to Rear-Admiral Sir Percy M. Scott was announced in May, 1907.[13] He was appointed, as Commodore, Second Class, on 15 July.[14]
Flag Rank
Hamilton was promoted to the rank of Rear-Admiral on 1 October, 1907.[15]
Hamilton succeeded Vice-Admiral Scott in command of the Fifth Cruiser Squadron on 16 February, 1909,[16] passing command to Cecil Burney exactly two years later.
On 5 December, 1911, Hamilton was appointed in command of the Third and Fourth Divisions of the Home Fleet, which in 1912 became the Second and Third Fleets of the Home Fleets.[17] He was confirmed in the rank of Vice-Admiral on 31 July, 1912.[18]
Hamilton was appointed an Ordinary Member of the Second Class, or Knight Commander, in the Military Division of the Most Honourable Order of the Bath (K.C.B.) on 1 January, 1913.[19] He was succeeded by Vice-Admiral Sir Cecil Burney at Sheerness on 5 December.[20]
In May, Fisher inquired of Jellicoe as to whether Hamilton would be a suitable successor to him as Second Sea Lord:
However, what I am really writing to you about is to ask you whether you are sure that Hamilton will LOYALLY and WHOLEHEARTEDLY carry out the Osborne scheme and all its tributaries, such as Keyham etc., because (this is sacredly private) the King and his pimps are starting another crusade to revert to the old lines, and Hamilton is a bosom friend of the King, who calls him by his Christian name and who lends him a cottage at Sandringham, and his wife is Colin Keppel's sister! Will he be able to resist the courtly influences? If you would sooner not answer, then don't write. He is a better man as an administrator than Warrender. Don't you think so?[21]
Great War
In his diary on 7 June 1916, Hamilton wrote:
On Saturday [3 June] I visited Rosyth … I found Beatty very well and cheerful but very angry with the Admiralty for their very stupid communiqué sent out on Friday evening which was really an apology for winning a victory. I subsequently on my return found that Masterton-Smith was the author of it, Jackson and Oliver having been too busy to attend to it properly and having told them to say anything they liked, as long as it was true.[22]
Hamilton was promoted to the rank of Admiral on 9 June, 1916.[23] On 1 July he assumed the appointment of Commander-in-Chief on the Coast of Scotland.[24]
He died at Rosyth on 4 October, 1917, from heart failure, aged sixty-one.[25]
See Also
Bibliography
"Death of Admiral Sir F. T. Hamilton" (Obituaries). The Times. Friday, 5 October, 1917. Issue 41601, col D, p. 11.
Papers
Service Records
Naval Appointments
Preceded by
The Hon. Alexander E. Bethell
Captain of H.M.S. Sandfly
18 Jul, 1889
Succeeded by
Paul W. Bush
Preceded by
Paul W. Bush
Captain of H.M.S. Grasshopper
before 22 Jul, 1890
Succeeded by
Henry M. W. P. Johnson
Preceded by
Henry D. Barry
Captain of H.M.S. Rattlesnake
8 Jul, 1891 – 20 Aug, 1891
Succeeded by
Lewis Bayly
Preceded by
Ernest C. T. Troubridge
Captain of H.M.S. Hazard
15 Jun, 1897[26]
Succeeded by
P. Vaughan Lewes
Preceded by
Henry B. Jackson
Captain of H.M.S. Defiance
1 Nov, 1897[27] – 31 Oct, 1900[28]
Succeeded by
James de C. Hamilton
Preceded by
Francis J. Foley
Captain of H.M.S. Furious
12 Mar, 1901[29] – 11 Mar, 1902[30]
Succeeded by
Henry C. Kingsford
Preceded by
New Command
Captain of H.M.S. Bulwark
18 Mar, 1902[31] – 10 Feb, 1905[32]
Succeeded by
Edward M. Phillpotts
Preceded by
Percy M. Scott
Captain of H.M.S. Excellent
24 Feb, 1905[33][34] – 14 Jul, 1907[35]
Succeeded by
Reginald G. O. Tupper
Preceded by
Sir Percy M. Scott
Inspector of Target Practice
15 Jul, 1907[36] – 15 Feb, 1909[37]
Succeeded by
Richard H. Peirse
Preceded by
George A. Callaghan
Rear-Admiral Commanding, Fifth Cruiser Squadron
16 Feb, 1909[38][39] – 16 Feb, 1911[40]
Succeeded by
Cecil Burney
Preceded by
Sir John R. Jellicoe
Second Sea Lord
31 Jul, 1914[41][42] – 30 Jun, 1916[43]
Succeeded by
The Hon. Sir Somerset A. Gough-Calthorpe
Preceded by
Sir Robert S. Lowry
as Commander-in-Chief, Coast of Scotland
Commander-in-Chief, Rosyth
1 Jul, 1916[44][45] – 4 Oct, 1917[46]
Succeeded by
Sir Cecil Burney
Footnotes