Stuart Nicholson
From The Dreadnought Project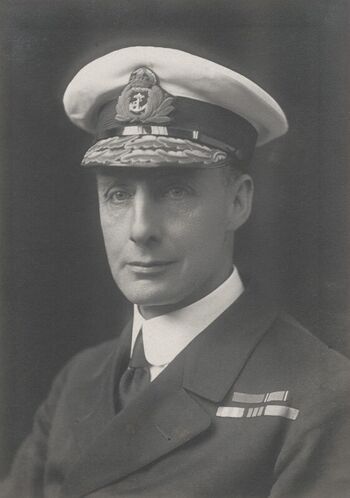 Admiral Stuart Nicholson, C.B., M.V.O., D.L., Royal Navy, Retired (11 October, 1865 – 10 September, 1936) was an officer of the Royal Navy.
Early Life & Career
Educated at the Royal Naval School.
Nicholson was promoted to the rank of Lieutenant with seniority of 11 April, 1885.[1]
Nicholson participated in the manoeuvres of July, 1988 as commander of the first-class torpedo boat T.B. 79, on loan.[2]
For his services in Benin, Nicholson was specially promoted to the rank of Commander on 25 May, 1897.[3]
Nicholson was promoted to the rank of Captain on 26 June, 1902.[4]
On 23 March, 1906, he started a one year stint as Captain of the second class protected cruiser Dido.[5]
On 5 March, 1907, he was relieved in Dido by Drury St. Aubyn Wake[6] and appointed in command of the armoured cruiser Natal.[7]
Following King Edward VII's visit to Russia, Nicholson was appointed a Member of the Fourth Class of the Royal Victorian Order (M.V.O.) on 10 June, 1908.[8]
He was appointed in command of H.M.S. Exmouth on 27 March, 1911.[9]
Nicholson was promoted to the rank of Rear-Admiral on 30 July, 1912, vice Tate.[10]
Nicholson succeeded Rear-Admiral Charles H. Dundas of Dundas as Rear-Admiral in the Home Fleets at the Nore on 5 December, 1913. His flag was hoisted in the Russell, of the Sixth Battle Squadron.[11]
Great War
Confusingly, Nicholson's Service Record and the contemporary Pink Lists differ over his position in the first months of the First World War. In his service record, it is implied that he commanded the Sixth Battle Squadron from the mobilisation of the Fleet at the beginning of August, 1914,[12] which is supported by an Admiralty ledger detailing senior officers of fleets and squadrons.[13] In the September and October Pink Lists, he is listed as an additional Rear-Admiral in the Third Battle Squadron.[14]
Nicholson was appointed an Additional Member of the Third Class, or Companion, in the Military Division of the Most Honourable Order of the Bath (C.B.) on 1 January, 1916.[15]
On 1 May, 1916, he was appointed Rear-Admiral Commanding the East Coast of England.[16] He was promoted to the rank of Vice-Admiral on 27 September, 1917, vice Waymouth.[17] He struck his flag on 15 July, 1918, and was appointed to President for Special Service that day, being discharged on 29 July.
Post-War
Nicholson was promoted to the rank of Admiral on 24 November, 1920,[18] and was placed on the Retired List at his own request on 25 November.[19]
Bibliography
"Admiral Stuart Nicholson" (Obituaries). The Times. Friday, 11 September, 1936. Issue 47477, col B, p. 16.
Service Records
Naval Appointments
Preceded by
Henry B. Jackson
Captain of H.M. T.B. 79
4 Jul, 1888[20] – 30 Aug, 1888[21]
Succeeded by
Prince George of Wales
Preceded by
?
Head of Foreign Division
17 Oct, 1902[22] – 20 Mar, 1906[23]
Succeeded by
Herbert G. King-Hall
Preceded by
Robert H. Johnston Stewart
Captain of H.M.S. Argyll
20 Mar, 1906[24] – 22 Mar, 1906[25]
Succeeded by
Charles E. Anson
Preceded by
Charles E. Anson
Captain of H.M.S. Dido
23 Mar, 1906[26] – 9 Feb, 1907[27]
Succeeded by
Drury St. A. Wake
Preceded by
New Command
Captain of H.M.S. Natal
5 Mar, 1907[28] – 14 Dec, 1908[29]
Succeeded by
Frederick C. A. Ogilvy
Preceded by
Bernard Currey
Assistant Director of Torpedoes
21 Dec, 1908[30] – 11 Feb, 1911[31]
Succeeded by
Edward F. B. Charlton
Preceded by
William F. De Salis
Captain of H.M.S. Russell
11 Feb, 1911[32] – 27 Mar, 1911[33]
Succeeded by
George W. Smith
Preceded by
Bernard Currey
Captain of H.M.S. Exmouth
27 Mar, 1911[34][35] – 1 Jul, 1912[36]
Succeeded by
Wilmot S. Nicholson
Preceded by
Bernard Currey
Chief of Staff, Mediterranean Station
27 Mar, 1911[37] – 1 Jul, 1912[38]
Succeeded by
Richard F. Phillimore
Preceded by
Charles H. Dundas
Rear-Admiral Commanding, Sixth Battle Squadron
5 Dec, 1913[39] – 12 Apr, 1916[40]
Succeeded by
Hugh Rodman
Preceded by
Sir Cecil F. Thursby
Rear-Admiral, Second in Command, Eastern Mediterranean Squadron
Jun, 1915
Succeeded by
Arthur H. Christian
Preceded by
George A. Ballard
as Rear-Admiral Commanding, East Coast of England
Vice-Admiral Commanding, East Coast of England
1 May, 1916[41][42] – 15 Jul, 1918[43]
Succeeded by
Sir Edward F. B. Charlton
Footnotes