Charles Hope Dundas
From The Dreadnought Project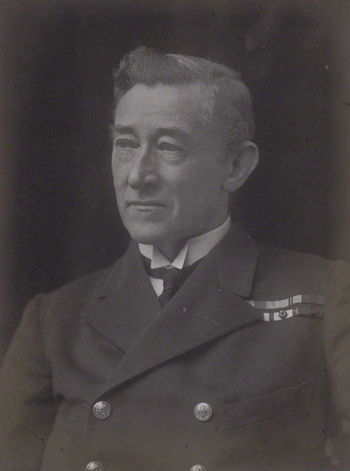 Admiral SIR Charles Hope Dundas, Twenty-Eighth Chief of Dundas, K.C.M.G., Royal Navy, Retired (9 August, 1859 – 1 July, 1924) was an officer of the Royal Navy.
Early Life & Career
Dundas entered the training ship Britannia in July, 1872, the same term as John Rushworth Jellicoe.
Dundas was promoted to the rank of Lieutenant with seniority of 29 June, 1883.[1]
On 13 May, 1884, Dundas was appointed to the Agincourt as Flag Lieutenant to Rear-Admiral William H. Whyte, Second-in-Command of the Channel Squadron.[2]
On 12 December, 1895, Dundas was appointed to the new battleship Magnificent.[3] He was promoted to the rank of Commander on 31 December.[4] He was appointed Commander of the battleship Howe on 23 April, 1896.[5]
Captain
Dundas was promoted to the rank of Captain on 1 January, 1901.[6]
In October 1904 while he was in command of the second class protected cruiser Forte on the Cape of Good Hope Station, the Admiralty thanked him for "prompt and effective action in delivering Cypher Message to the Russian Vol.[?] Cruisers Petersburg and Smolensk."[7]
Dundas served as captain of Ocean from September 1905 until the beginning of 1908, at which time he was appointed to the Naval Intelligence Department to serve on the Committee of Pay and Allowances In March, he was made the Royal Naval Attaché to Japan and China – a post he would hold until September 1910.
While serving as attaché, he was appointed a Naval Aide-de-Camp to King Edward VII on 2 January, 1909, vice Patey.[8]
Flag Rank
Dundas was promoted to the rank of Rear-Admiral on 22 July, 1910, vice Field.[9] He succeeded Rear-Admiral William L. Grant as Rear-Admiral for Special Service with Prince Louis of Battenberg, Vice-Admiral Commanding the Third and Fourth Divisions of the Home Fleet. He hoisted his flag in the Africa at Sheerness on 2 November, 1911, and transferred it the following day to the Home Fleet offices ashore.[10] During the Annual Manœuvres of 1913, he served as Second-in-Command of the Seventh Battle Squadron to Vice-Admiral Sir Henry B. Jackson. He hoisted his flag in the battleship Prince George.[11]on 2 July.[12] His two-year period as Rear-Admiral in the Home Fleets at the Nore and on Sir Frederick T. Hamilton's staff was extended until Hamilton's appointment expired.[13] He was succeeded by Rear-Admiral Stuart Nicholson on 5 December, 1913.[14]
Great War
He was promoted to the rank of Vice-Admiral on 10 January, 1916, vice Briggs,[15] and was placed on the Retired List on 25 January, in accordance with the provisions of the Order in Council of 8 December, 1903.[16]
In the Birthday Honours of 4 June, 1917, Dundas was appointed a Knight Commander in the Most Distinguished Order of Saint Michael and Saint George (K.C.M.G.) for his war services.[17]
Post-War & Retirement
He was advanced to the rank of Admiral on the Retired List on 1 January, 1919.[18]
See Also
Bibliography
"Admiral Sir C. Dundas of Dundas" (Obituaries). The Times. Wednesday, 2 July, 1924. Issue 43693, col D, p. 16.
Dundas of Dundas, Admiral Sir Charles (1922). An Admiral's Yarns: Stray Memories of 50 Years. London: Herbert Jenkins, Ltd..
Service Records
Naval Appointments
Preceded by
Arthur A. C. Galloway
Captain of H.M.S. Scylla
21 Jul, 1903[19] – c. Aug, 1903[Inference]
Succeeded by
Charles W. Winnington-Ingram
Preceded by
Peyton Hoskyns
Captain of H.M.S. Forte
1 Dec, 1903[20] – 15 Feb, 1905
Succeeded by
Alfred E. A. Grant
Preceded by
Alfred E. A. Grant
Captain of H.M.S. Hermione
15 Feb, 1905 – 16 Mar, 1905[Inference]
Succeeded by
Joseph R. Bridson
Preceded by
Thomas Y. Greet
Captain of H.M.S. Ocean
1 Sep, 1905[21][22] – 25 Jan, 1908[23]
Succeeded by
Francis W. Kennedy
Preceded by
Charles J. T. Dormer
Naval Attaché to Japan and China
1 Mar, 1908[24] – 16 Sep, 1910[25]
Succeeded by
Douglas E. R. Brownrigg
as Royal Navy Naval Attaché at Tokyo
Preceded by
?
Rear-Admiral Second-in-Command, Seventh Battle Squadron
2 Jul, 1912[26]
Succeeded by
Cecil F. Thursby
Preceded by
The Hon. Sir Alexander E. Bethell
as Vice-Admiral Commanding, Sixth Battle Squadron
Rear-Admiral Commanding, Sixth Battle Squadron
1913
Succeeded by
Stuart Nicholson
Footnotes