Charles Eustace Anson
From The Dreadnought Project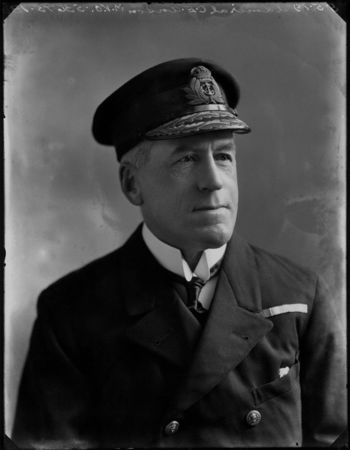 Admiral Charles Eustace Anson, C.B., M.V.O., R.N., Retired (3 December, 1859 – 28 April, 1940) was an officer of the Royal Navy.
Life & Career
Charles Eustace Anson was born on 3 December, 1859, a son of the Reverend Frederick Anson, Canon of Windsor and Rector of Sudbury, and the Honourable Caroline Maria, daughter of the fifth Lord Vernon.
Anson was appointed as a Naval Cadet to the training ship Britannia at Dartmouth and joined the July 1872 term. He would be one of two members of his term to reach flag rank in active service, the other being John Jellicoe.[1]
On 7 August 1882 he was specially promoted to the rank of Lieutenant, dated 11 July.[2]
On 17 October, 1888, Anson married Maria Evelyn, daughter of Horatio S. J. Ross, in a ceremony at St. Thomas's Church, Portsmouth.
Anson was promoted to the rank of Commander on 30 June, 1895, at the age of thirty-five years, six months, and twenty-seven days.[3]
On 28 December, 1900, he was appointed in command of the yacht Osborne.[4]
Captain
Anson was promoted to the rank of Captain on 31 December, 1901.[5]
On 24 November 1904, he was appointed in command of the second class protected cruiser Dido.[6]
He was appointed to command the armoured cruiser Argyll on 24 March, 1906,[7] and then moved to become captain of the battleship Vengeance 12 March, 1907.[8] until shortly before 20 October, 1908, when he was was appointed to the Sapphire II in command, as Captain-in-Charge and King's Harbour Master at Portland.[9]
Flag Rank
Anson was promoted to the rank of Rear-Admiral on 15 May, 1911, vice Ewart.[10]
On 9 August, 1912 Anson succeeded Rear-Admiral Robert N. Ommanney as Admiral Superintendent of Chatham Dockyard.[11]
Great War
Anson was succeeded by Rear-Admiral Arthur D. Ricardo on 9 August, 1915.[12] He was promoted to the rank of Vice-Admiral on 3 April, 1917, vice Coke,[13] and placed on the Retired List at his own request on 13 April.[14] He was advanced to the rank of Admiral on the Retired List on 3 April, 1919.[15]
Bibliography
"Admiral C. E. Anson" (Obituaries). The Times. Tuesday, 30 April, 1940. Issue 48603, col E, p. 9.
Service Records
Naval Appointments
Preceded by
Charles Windham
Captain of H.M.S. Osborne
28 Dec, 1900[16][17] – 1 Dec, 1903[Inference]
Succeeded by
Cuthbert G. Chapman
Preceded by
Richard H. Peirse
Captain of H.M.S. Dido
14 Nov, 1904[18][19] – 24 Mar, 1906[20]
Succeeded by
Stuart Nicholson
Preceded by
Stuart Nicholson
Captain of H.M.S. Argyll
24 Mar, 1906[21] – 12 Mar, 1907[22]
Succeeded by
Reginald A. Allenby
Preceded by
Harry C. Reynolds
Captain of H.M.S. Vengeance
12 Mar, 1907[23] – 12 Sep, 1908[24]
Succeeded by
William E. Goodenough
Preceded by
Henry B. Anson
as King's Harbour Master, Portland
Commodore-in-Charge, Portland
20 Oct, 1908 – 9 Jun, 1911[25]
Succeeded by
Owen F. Gillett
Preceded by
Robert N. Ommanney
Admiral Superintendent, Chatham Dockyard
9 Aug, 1912[26] – 9 Aug, 1915[27]
Succeeded by
Harry Jones
Footnotes