Reginald Godfrey Otway Tupper
From The Dreadnought Project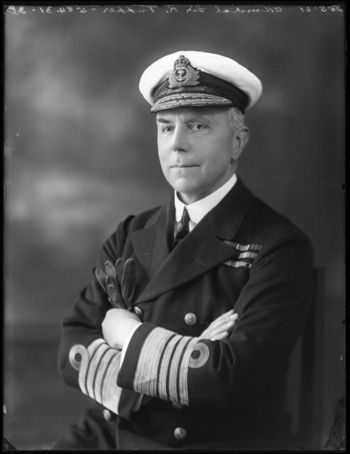 Admiral SIR Reginald Godfrey Otway Tupper, G.B.E., K.C.B., C.V.O., R.N. (16 October, 1859 – 5 March, 1945) was an officer of the Royal Navy.
Early Life & Career
Tupper was promoted to the rank of Lieutenant on 12 September, 1882.[1]
Tupper was promoted to the rank of Commander on 30 June, 1894.[2]
Captain
Tupper was promoted to the rank of Captain on 30 June, 1901.[3]
In November 1903, he assumed command of the second class protected cruiser Venus.[4]
He was appointed in command of the Prince of Wales on 27 July, 1905.[5]
Tupper was appointed in command of H.M.S. Excellent on 15 July, 1907.[6]
On 22 June, 1909, he was appointed a Naval Aide-de-Camp to King Edward VII, vice Morgan.[7]
Flag Rank
Tupper was promoted to the rank of Rear-Admiral on 20 September, 1910, vice Rich.[8]
On 18 November, 1912, Tupper hoisted his flag in the battleship Revenge as Rear-Admiral in the Home Fleets at Portsmouth, in succession to Arthur Y. Moggridge.[9] He did not, as he claimed in his memoirs, become "Rear-Admiral Second in Command of the Home Fleet."[10]
Great War
In January, 1915, Tupper was appointed Rear-Admiral Commanding Patrol Area No. 1, with his flag flown on shore at Stornoway.[11]
Tupper was promoted to the rank of Vice-Admiral on 25 January, 1916, vice Dundas.[12] In the King's Birthday Honours of 3 June, Tupper was appointed an Additional Member of the Third Class, or Companion, in the Military Division of the Most Honourable Order of the Bath (C.B.).[13]
On the occasion of the King's birthday he was appointed an Ordinary Member of the Second Class, or Knight Commander, in the Military Division of the Order of the Bath (K.C.B.) on 4 June, 1917.[14]
On 8 January, 1918 Tupper wrote to Roger Keyes, "As for myself I feel most depressed—entre nous—I hoped for 4.B.S. [Fourth Battle Squadron] but somehow it has gone to Browning."[15] On 22 February, Tupper was appointed Vice-Admiral in command of the Northern Patrol. He was succeeded by Captain Humphrey T. Walwyn on 8 August.[16]
Post-war
Tupper was promoted to the rank of Admiral on 1 January, 1919.[17] On 1 April he succeeded Admiral Sir Lewis Bayly as Commander-in-Chief, Coast of Ireland,[18] with the new title of Commander-in-Chief, Western Approaches. Of his two-year term at Queentown during the Irish War of Independence Tupper noted, "It was a very difficult two years, but the events of that period, and the breaking away of Ireland after I had left, are so painful to look back upon that I never feel disposed to talk about them."[19]
He was placed on the Retired List, at his own request, in order to facilitate the promotion of younger officers, on 16 May, 1921.[20]
Tupper was appointed a Knight Grand Cross in Military Division of the Most Excellent Order of the British Empire (G.B.E.) on 1 January, 1923.[21]
Bibliography
"Admiral Sir Reginald Tupper" (Obituaries). The Times. Wednesday, 7 March, 1945. Issue 50085, col C, p. 7.
Keyes, Admiral of the Fleet Roger John Brownlow, First Baron Keyes (1972). Halpern, Paul G.. ed. The Keyes Papers. Volume I: 1914-1918. London: Navy Records Society.
Tupper, Admiral Sir Reginald (1929). Reminiscences. London: Jarrold & Sons.
Papers
Papers in the possession of the Royal Naval Museum, Portsmouth.
Service Records
Naval Appointments
Preceded by
Arthur W. Torlesse
Captain of H.M.S. Daring
21 Jan, 1895[22] – 12 Dec, 1895[23]
Succeeded by
Henry Thompson
Preceded by
Ernest C. T. Troubridge
Captain of H.M.S. Boxer
12 Dec, 1895[24] – 18 Aug, 1896[25]
Succeeded by
William S. Lambert
Preceded by
Percy S. St. John
Captain of H.M.S. Hunter
18 Aug, 1896[26] – 7 Nov, 1896[27]
Succeeded by
Herbert G. Smith
Preceded by
Horace R. Adams
Captain of H.M.S. Pylades
14 Feb, 1899[28][29]
Succeeded by
Robert S. Phipps Hornby
Preceded by
Charles H. Cochran
Captain of H.M.S. Venus
11 Nov, 1903[30] – 26 Jul, 1905[31]
Succeeded by
Francis G. Eyre
Preceded by
George A. Callaghan
Captain of H.M.S. Prince of Wales
27 Jul, 1905[32] – 21 May, 1907[33]
Succeeded by
William B. Fawckner
Preceded by
Frederick T. Hamilton
Captain of H.M.S. Excellent
15 Jul, 1907[34][35] – 16 Aug, 1910[36]
Succeeded by
Frederick C. T. Tudor
Preceded by
F. C. Doveton Sturdee
President of Anti-Submarine Committee
20 Dec, 1911[37] – 18 Nov, 1912[38]
Succeeded by
Bernard Currey
Preceded by
New Command
Rear-Admiral, Stornoway
7 Jan, 1915[39] – 21 Feb, 1916[40]
Succeeded by
The Hon. Robert F. Boyle
Preceded by
Sir Dudley R. S. de Chair
as Rear-Admiral Commanding, Cruiser Force B
Vice-Admiral Commanding, Tenth Cruiser Squadron
6 Mar, 1916[41] – 8 Dec, 1917[42]
Succeeded by
Renamed Second Cruiser Squadron
Preceded by
Sydney R. Fremantle
as Rear-Admiral Commanding, Second Cruiser Squadron
Vice-Admiral Commanding, Second Cruiser Squadron
8 Dec, 1917[43] – 22 Feb, 1918[44]
Succeeded by
Edward F. Bruen
as Rear-Admiral Commanding, Second Cruiser Squadron
Preceded by
New Command
Admiral of Northern Patrol
22 Feb, 1918[45] – 8 Aug, 1918[46]
Succeeded by
Humphrey T. Walwyn
as Senior Naval Officer, Northern Patrol
Preceded by
Sir Lewis Bayly
as Senior Officer on the Coast of Ireland
Commander-in-Chief, Western Approaches
1 Apr, 1919[47][48] – 1 Apr, 1921[49]
Succeeded by
Sir Ernest F. A. Gaunt
Footnotes