Ernest Charles Thomas Troubridge
From The Dreadnought Project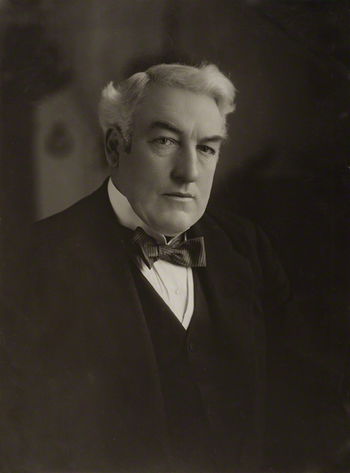 Admiral SIR Ernest Charles Thomas Troubridge, K.C.M.G., C.B., C.V.O., R.N. (15 July, 1862 – 28 January, 1926) was an officer of the Royal Navy.
Life & Career
Troubridge entered the Royal Navy as a Naval Cadet on 15 July, 1875, being appointed to the training ship Britannia at Dartmouth. He missed the Easter term of 1876 on account of suffering from Erysipelas in a leg. In spite of this he passed out second in his term.[1]
Troubridge was promoted to the rank of Lieutenant with seniority of 3 September, 1884.[2] He was appointed to the turret ship Agamemnon on the China Station on 16 September.[3]
Troubridge was promoted to the rank of Commander on 30 June, 1895, aged thirty-two years, eleven months, and fifteen days.[4]
Captain
Troubridge was promoted to the rank of Captain on 30 June, 1901.[5] On 18 September he was appointed Naval Attache at Tokyo, and remained there until being superseded on 14 March, 1904.[6]
On 22 June, 1904, he was appointed to President for service at the Admiralty. On the occasion of the King's visit to Kiel Troubridge, who travelled with him,[7] was appointed a Member of the Fourth Class of the Royal Victorian Order (M.V.O.) on 1 July.[8]
Troubridge was appointed Captain of the Victorious on 10 October,[9] and as Flag Captain to Rear-Admiral Francis C. B. Bridgeman, Second-in-Command of the Channel Fleet. He was superseded in command of Victorious on 15 August, 1905, and was appointed in command of the Glory on 17 October.[10]
He served in the Glory until 5 March, 1907, when he was appointed in command of the Queen in the Mediterranean, and as Chief of Staff to Admiral Sir Charles C. Drury, the Commander-in-Chief.[11]
Queen paid off on 24 December, 1908, and on 22 December Troubridge had been appointed to Pembroke as Commodore, Second Class in command of the Royal Naval Barracks, Chatham. On 12 July, 1909, he was appointed a Naval Aide-de-Camp to King Edward VII, vice Bacon.[12] He was superseded at Chatham on 20 January, 1910.[13]
On 25 January, 1910, Troubridge became Private Secretary to the First Lord of the Admiralty, Reginald McKenna.[14]
Flag Rank
Troubridge was promoted to the rank of Rear-Admiral on 6 March, 1911, vice Lowry.[15]
On the occasion of King George V's coronation he was appointed an Additional Member of the Third Class, or Companion, in the Military Division of the Most Honourable Order of the Bath (C.B.) on 19 June, 1911.[16]
At the outset of the war, as commander of the First Cruiser Squadron, he failed to bring S.M.S. Goeben and Breslau to action in the Mediterranean, resulting in his Court Martial. He was acquitted, but not without consequences to his reputation and that of his Service.
He was promoted to the rank of Vice-Admiral on 9 June, 1916.[17]
Post-War
He was advanced to the rank of Admiral on 9 January, 1919, vice Currey.[18]
On the occasion of the King's birthday he was appointed an Additional Member of the Second Class, or Knight Commander, of the Order of Saint Michael and Saint George (K.C.M.G.) on 3 June, 1919.[19]
He was placed on the Retired List at his own request on 1 July, 1921.[20]
Bibliography
"Admiral Sir Ernest Troubridge" (Obituaries). The Times. Saturday, 30 January, 1926. Issue 44183, col A, p. 12.
See Also
Papers
Service Records
Naval Appointments
Preceded by
New Command
Captain of H.M.S. Boxer
24 Jul, 1895 – 1895
Succeeded by
Reginald G. O. Tupper
Preceded by
New Command
Captain of H.M.S. Shark
14 Jan, 1896[21] – 11 May, 1896[22]
Succeeded by
Charles Tibbits
Preceded by
The Hon. Gerald F. Digby
Captain of H.M.S. Hazard
8 Jul, 1896
Succeeded by
Frederick T. Hamilton
Preceded by
?
Captain of H.M.S. Prometheus
10 Jul, 1900
Succeeded by
Cresswell J. Eyres
Preceded by
Henry C. B. Hulbert
Captain of H.M.S. Pelorus
22 Aug, 1900[23] – 30 Jun, 1901[24]
Succeeded by
Frederick W. F. Hervey
Preceded by
Sackville H. Carden
Captain of H.M.S. Victorious
10 Oct, 1904[25] – 15 Aug, 1905[26]
Succeeded by
Godfrey H. B. Mundy
Preceded by
The Hon. Walter G. Stopford
Captain of H.M.S. Glory
14 Oct, 1905[27] – 5 Mar, 1907[28]
Succeeded by
Robert S. Phipps Hornby
Preceded by
Lewis Bayly
Captain of H.M.S. Queen
5 Mar, 1907[29][30] – 24 Dec, 1908[31]
Succeeded by
David Beatty
Preceded by
Osmond de B. Brock
Chief of Staff, Mediterranean Station
5 Mar, 1907[32] – 24 Dec, 1908[33]
Succeeded by
John S. Luard
Preceded by
Edward E. Bradford
Commodore-in-Command, Royal Naval Barracks, Chatham
22 Dec, 1908[34] – 20 Jan, 1910[35]
Succeeded by
Cecil F. Thursby
Preceded by
Charles E. Madden
Private Secretary to the First Lord of the Admiralty
25 Jan, 1910[36] – 8 Jan, 1912[37]
Succeeded by
David Beatty
as Naval Secretary to the First Lord of the Admiralty
Preceded by
?
Chief of the Admiralty War Staff
8 Jan, 1912[38] – 6 Jan, 1913[39]
Succeeded by
Sir Henry B. Jackson
Preceded by
Lewis Bayly
Rear-Admiral Commanding, First Cruiser Squadron
6 Jan, 1913[40] – Sep, 1914[41]
Succeeded by
Archibald G. H. W. Moore
Footnotes